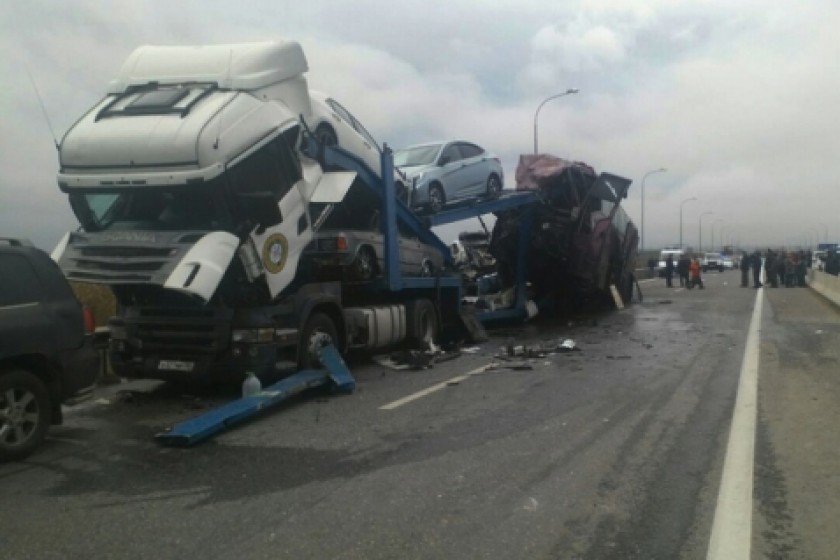 Deadly Bus Crash in Southern Russia – 3 Russians, 2 Armenians Killed
Early this morning a bus carrying 52 passengers from Moscow to Yerevan collided with an 18-wheeler on a stretch of highway six kilometers from the town of Beslan in North Ossetia, Russia killing five.
The accident occurred at 4:30 a.m. local time (5.30 a.m. Yerevan time).
Of the five killed, 3 were ethnic Russians, citizens of Russia. The two Armenians killed were citizens of Armenia. One was the driver of the bus.
Armenia's Ministry of Transport, Communication and IT, reports that the Mercedes bus was not registered to ply the well-travelled route from Moscow to Yerevan.
The bus is said to belong to one Karen Poghosyan. The ministry does not specify who Poghoayan is, nor does it say what caused the deadly crash․
An investigation into the crash has been launched.
UPDATE: The driver of the bus involved in a deadly crash earlier today has been identified as Yura Poghosyan, father of the bus owner Karen Poghosyan.
This information was relayed to Hetq by Davit Melkonyan, an official at Armenia's Ministry of Transport, Communication and IT.
Melkonyan says that Karen Poghosyan isn't operating any other bus routes as far as the ministry knows.
A bus returning the uninjured passengers to Armenia was cancelled, and they have been transferred to an airplane allocated by the Russian government. Melkonyan couldn't say when the plane would touch down in Yerevan.
Armenia's Ministry of Health reports that ten injured passengers are now being treated in three hospitals located in the town of Vladikavhaz. A few are in serious condition and the others have various degrees of contusions and broken limbs.