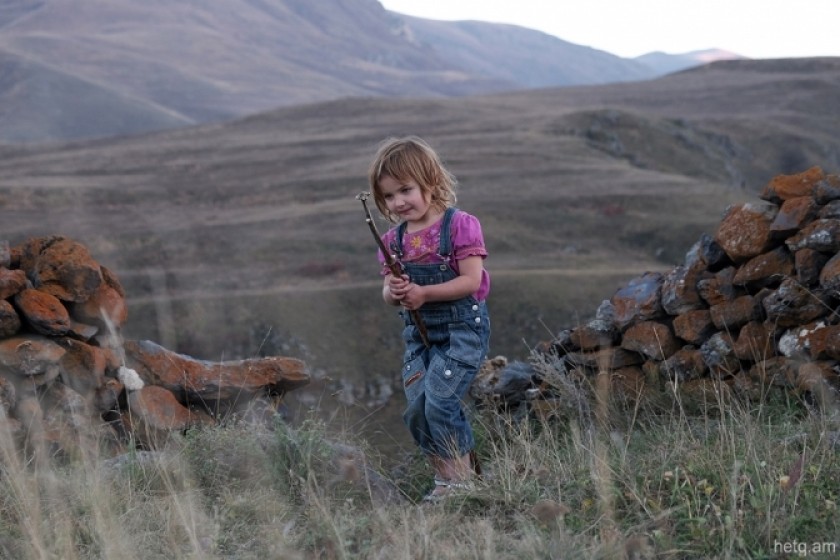 From Moscow to Artsakh: Armen and Svetlana Move to the Village of Tzar
The road sign at the intersection, some twenty kilometers from the Artsakh town of Karvatchar, points to the right for the village of Tzar.
What's funny is that the arrow points straight up. The dirt road, twisting and turning, seems to reach the sky.
Armen's jeep makes the climb upwards. After making the next turn, I'm aware that the slightest incorrect hand movement could result in our winding up in the abyss. Tzar is 2,100 meters above sea level.
After climbing another two kilometers, we arrive at a flat expanse. Village houses are scattered about. Armen parks the jeep next to one and hands over some cigarette packs to a neighbor.
"We have internet in the village, but there's no store. The nearest civilization id twenty kilometers away," Armen Alvarov says. A man of middle height and rough hands, most wouldn't guess that he's a professional translator of French.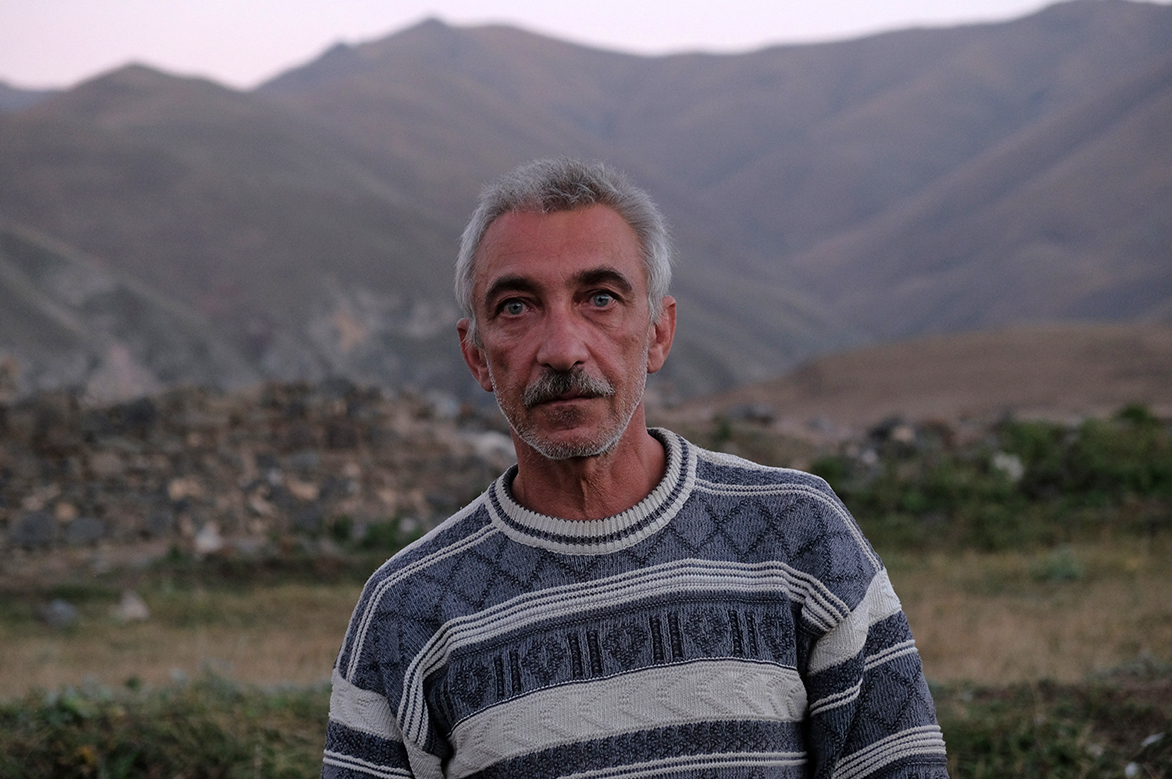 "I was born and raised in Moscow. Eight years ago, I decided to get away from the city and move to a village. It wasn't obligatory that I move to Armenia or Karabakh. But, I wound up here and travelled around a bit meeting people," Armen says.
His sole link to Karabakh is the brother of his paternal grandfather who moved to Stepanakert from Baku in the Soviet era. Karo Alvaryan was one of the founders of the V. Papazyan State Theater in Stepanakert.
Armen jokes that a local priest, upon finding out that he's related to Karo Alvaryan, said: "He was a scoundrel who tore down a church to build a theater." Armen is certain that his relative didn't have the authority to make such a decision.
Armen and his wife Svetlana searched for a long time before settling in Tzar, the highest inhabited spot in the district of Shahoumyan. Mt. Tzarasar, elevation 3,426 meters, is close by.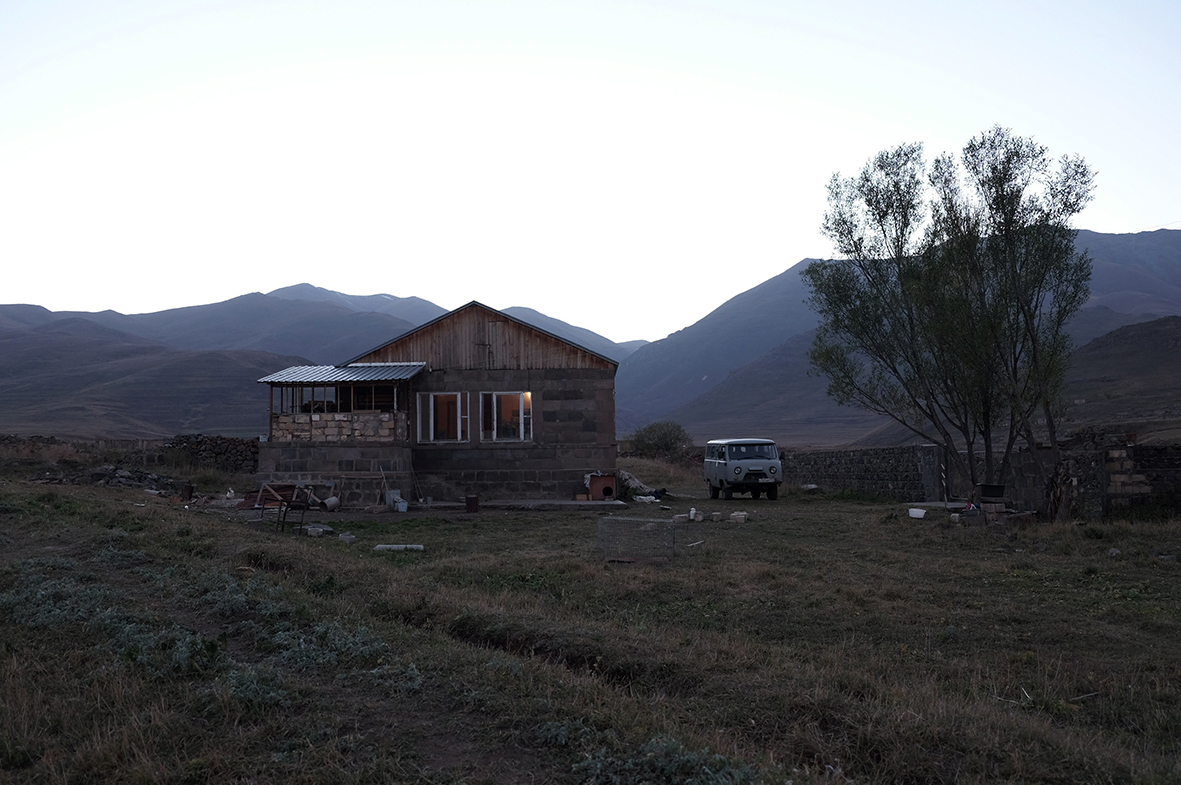 "First, what we saw, was the terribly dirty town of Vardenis and Karvatchar with its demolished houses. Yes, during the past few years much has been done in Karvatchar and the ruined houses don't stand out as much. Nevertheless, I can say that the villages here have more to offer than many Russian villages. Agriculture in parts of the liberated territories is much easier. The climate is milder and the people friendlier. One thing I can say for sure is that you won't last for long if you don't like village life," says Armen.
Tzar has a population of around fifty. Half of them survive due to the school, either directly or indirectly.
Hydro-plants are being constructed on nearby rivers. Some villagers have found work there. Armen says a mine will soon open, affording work and a steady paycheck to others.
The village, unlike others, is supplied with irrigation water for farming.
With all these advantageous features, Armen wonders why more diasporan Armenians haven't moved to Artsakh. He believes conditions are especially favorable for young people.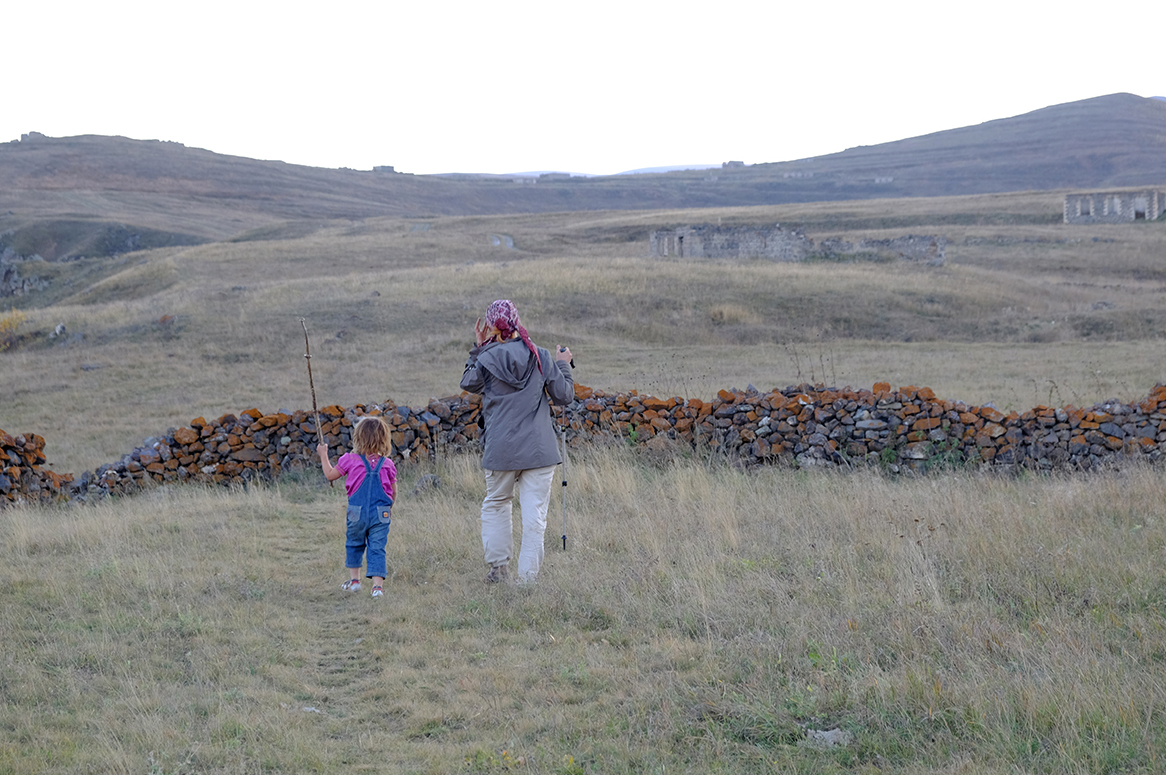 "Opportunities open up before you to work and to create. I don't believe those stories that someone will make obstacles for you here. Perhaps, if you had ten million dollars, you might come into conflict with the local authorities, but I don't know of one incident where someone has intervened in a profitable enterprise," Armen says, adding that if one wants to engage in agriculture, everyone from the prime minister on down to one's neighbor, only helps.
But village life isn't easy. The roads are in bad shape and in winter the village is literally isolated. Armen likes the fact that Tzar is so high up. You can breathe deeply here.
We're sitting in the yard talking when Armen's wife Svetlana approaches, offering us tea. Seeing that I am interviewing her husband, Svetlana jokes, "In our family Armen is the head of public affairs while I clean the barn and herd the sheep."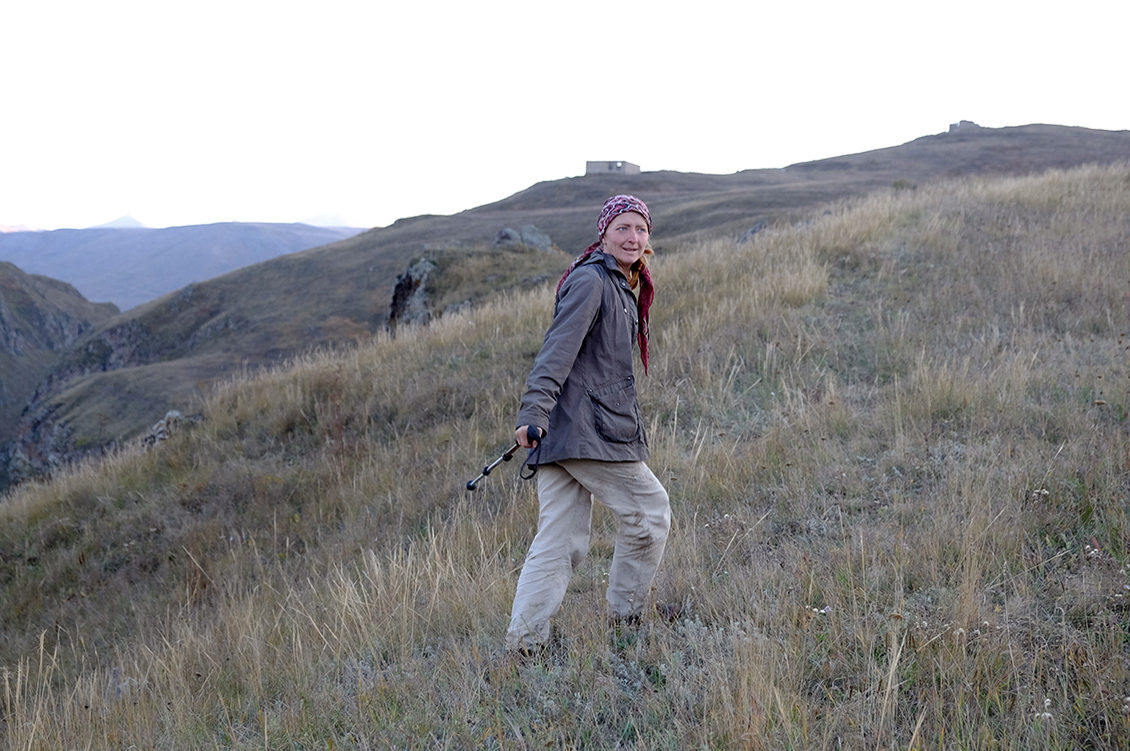 Svetlana, who taught English at a Moscow high school, says she always dreamt about living in a village.
"Now, I laugh at myself. Before we were married, I'd tell my mother how wonderful it would be to live in the country, huddling around the stove to get warm. Today, I dream about having a washing machine and a normal water faucet."
The couple hasn't been able to finish the house they've been living in for the past eight years. They baked bread for workers at the hydro-plant a few years back. Svetlana now teaches at the village school. Armen works as a construction laborer.
"Never having baked bread in my life, I was baking one hundred half kilo loaves a day. Then, a bakery opened and we couldn't compete," jokes Svetlana. It seems that she's happy not having to bake so much bread anymore.
I didn't get a chance to talk to Svetlana at any great length. She had to round up the sheep before it got dark. Anna, the couple's four-year old daughter, started to run after her mom but gave up halfway down the path. The little girl saddled her wooden play horse and returned home to feed the new born lamb. Anna still hadn't decided what to name the lamb born a day ago.
P.S. Armen says that when Anna turns school age he is thinking of moving to a village closer to Stepanakert, the capital of Artsakh. He'd like to continue farming in Tzar.
Photos: Knar Babayan and Armine Vanyan
If you found a typo you can notify us by selecting the text area and pressing CTRL+Enter