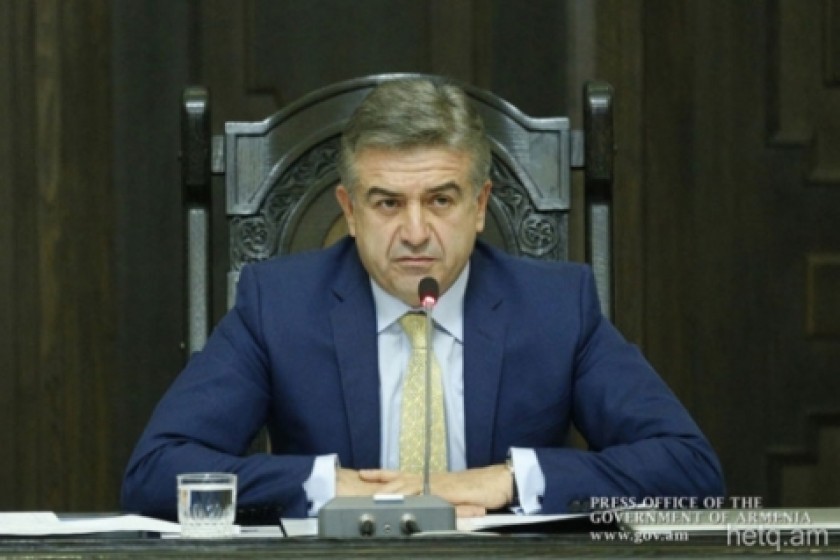 Armenian Prime Minister to Join Ruling Republican Party; Gives Seven Reasons Why
PM Karen Karapetyan says he will not pressure others in his government to join the RPA
Today, at the start of a government cabinet session, Armenian Prime Minister Karen Karapetyan declared that he has filed a request for membership in the country's ruling Republican Party of Armenia (RPA).
Karapetyan then noted seven reasons for the move.
The number one reason given by Karapetyan is that he was invited to assume the post of prime minister by Serzh Sargsyan, the president of Armenia and the RPA.
"The second reason is that any government must have a political base and our government, first of all, has been a government of the Republican Party of Armenia," Karapetyan noted.
The prime minister continued by saying: "Even if my first two reasons aren't taken into account, some might theoretically ask why we don't form another party as our political base? This wouldn't be justified."
Karapetyan said that given the Artsakh issue and threats to the country's security all forms of destabilizing actions must be avoided.
Citing his fourth reason to join the RPA, the prime minister said that the party's conservative ideology was "close to his heart" and that the party had many members he finds acceptable.
Karapetyan stressed that his main objectives were to foster vital change in the economic and social sectors, especially in the government system, and that this means that change must start from within the ruling party.
The prime minister then claimed that the RPA was undergoing a process of self-analysis and criticism regarding the need for change.
Citing his fifth reason for joining the RPA, Karapetyan said that by assuming the post of prime minister he had become a willing participant in the process for change.
The sixth reason Karapetyan noted is that many of his friends and supports also want to participate in this process of change.
The prime minister then said that he would not pressure non-party ministers or team members in his government to join the RPA. Such a decision was personal and ideological, according to Karapetyan.
Lastly, Karapetyan said that while the RPA hasn't always functioned effectively, due to objective and subjective factors, it is the party that understands its responsibility for ensuring the country's security and development, has decided to change, and has the potential to do so.