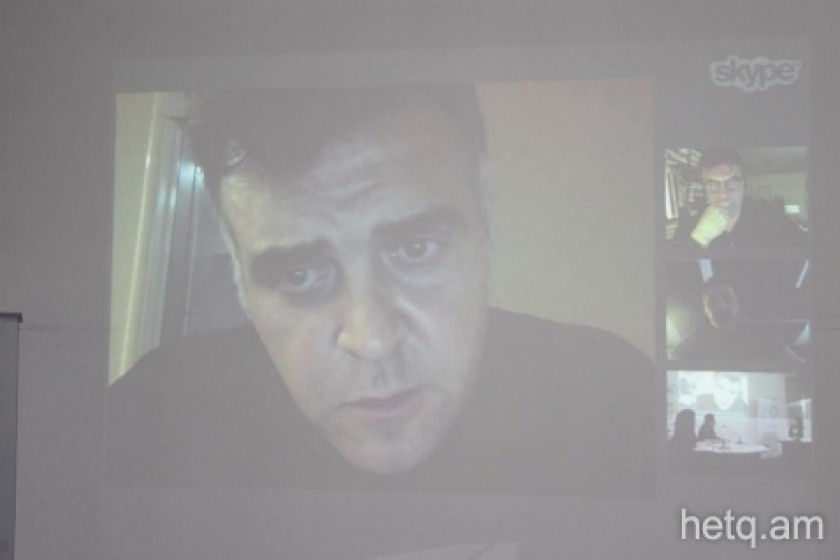 Eric Nazarian: "The diaspora has no voice in Armenia"
During a Skype link-up with Yerevan's Media Center today, American film director and screenwriter Eric Nazarian commented that videos of the July armed seizure of a Yerevan police station by the Sasna Tzrer group was a wake-up call for him to join in the process of effecting needed change in Armenia.
Also participating in the press conference were Canadian film director Atom Egoyan, actress Arsinée Khanjian, System of a Down singer Serj Tankian, and actor Hrant Tokhatyan. All are members of a movement called Justice in Armenia.
Nazarian noted that diasporan Armenians had remained removed from Armenia for so long that only "nostalgia" remains.
"Being Armenian doesn't mean that you must eat khorovatz, look at Masis, or merely have a good time. Being Armenian means being present and feeling the essence of the people. The situation on the ground from April to June-July became an existential question not only for the diaspora, but also for me," Nazarian said.
Nazarian said that while the diaspora had come to the aid of Armenia in its time of need, in the end, the diaspora doesn't have a voice in the country.
A video that really angered Nazarian was when a policeman in his 50s grabbed a 65-year-old woman by the neck, in his words like a sheep, and pushed her in a waiting police car. The filmmaker described the incident as a trammeling of human rights.
"I don't understand how we arrived at such a day when we treat one another in such a vulgar fashion. This was the final red line for me," Nazarian said.
The filmmaker commented that the question to ask President Sargsyan shouldn't be about the strategic steps he's taking, but rather what we have become as a nation and how do we differ from our enemies.
Nazarian said that if the videos of the July incidents were shown alongside videos from Baku, with the subtitles removed, a person from Japan or Guatemala would be hard pressed to point out the Armenians from the Azerbaijanis.