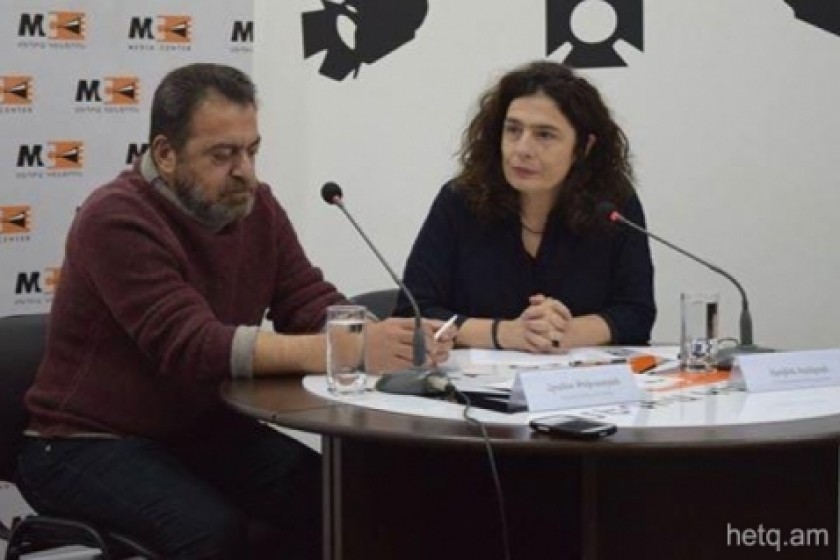 Arsinée Khanjian Calls for Practical Steps to Effect Change in Armenia
At a press conference today at Yerevan's Media Center, Arsinée Khanjian said that while two months had passed since the Justice Within Armenia movement had made a public call for positive change in the country, the new government has yet to present a specific package of reform.
Khanjian, a founding member of the Justice Within Armenia movement, was joined via Skype by Serj Tankian, Eric Nazarian and Atom Egoyan.
Khanjian said that while Armenians in the diaspora viewed the independence of Armenia as a great victory and the culmination of a dream, they haven't been able, as individuals, to significantly contribute to the country. Nevertheless, she said they have always been conscious of the need to assist the newborn country so that it becomes free, independent and democratic.
She said that the situation on the ground in Armenia is becoming more troublesome by the year, and noted economic indicators, the unhealthy political climate, the trampling of human rights, the lack of justice, and continuing exodus. This reality, Khanjian said, is of great concern to the diaspora.
The Canadian-Armenian actress said that when visiting Armenia, a person from the diaspora sees how the just demands of its citizens are quashed and silenced by the use of force and how monopolies suffocate economic competition.
Khanjian said the events of July, when an armed group seized a Yerevan police building and held it for two weeks, proves that the situation in Armenia requires immediate reforms.
"For me, my direct contact with the police and seeing the dominant climate of fear was an important experience in order to understand that the time had come to participate, on a practical level, in developments in Armenia, to utilize the resources and experience of the diaspora, to stand alongside the people and join in their demand for justice," Khanjian said.
As a practical step for change, Khanjian and others have launched the "I Observe 2017" program to recruit diasporan Armenians to serve as observers in next April's parliamentary elections in Armenia.
Khanjian said that several groups have banded together to see that the program is a success.
Photo (from left): Hrant Tokhatyan, Arsinée Khanjian (Media Center)