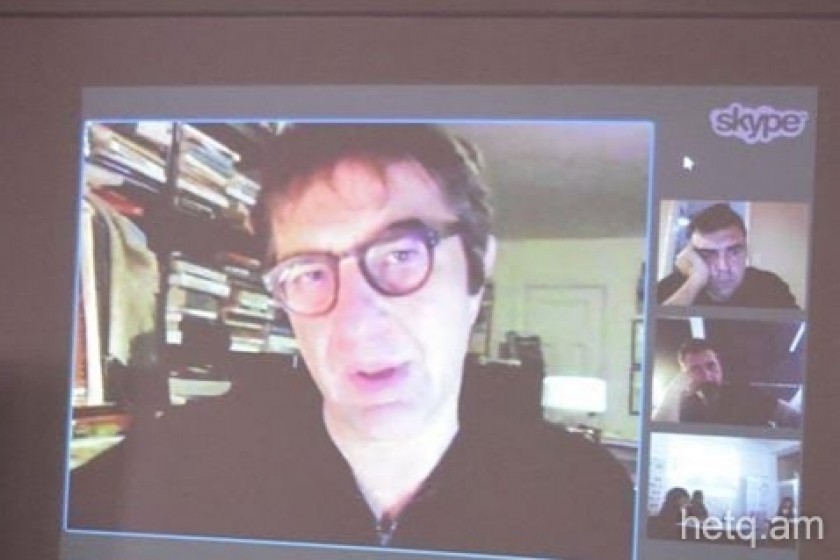 Atom Egoyan: July Seizure of Yerevan Police Building Was a Wake-Up Call
Joining a press conference today at Yerevan's Media Center by Skype regarding the upcoming agenda of the Justice Within Armenia movement, film director Atom Egoyan called on diaspora Armenians to be aware of their responsibility towards Armenia and to define what role they have regarding impacting the situation there.
Regarding the upcoming parliamentary elections in April, Egoyan said there was a need to educate citizens about the importance of the election, but added that citizens must want to defend their ballots.
Egoyan said that the incidents of July, when the armed Sasna Tzrer group seized a Yerevan police building and the ensuing public protests, were a wake-up call exposing how human rights are violated in Armenia.
The filmmaker said the situation compels Armenians in the diaspora to finally understand that it must participate, in practical ways, in internal processes in Armenia.
"We simply want to show our compatriots in Armenia that we are united with them and that we want to participate in the processes taking place in Armenia. Of course, we cannot vote, but those with dual citizenship must go to Armenia and vote. For us, this is a very important moment to show our compatriots that we are united and prepared to help," Egoyan said.
He expressed sadness that the youth in Armenia are somewhat indifferent and believe that nothing will change.
By joining the Justice Within Movement, Egoyan says he wants to show that he is with them and wants to help.