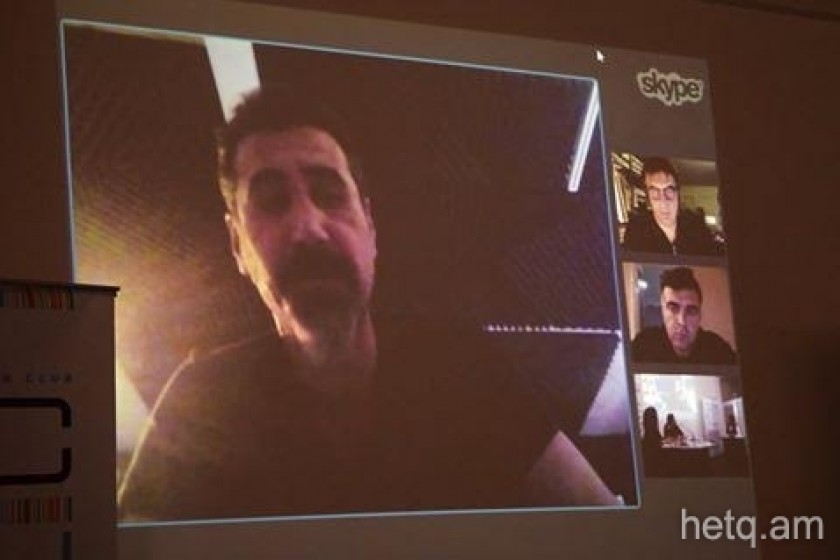 Serj Tankian: Immediate Steps Needed to Fix Armenia
System of a Down member Serj Tankian, joining a press conference today in Yerevan via Skype, said that joining the Justice Within Armenia movement was an important step for him.
Tankian said he was encouraged to see that the young people he met during the SOAD's Wake Up the Spirits 2015 concert in Yerevan and Electric Yerevan Protests were concerned about the large and the small problems facing Armenia and that they recognized their self-dignity.
"I respect that, I love that, and I idolize that," said Tankian.
The musician said that the Armenian diaspora was fairly divorced from the political, economic and social developments in Armenia and that this situation must change.
Tankian said that young people in the diaspora must not feel isolated from Armenia. He also called on Armenia's officials and intellectuals to stop saying, "Yes, please come to Armenia and spend your money, but don't try to change things."
He said that everything must be done so that young people stop leaving Armenia.
Tankian said that while it is oftentimes difficult to understand the intricacies of Armenia's political developments for a person living outside Armenia, the diaspora must comprehend its responsibility regarding Armenia and participate in the process of reform.
"Our relations with our compatriots mustn't be limited to tourism. We must show our active participation in these issues, these processes, because we don't want to lose this marvelous country. We mustn't exhibit our participation with a prejudiced attitude, as in the past, and it mustn't be done with arrogance. It just doesn't work like that. Issues have reached a critical stage. We have to take immediate steps to correct the situation," Tankian said.