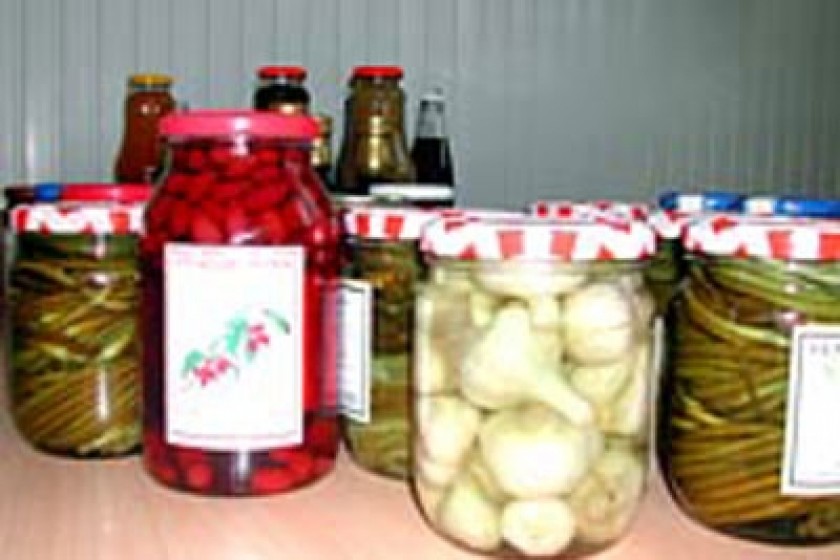 Karabakh exports fruit
After Sergei Yengibaryan was discharged from the Nagorno Karabakh Army in 1996, he decided to go into business. He took out a $5,000 bank loan and started a dairy company. "Perhaps the decisive thing was that I am an dairy engineer by training. And secondly, when I started my business in 1996, peace had just been established and there weren't enough dairy products in Stepanakert. The opportunity arose to enter that market," Yengibaryan recalls. While building up his business, he took out and paid back 22 loans. Today, his company, Arajnek, makes 60% of the dairy products in Karabakh.
"We sell most of our products in Stepanakert and other towns in Karabakh, and we also supply the Defense Army with dairy products. The company has plenty of suppliers-we have our own dairy farm where we get some 10-15% of the milk we need, and we have offices throughout the republic that buy milk from dairy farms and process it," Yengibaryan continues as he shows us around his plant. Two years ago the entrepreneur brought specialists in fromArmeniaand established the Yengibaryan Company, which makes preserves. Engineer Hovhannes Mkrtchyan was a production line manager at the Yerevan Canned Food Plant until it closed. He was involved in the start-up of three food companies inArmenia. Today he lives and works in Karabakh.
When we visited the company, they were making cornelian cherry preserves. "Everything here is done by hand, so as not to damage the berries. We classify cornelian cherries according to size and color," Mkrtchyan says. They make a variety of products: "We mainly try to process fruit and berries from Karabakh. We use kinds of fruit that are characteristic of Karabakh and aren't processed by other companies. We pickle plants that grow only in Karabakh. We make fig syrup and preserves; we use pomegranates, figs, wild cornelian cherries, blackberries, and raspberries. We try to create products that symbolize Karabakh," Yengibaryan says.
The company sells its products inRussia,BelarusandUkraine. Yengibaryan says they have agreements with businesspeople in theUSandCanadaas well. But he adds that high interest rates on loans hurt business in Karabakh." The average interest rate inArmeniaand Karabakh today is 15%, which is a heavy burden for an entrepreneur. It's hard to make major investments with those rates if you take into consideration that industry profit is 20-25%."
Asked to what extent the construction of theNorth-South Highwaywill contribute to the development of business in Karabakh, Yengibaryan says, "We process mainly delicate fruit and berries. If there is a good highway we'll be able to transport these berries and fruit from much farther away. When the roads are bad we are forced to limit ourselves to the nearby villages. With good roads our production volumes will go way up, and even more important, our costs will go down."
Yengibaryan has also signed contracts with five college students-he is paying their tuition, and after they graduate, they will work at one of his companies.
Tigran Saroyan