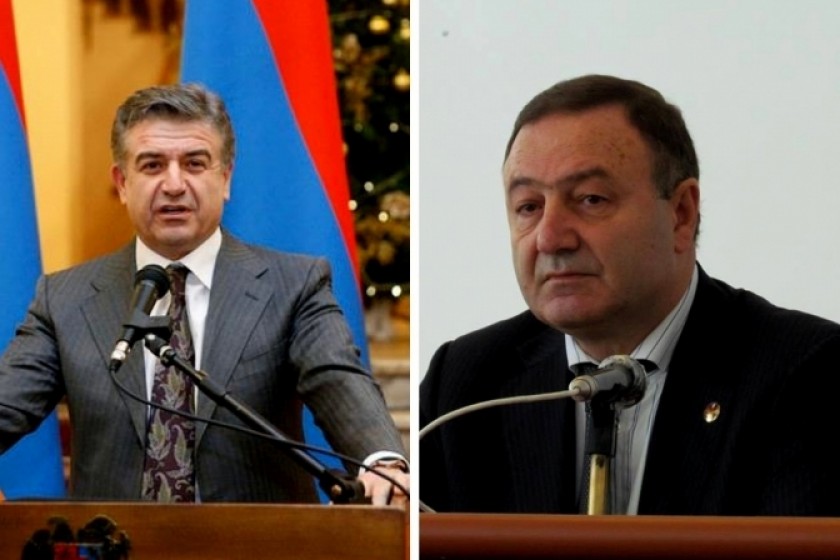 Armenian Prime Minister Remains Silent - Violations of the Law Continue
Karen Karapetyan has been a whirlwind of activity ever since being appointed prime minister of Armenia last September.
Many suspect it's more bravado than substance.
Issuing directives left and right to his government underlings, Karapetyan has promised an open and transparent government to the people. The government's website has listed the prime minister's inner team – advisors and assistants – with their contact information; as first in Armenia.
Taking the prime minister up on his offer to send inquiries to his office, Hetq emailed Karapetyan on November 2, 2016, with a copy to Ashot Margaryan (a prime ministerial assistant responsible for territorial administration), informing him of systemic violations by members of municipal councils in Armavir Province. Hetq also wanted to know what steps the government planned to take to remedy the situation.
Two months have passed – no response forthcoming.
While the prime minister remains silent on the matter, the law continues to be violated. This is nothing new or unique.
According to Article 20, Point 4, of the Law on Local Self-Governance, a community council member must "Not take part in taking decisions of the Community Council that are advantageous for him, his family members, close relatives (parents, sister, brother, child).
On November 17, 2016, the Geghakert community council in Armavir Province, in a special session, decided to allocate social assistance to 17needy families. Five were families related to council members.
Manoushak Avetisyan, wife of Geghakert council member Seryozha Avetisyan, received 30,000 AMD (US$62) in assistance. The same amount was given to Srbouhie Arshakyan, wife of council member Garnik Moughoumyan.
Narineh Stepanyan, daughter of council member Kamo Stepanyan, also received 30,000 AMD. On December 13, Kamo's brother Ishkhan, an employee at the Geghakert municipality, received a monetary award of 100,000 AMD.
Also receiving 30,000 AMD in social assistance were Karineh Petrosyan (daughter of council member Avetis Petrosyan), and Larisa Petrosyan (wife of council member Hamlet Petrosyan).
This practice is not confined to Geghakert. It occurs in communities throughout Armavir.
On December 5, 2016, the Tziatzan community council decided to allocate 382,000 AMD in social assistance. Many of the recipients were relatives of council members.
Metaksya Davtyan, mother of council member Armen Ter-Hovhannisyan, received 20,000 AMD. So did Hmayak Yegoryan, father of council member Edgar Yegoryan. Souren Melikyan, father of council member Ani Melikyan, got 25,000.
As in Geghakert, all Tziatzan council members voted on the social assistance issue, including those related to the recipients.
Yes, it is possible that relatives of council members can also be needy and deserving of social assistance. But this in no way exonerates council members who participate in the voting process, 9n violation of the law.
Such allocations of community resources to relatives of council members are all the more problematic given that Hetq has revealed that in many cases such payments are going to individuals who actually don't need social assistance.
Photo (from left): Karen Karapetyan, Ashot Margaryan