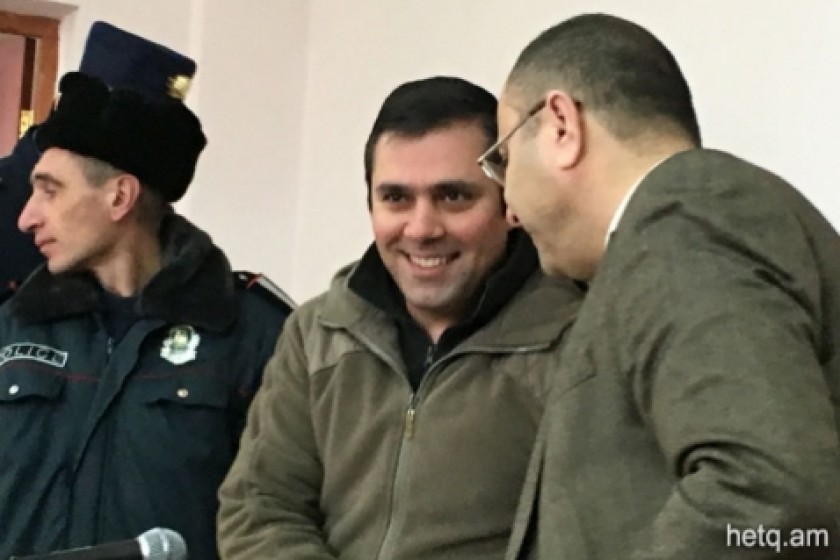 New Year's Tree Scuffle; Yerevan Court Sentences Gevorg Safaryan to Two Years
By Amalya Margaryan
Gagik Safaryan, arrested in a scuffle when he and several friends attempted to bring a Christmas tree into Yerevan's Liberty Square on January 1 last year, was sentenced today to two years' imprisonment.
Safaryan, a member of the opposition Founding Parliament, was later charged with using violence against the police and held in pre-trial detention until May.
After the court's decision to hold Safaryan, Giorgi Gogia, South Caucasus director at Human Rights Watch, declared "Given the minor nature of the incident, two months of pretrial custody is wholly unjustified. Pretrial detention should be a last resort, not the general rule, and only in cases where there is a well-founded fear that the person will evade justice or hinder the investigation."
At the time, Safaryan's lawyer told Human Rights Watch that the event organizers had notified the Yerevan city authorities in advance about their plans to hold a New Year's celebration on Freedom Square.
Safaryan, in a statement at the court today, said that while in detention he had read a copy of Kafka's The Trial.
"If I wasn't so familiar with the judicial system in Armenia, it would have seemed that Kafka wrote some absurd and exaggerated stuff. Reading the book, it was as if Kafka was living today and writing about the system in Armenia. This means that our judicial system has reached the point of absurdity," Safaryan told the court.
Video footage of the incident available on YouTube shows a major police presence in the square as several dozen participants gathered on New Year's Eve and in the early hours of January 1, 2016. When participants, dressed in costume for the New Year, attempted to bring a small New Year's tree into the square, police told them they were not allowed to bring the tree there and confiscated it. When Safaryan and several others returned with a man wearing a tree costume, a scuffle broke out between police and some of the participants, and police detained Safaryan and several others.
Safaryan noted that the prosecutor, who demanded a sentence of 2.5 years, had told him it was better for all if the video was overlooked as evidence.
The young man said that the prosecutor's office always protects the interests of the police, accepting as fact that the cops are always performing their duties correctly.
Safaryan added that the witnesses for the prosecution had offered false testimony.
"The testimony given by the police officers who approached us was full of contradictions," Safaryan said.