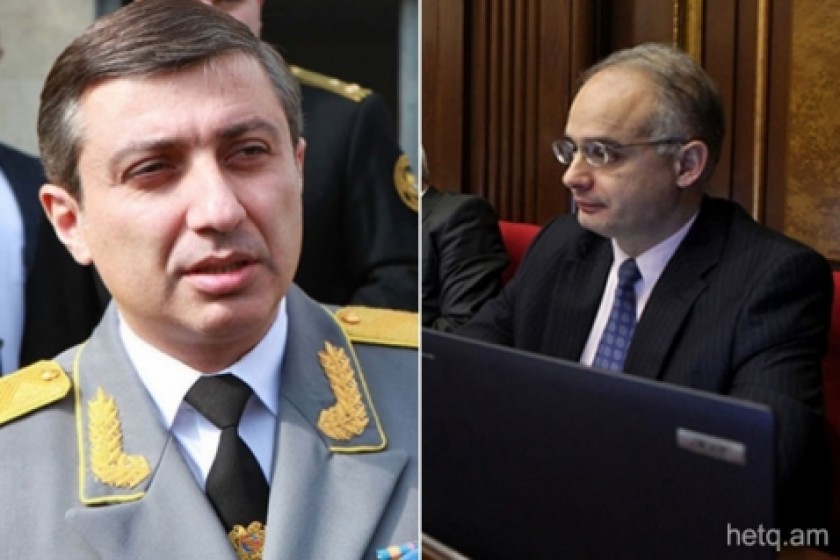 Opposition MP Zurabyan Grills Government: 'Why is the regime grooming Mihran Poghosyan to run in April election?'
During a Q&A session in Armenia's parliament today, Armenian National Congress (HAK) MP Levon Zurabyan expressed amazement that the government had taken no steps to investigate the offshore case of Mihran Poghosyan, Armenia's Chief Compulsory Enforcement Officer.
Zurabyan said he was amazed to read a statement released by the government regarding a recent meeting between Armenian Prime Minister Karen Karapetyan and the Head of the European Union Delegation to Armenia, Ambassador Piotr Switalski, during which Karapetyan said that his government would get tough on corruption.
On January 25, Armenia's Special Investigative Service (SIS) said it stopped investigating the offshore accounts of Mihran Poghosyan after Swiss and Panamanian authorities refused to help the probe into Panama Papers revelations.
However, the Swiss Federal Department of Justice later announced that it had turned down the Armenian request for legal assistance on November 8, 2016 because the requirements of the request were not fulfilled.
Zurabyan reminded those present that years ago, Poghosyan purchased Chinese cars for the Compulsory Enforcement Service (CES) via a company he owned. And now, Zurabyan pointed out, we have the Panama Papers.
After Hetq broke the news about Poghosyan's offshore business interests, as revealed in the Panama Papers, Poghosyan resigned but continued to claim his innocence.
"We were on the verge of being glad, but then the case was dropped," Zurabyan said.
The MP then asked Prime Minister Karapetyan, who was fielding questions in the parliament, how could the ruling government see fit to field a candidate like Poghosyan in the April parliamentary election.
Minister of Justice Arpineh Hovhannisyan responded to Zurabyan's question, restricting herself solely to various public pronouncements the government has made regarding the fight against corruption.
Zurabyan countered by saying that the government had refused a request by Hetq to see the material regarding the decision to drop the Poghosyan investigation.
Hovhannisyan said that as a representative of the executive branch of government, it would be incorrect for her to evaluate any action taken by law enforcement, and that if she did so, it would be regarded as "meddling".
Photo (from left): Mihran Poghosyan, MP Levon Zurabyan