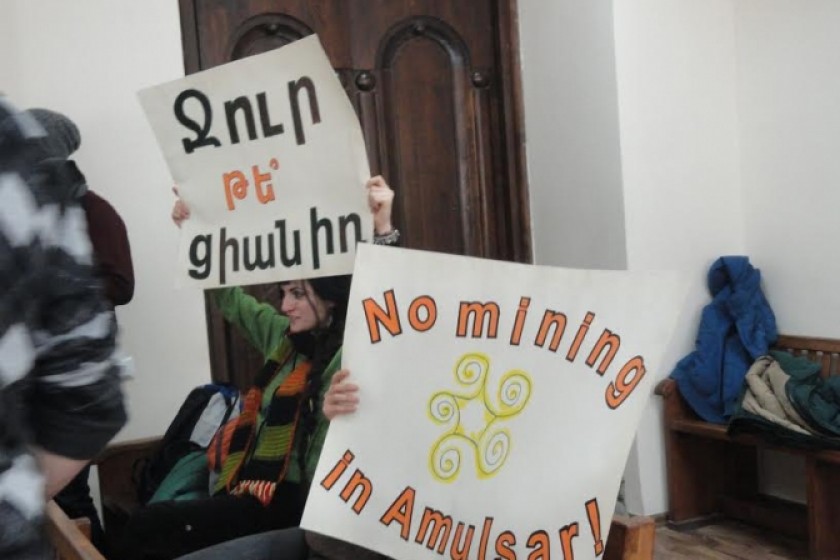 Judge Postpones Trial Seeking to Stop Amulsar Gold Mine in Armenia
Judge Karen Zarikyan yesterday postponed a trial seeking to halt any future operation of the Amulsar gold mine in Armenia's Vayots Dzor and Syunik provinces.
The plaintiffs, environmentalisst and residents of Gndevaz, are seeking to overturn the analyses of the Ministry of Energy and Natural Resources and the Ministry of Nature Protection stating that mining in the region will have no substantial negative effects on the environment.
The reason for the postponement appears to have been a mail mix-up in which one of the plaintiffs never received a notice regarding the trial date.
In a separate suit, the plaintiffs are also seeking to a similar conclusion reached by the National Academy of Science's Lake Sevan Preservation Expert Committee.
The plaintiffs claim that the conclusions reached by the above state agencies are in violation of various laws regarding Lake Sevan and endangered species.
Referring to many specialists in the field, the plaintiffs argue that mining in Amulsar would endanger Armenia's fresh water reserves and indirectly lead to the depopulation of Gndevaz, a community located a mere one kilometer from the open-pit mine where toxic cyanides will be used over a minimum period of twelve years.