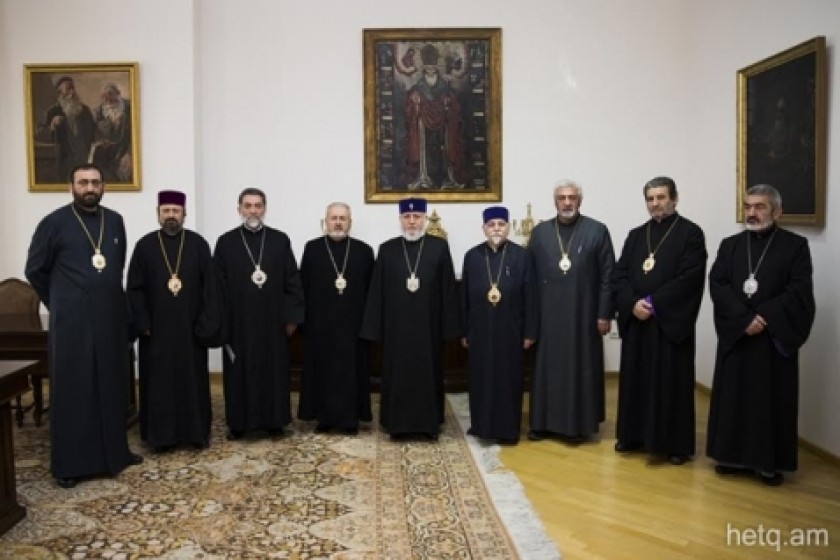 Etchmiadzin Gives Green Light for Election of New Patriarch of Constantinople
The Armenian Apostolic Mother See of Etchmiadzin, after three days of debate, has ruled that an election for a new locum tenens of the Armenian Patriarchate of Constantinople take place by March 15.
With the election, the powers of Patriarchal Vicar Aram Ateshyan would cease.
Participating in the debate, headed by Catholicos of All Armenians Garegin II, were Archbishop Aram Ateshyan, Primate of the Armenian Apostolic Church Diocese of Germany Archbishop Karekin Bekdjian, and Chairman of the Religious Council of the Armenian Patriarchate in Istanbul Bishop Sahak Mashalian
For years now, the many in the Armenian community in Turkey have expressed dissent regarding the temporary appointment of Archbishop Aram Ateshyan who took over the day-to-day affairs of the patriarchate after it was announced in 2008 that Patriarch Mesrob Mutafyan was suffering from Alzheimer's and could no longer perform his duties.
A statement released by Etchmiadzin says that within ten days of the election, elections for a local initiative body will be conducted, and that within the following six months, an election for a new patriarch will take place.
Mutafyan, despite his illness, remains the officially recognized Patriarch of Constantinople.
The issue has divided the Armenian community in Turkey ever since.