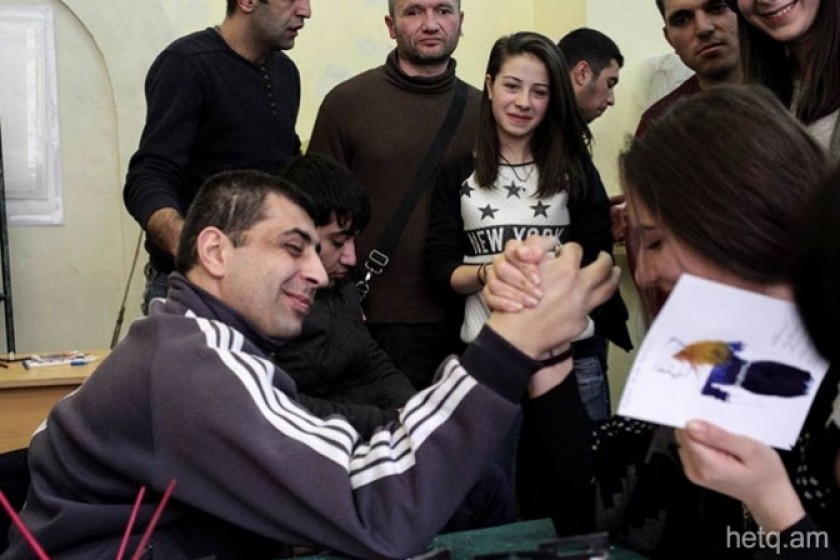 March 8 Greeting Cards, Designed by Armenian Soldiers Wounded in War, to Go on Sale
Holiday greeting cards, designed by soldiers wounded during combat, in honor of March 8 (International Women's Day), will be purchased by Yerevan's Medical University and a flower seller in Yerevan.
Several state agencies have also expressed an interest in purchasing the greeting cards.
Students at the Panos Termlemezian State Art College have assisted the soldiers with the design and art work. Yesterday, eleven soldiers visited the college and worked on the cards with the help of students.
Haykouhie Minasyan, who launched the initiative, says: "The aim is for the cards to have been touched by a soldier's hand. It can just be a line or in the form of an embellishment. The professional team of students will then create visuals based on the soldiers' work."
Davit Sargsyan, one of the soldiers, created his first card yesterday with the team of students.
Hayk Torosyan sculpted a statuette of a man giving flowers to a woman. He says he'll present it to his mother or sister since he doesn't have a sweetheart as yet.
The soldiers participating in the project joked that they never could have imagined creating cards as adults.
This initiative is part of the Assistance to the Military Disabled and Soldiers project. The idea of organizing the sale of the cards belongs to Yerevan Medical University Rector Armen Mouradyan. He believes that all the cards produced will be sold.
Haykouhie Minasyan says they can produce 1,000 cards by March 8 and that they'll sell for 5,000 AMD apiece.
Proceeds will go to the Rehabilitative Center for the Military Disabled.