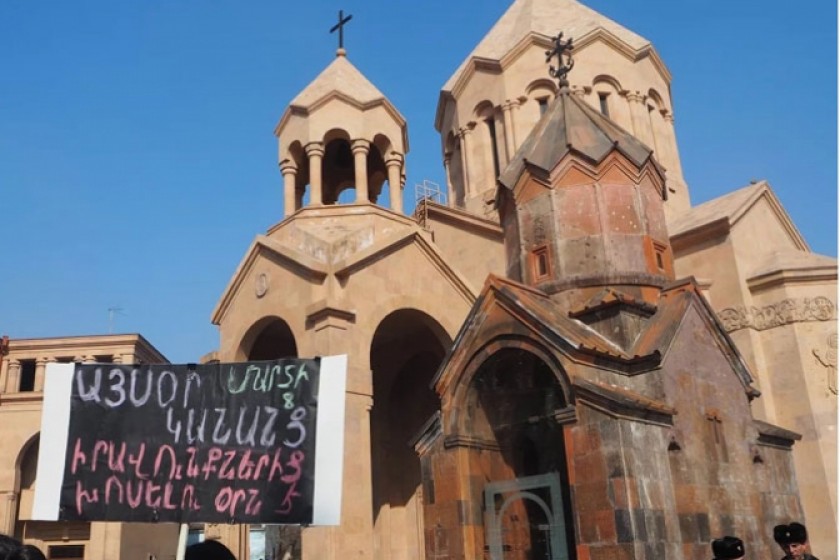 "Keep your flowers": Joining the March 8th Feminist Protest in Yerevan
By Florence Low
International Women's Day, held around the world on March 8th is heralded in Armenia by an inundation of advertisements and public events, all of which promote ideals of traditional heterosexual romantic relationships and femininity.
This hegemonic ideal is epitomised in the modern custom of men giving flowers to women on this day. A handful of feminists in Armenia, however, refuse to let this way of celebrating womanhood dominate societal discourse on March 8. For them, this day retains its original historical meaning of demanding rights for women, of which the most notable example happened 100 years ago on March 8,1917, when women went on strike in Saint Petersburg - protests which would go on to spark the Russian Revolution.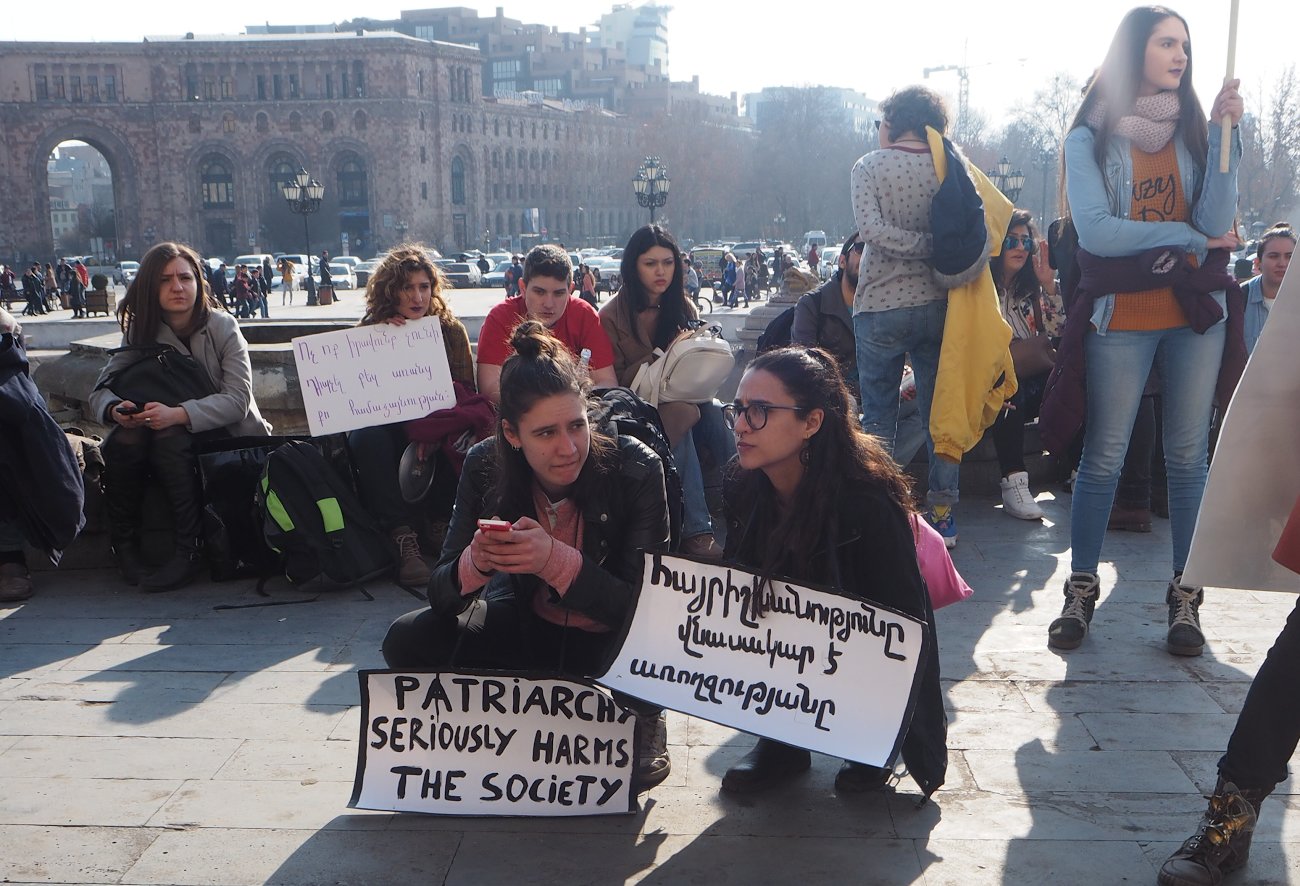 Lucie and Heghine
"I want to raise awareness that March 8th is not a day to give flowers and praise beauty," activist Heghine explains as the feminist community congregates in Yerevan's Republic Square. There is an air of protest and celebration in the air, for example Mayranush who comments that "all my life I have been oppressed, now I don't want to be oppressed anymore", whilst Sofia explains that "we are celebrating our rights". During the march, the chant "իրավունքներ մեզ, ծաղիկներ ձեզ" ("Rights for us, flowers for you") becomes the rallying cry for women tired of the ways patriarchy and capitalism had changed the meaning of March 8 in Armenia.
This protest for women's rights and freedom also has supporters from the LGBT community. Harmik notes that "discrimination never used to be part of the Armenian mentality, it is because of Russia's influence". Hayk, who has caused a stir by turning up in full drag (a dress, shawl and wig, along with a full face of make-up), notes that his experience at Right Side NGO, which works with transgender people, has shown him how closely transphobia is linked with misogyny, noting how vulnerable being in drag makes him feel.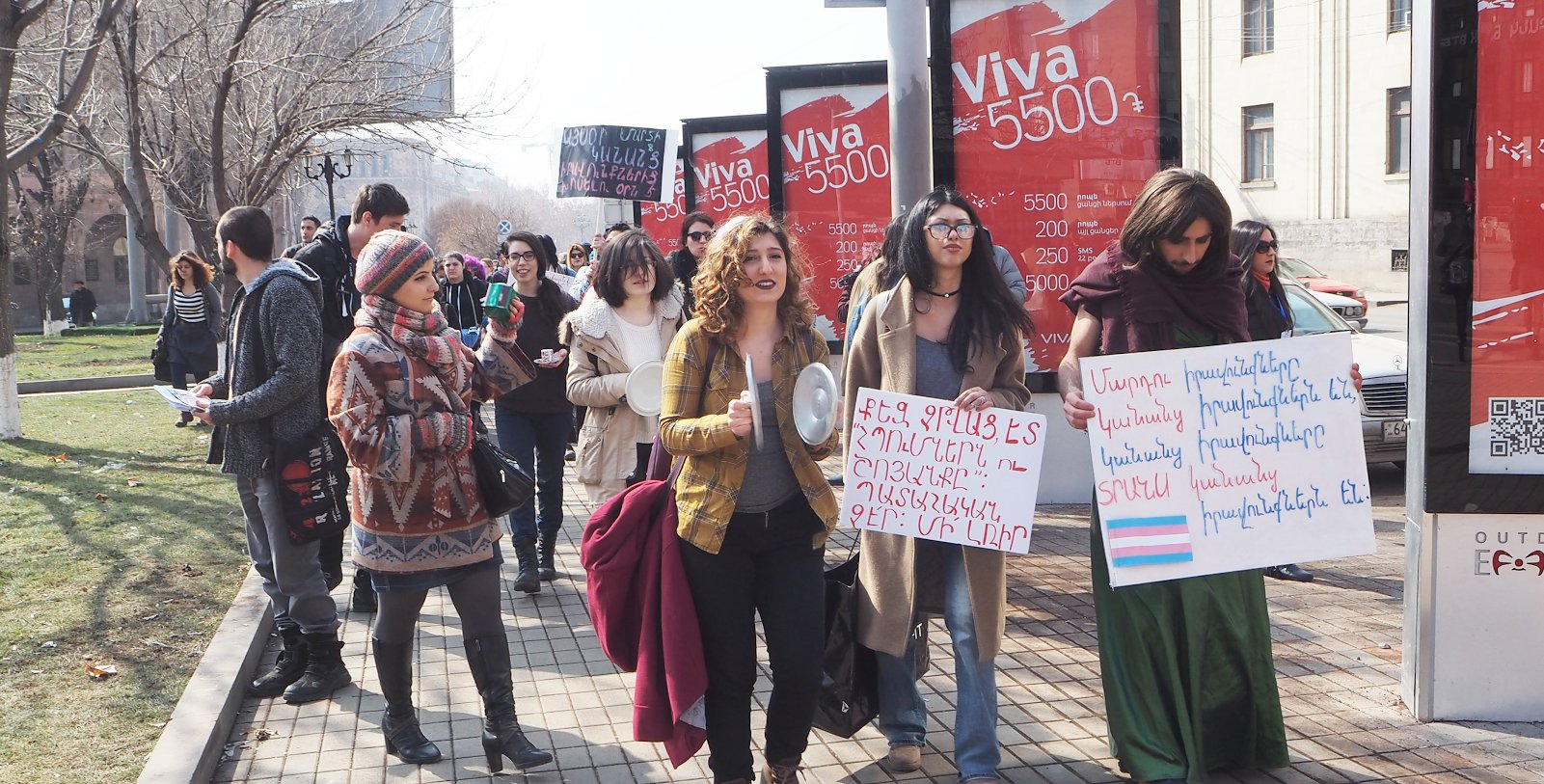 The march took the form of a "feminist tour of Yerevan", as participant Maya puts it, starting from Republic Square, then walking up Nalbanyan Street, to Moscovyan Street, then down Abovyan Street, down Tumanyan Street to Parpetsi Street and finally back to Republic Square via Amiryan Street.
The stops of the march include various public artworks and institutions symbolising power and domination which perpetuate or promote misogyny, gender injustice, oppression, or sexism in Armenia. At each site, one of the leaders makes a speech or reads a passage pertinent to the type of dominance symbolised in the architecture or art. Activist Sofia remarked that the march was a "reclamation" since "every day we walk past [these sites], and express our anger only to ourselves, this time we walked together and raised our voices of discontent…this way, the marchers themselves created a public platform for raising issues of concern".
The first speech took place at Republic Square, an account of the detention of human rights defender Armine Arakelyan at the fountain of the metro station almost a year ago, underlining police brutality in forcing her to stay in the fountain for three hours and criticising those who stood by and did nothing, concluding with a call to "let us not be indifferent to one another, women; let us stand in solidarity; support each other, give each other strength, so that they cannot divide us". This opening speech set the mood for the rest of the march, which was at once angry at the way certain institutions have oppressed women, but celebratory of the solidarity among women and those who actively support the fight for women's rights.
The march takes protestors to banks to critique economic injustice in their support of mining operations; to the statue of Garegin Nzhdeh to discuss the detrimental effects of nationalism and militarisation on the place of women in society; to statues and museums, to critique ways in which hegemonic societal discourse celebrates male artists whilst erasing female artists such as Shushanik Kurghinian, Camille Claudel (Rodin's mistress) and contemporary female sculptors such as Ruzan Kyurkchyan whose public artworks have not been cared for by the municipality; to the statue of Aleksander Mantashyan, the rich Armenian benefactor, whose location on the busiest shopping street is criticised as promoting capitalism through commercialism and oligarchic charity; and to churches to critique ways in which religious institutions control women's bodies. The march was a wake-up call; in the same way that we internalise certain oppressive aspects of society as 'fact', as unchangeable, we walk past these parts of Yerevan every day without consciously thinking of the harm that they do to people's freedom, rights, and autonomy.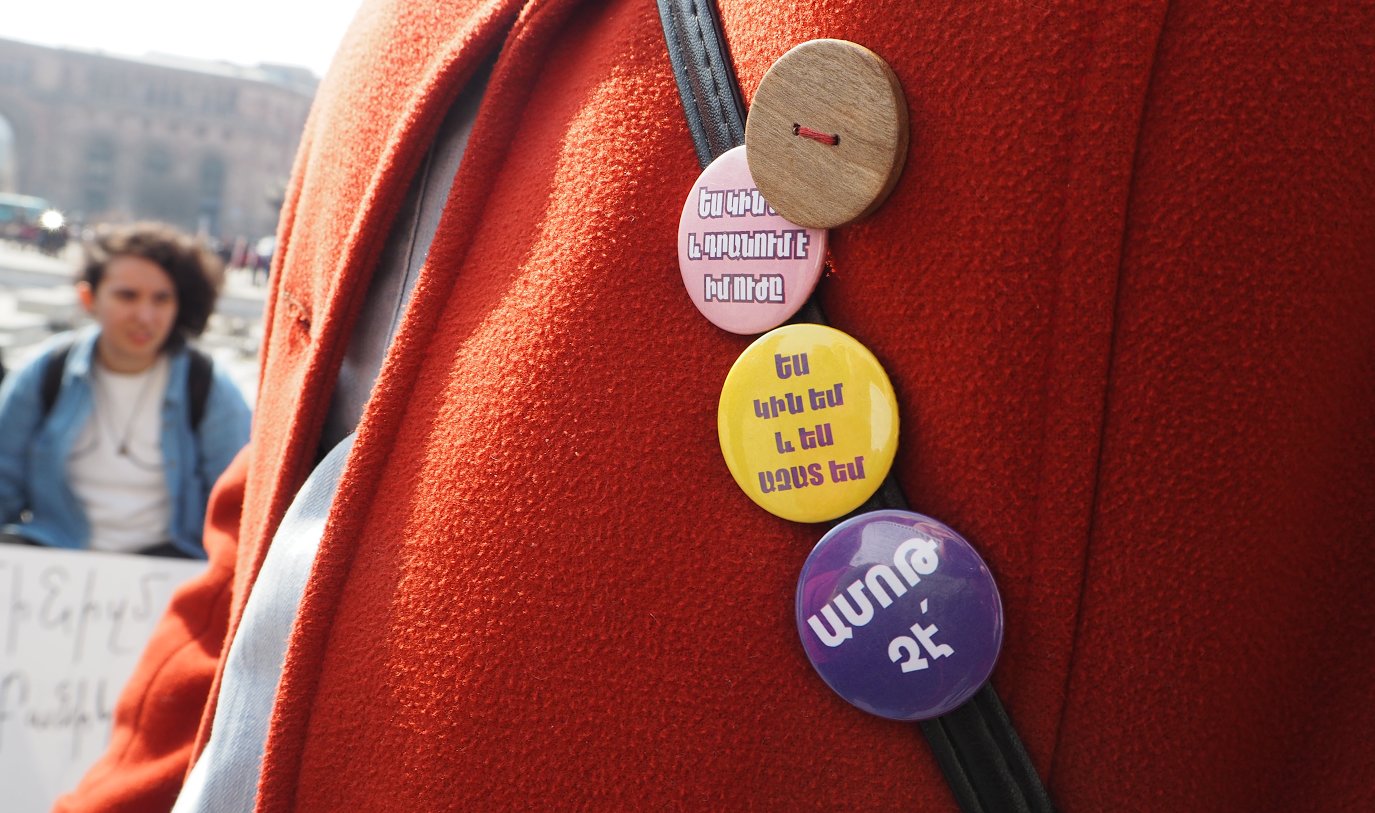 Participants were not given a political agenda to digest, but were often given the facts and left to consider them for themselves. At the "Unified Cross" statue which symbolises Russian-Armenian friendship at the Moscovyan and Nalbandyan intersection, a sign was simply held up calling for "an end to imperialist agenda", an implied critique of the potential effects Russia's economic colonialization of Armenia has on human rights. Here, statistics were also read out about domestic violence cases in Armenia, a stark reminder of how Russia has recently decriminalised some domestic violence, whilst Armenia still doesn't have a law against domestic violence at all. At an inconspicuous marketing office on Parpetsi Street, an account was read concerning the history of DIY bar, once at the same location, a "place where people could feel free and accepted", which was fire-bombed in 2012 by ultra-nationalists. The passage criticised the impunity the perpetrators were granted, and the ways state officials thus condoned hate crimes and failed to prevent future similar crimes, once again reminding march participants of how state institutions can actively restrict human rights and personal freedom.
The lack of freedom was reinforced by the excessive police presence surrounding the marchers. As a grassroots protest with only around 30 people marching, there was no need to inform the local authorities, Anna, one of the march organisers, tells me. Nevertheless, police learnt of the protest, and, though only two accompanied the march at the beginning, this number quickly multiplied to twelve as they marched up Nalbandyan Street. Though ostensibly there by duty to protect the protestors from passers-by and to provide them with a safe route through the city, the police seemed to block the marchers and attempt to redirect them more than protect them. At one point, after blocking their way to the headquarters of the Secret Service, police attempted to force marchers to walk up a pavement which only allowed them to walk single-file. A standstill was thus created in the road as marchers banged drums and chanted ո՛չ պետությանը (no to the state), and quick-thinking speakers read passages here concerning police brutality and state oppression during and after the Soviet era.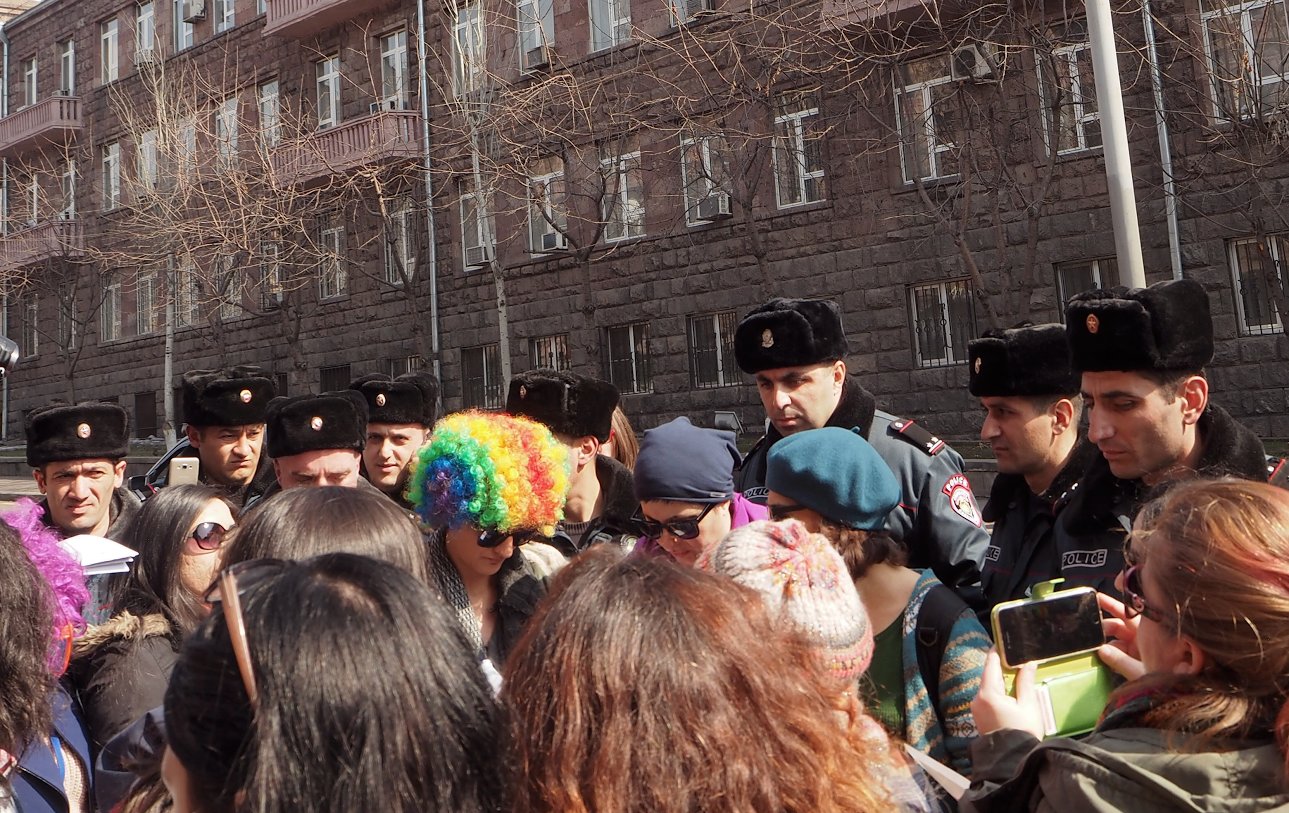 Reactions to the protest differed vastly, from women shopkeepers who cheered the protesters on, to others who reacted violently, verbally but sometimes also physically too, who tended to be men. At one point, police had to restrain a man who tried to tear a wig off a male participant in the march. It was at these violent reactions that solidarity was most powerful through banging on drums to drown the person out, chanting, and forming a protective wall in cases where the outrage was directed at a particular individual. Despite the march being smaller than previous years, it felt more influential, with the potential for change greater. Mayranush felt empowered by a wave of feminism that she had not felt before; "more and more people every year start to believe that change is possible".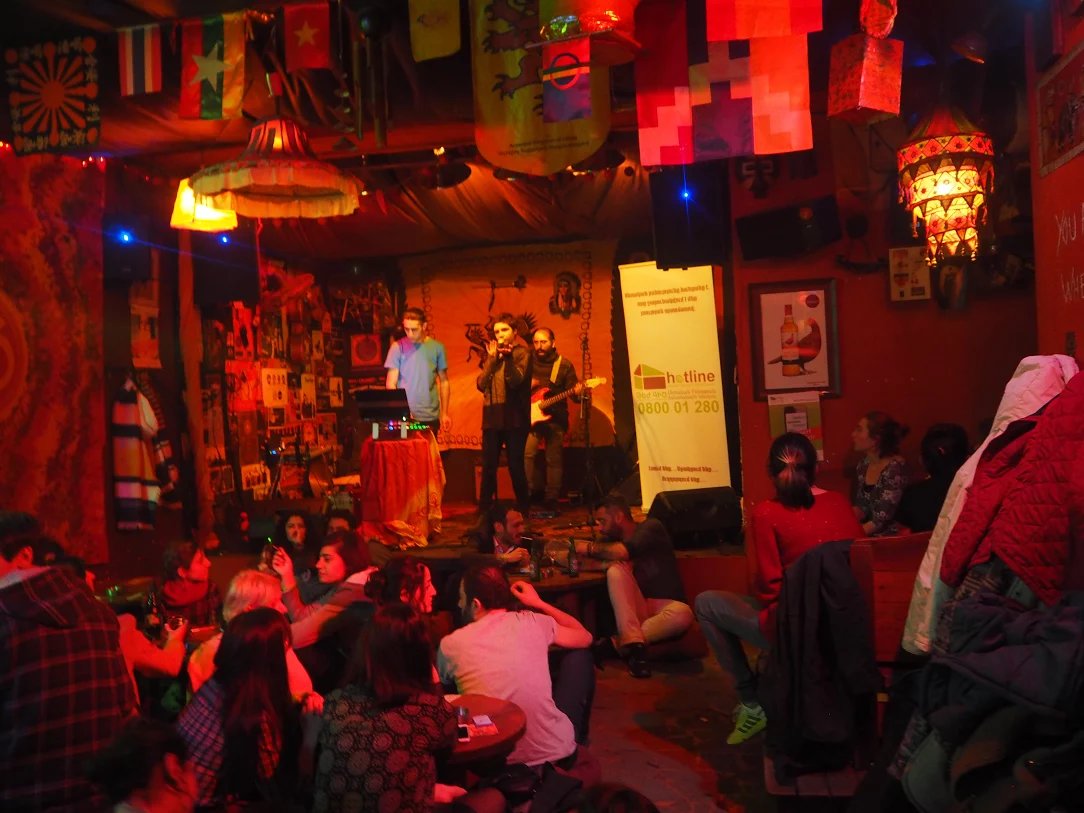 To conclude the day, the feminist community gather in Calumet bar for a concert both to raise both money for the Sexual Assault Crisis Center and awareness surrounding the issue of sexual assault in Armenia. There were posters pinned up all over the bar which critiqued the use of women's bodies for advertising which often even imply abuse. An experimental electro band, Symptom, performed songs about different issues affecting society, including several feminist songs played specially for March 8, which include lyrics such as "it's not for you to decide things for her. I came out of her, she is my creator". Lead singer Amassia explains that the music project is to show young people that it is possible to find artistic outlets for anger, and that it is okay to not label yourself. As for International Women's Day, she comments "March 8th is important for women's rights, but I hope one day there will be no need for it".
This evening of drinking and dancing and music contained the perfect mix of protest and celebration to round off this year's March 8th.
Florence Low is from London, UK, and currently lives in Yerevan, Armenia.
All photos by Florence Low
If you found a typo you can notify us by selecting the text area and pressing CTRL+Enter