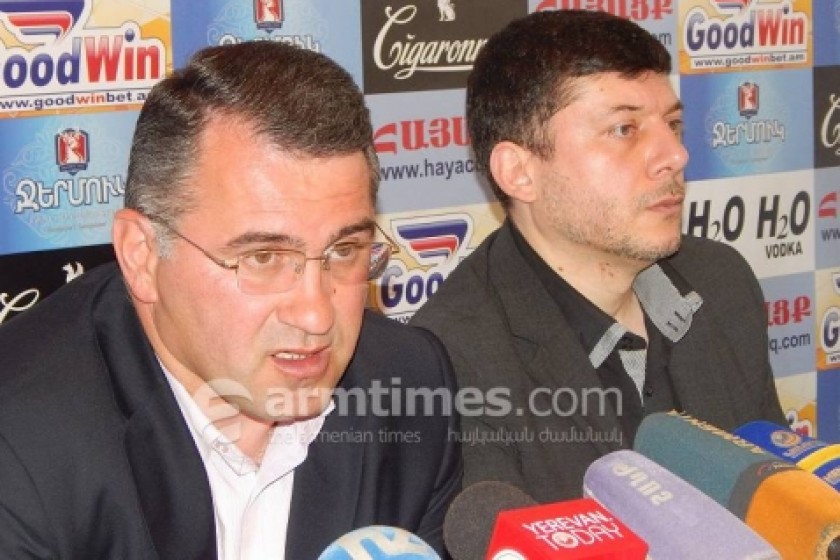 Sour Grapes: ORO Alliance Candidate Says It Was Target of "Black PR"
Armen Martirosyan, a candidate who ran on the ticket of the losing ORO alliance ticket in the April 2 parliamentary election, described the vote as an "auction" and that the ORO alliance was targeted with negative propaganda during the campaign.
At a news conference with alliance member Hovsep Khurshudyan, Martirosyan described the newly formed parliament as a body formed by three main players – President Serzh Sargsyan, Gagik Tsarukyan and Mikayel Minasyan.
Tsarukyan's alliance came in second in the April 2 election.
Martirosyan said his alliance, in cooperation with others, would have a tough job defending the rights of the society at large.
"We are experiencing the last stage of degradation. After this, either the country will be destroyed or the people will wake up and understand what has happened," Martirosyan said.
Khurshudyan said that the opposition in Armenia had clearly lost because it couldn't convince voters that there was a united alternative to the ruling government.
"The Heritage Party, and later the ORO alliance, did all it could to form a united front against the government, so that the people could see that their vote would bring real change," Khurshudyan said.
The ORO alliance was headed by former defense minister Seyran Ohanian, Raffi Hovannisian (head of the Heritage Party) and Vardan Oskanian.
He said that it was apparent that many voters who should have come out and cast their ballots for the opposition stayed home.
Other voters, he said, were perplexed as to whom to vote for, while others, due to their socio-economic state, were enticed by bribes.
Photo: Armen Martirosyan, Hovsep Khurshudyan