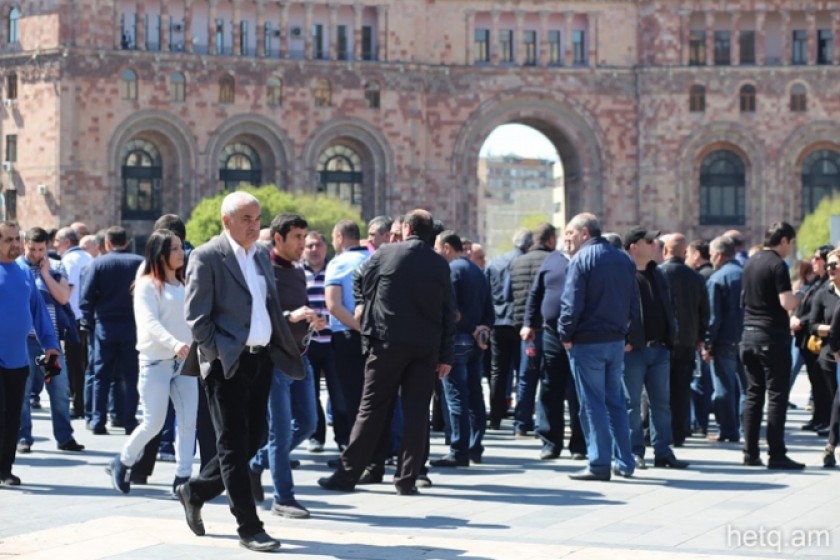 Tax Troubles: Irate Yerevan Merchants to Meet Prime Minister
Scores of Yerevan market business owners, claiming that tax inspectors are harassing them, have assembled in Yerevan's Republic Square this afternoon and are waiting to meet with Armenian Prime Minister Karen Karapetyan.
The Arinj Mall, Surmalu and Petak market shop owners demonstrated outside the Armenian Government building on April 21, demanding that the State Revenue Committee stop its heavy-handed tatics of intimidation.
They claim that the tax service has ramped up inspections of late, demanding that they present various documents. Business owners, however, claim that they do not earn enough money to maintain those documents, since it requires hiring accountants and documenting each item for sale.
Arinj Mall business owner Armen Nersisyan told Hetq that he and others met with economists and lawyers yesterday and drafted a bill that would amicably resolve the problem for both sides.
Nersisyan said that tax inspectors again visited the markets in question, but weren't as overbearing as before. The business owner believes that the tax authorities have backed off after seeing the collective power of the merchants.
"Now, they constantly ask what have we done to make you afraid of us? But a few days prior to this, they again placed a bomb at the Surmalu, Petak and Arinj markets, constantly terrorizing us," Nersisyan said.