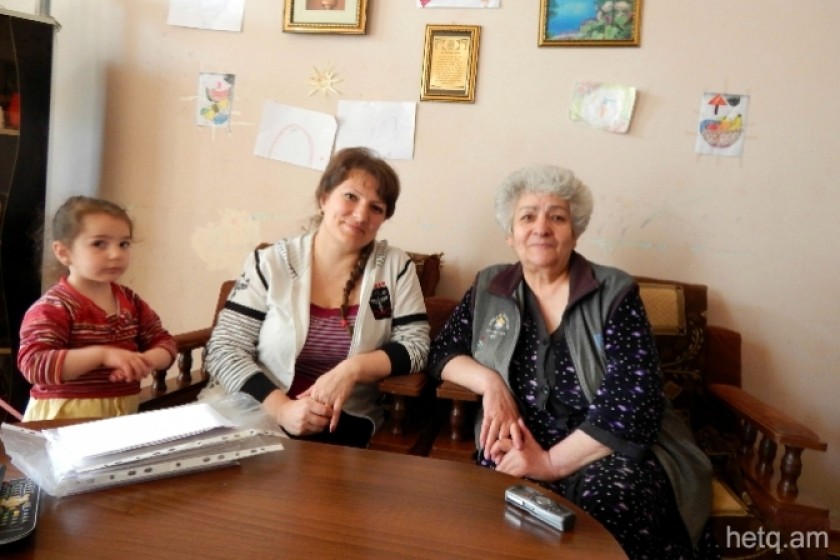 Shamlough, an Armenian Mining Company Town: Residents Fear Speaking Out Lest They Get Fired
80 residents of Shamlough, a small town in Armenia's northern Lori Province. work for the mining company Akhtala Mountain Enrichment Combinat (AMEC) CJSC.
They say they are afraid to talk about AMEC shirking its environmental obligations for fear of losing their jobs.
"You are right, but, you see, these men are miners, each having 4-5 kids to take care of. If they say something, they'll be out. If I'm fired, will you take care of me?" asks Feodor Kotanov, a Shamlough resident.
"I have two students to take care of. If I don't work, how am I going to earn enough?" says Andranik Hakhverdyan, another AMEC worker.
People in Shamlough are aware of the hard-working conditions in the mines. One of the people I talked to, who preferred to stay anonymous, said that people knew where and why they were going. They know that might go into a mine and not come out. They know the dangers existing in the mines, but they have no other choice, the person said.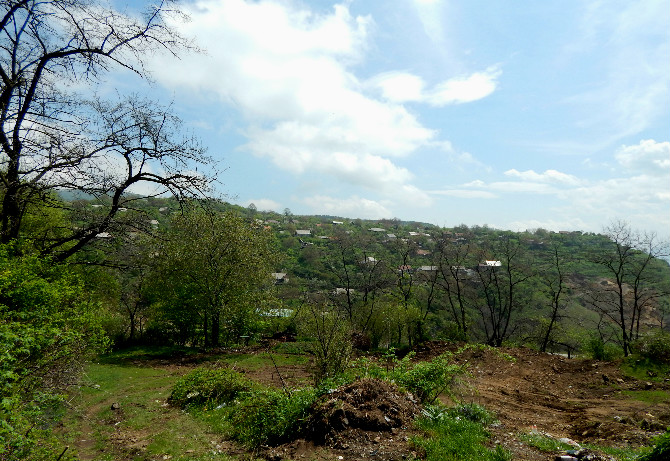 Town of Shamlough
"They shouldn't close the mines. They should increase control over mining safety instead. Cave-ins are frequent in mines," says Emma Arakelyan.
It's been 22 days since one of the miners, Aghbal Arakelyan, was injured in one such cave-in.
Hetq has still been unable to get any information on the circumstances from AMEC Director Lyova Vardanyan. At first, he explained that he was busy or in Yerevan. Vardanyan then asked for questions to be sent in writing. Hetq did so, but hasn't received any response from him.
Maxim Hakobyan acquired the mine two years ago. A century ago, these mines were operated by French companies.
To operate them, Hakobyan turned the busy road leading to Shamlough into a mining staging zone. At night, the miners bring out ore, to be then loaded onto large tracks by cranes and transported to the plant in the morning.
Cars driven by Shamlough residents take the ore, spread on the road by rain or wind, along for the ride, to the streets and yards of the town.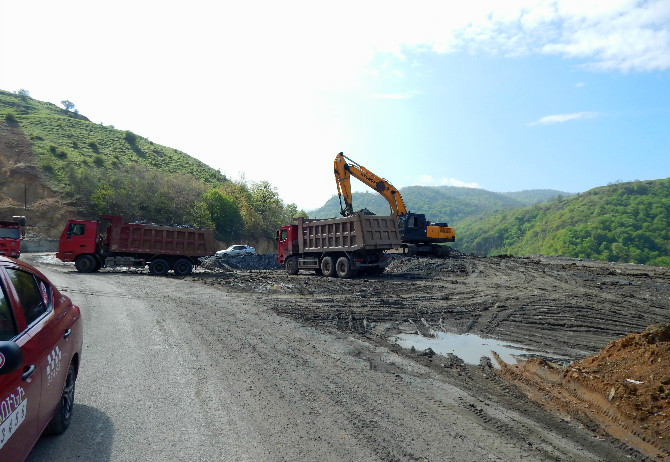 According to residents, it's been at least ten years since the roads have been paved. Meanwhile, mine bulldozers and heavy trucks continue to ruin the roadways.
Shamlough, which once had 5,000 residents, is on a downward spiral.
While polluting the environment by operating open and closed mines, AMEC does not take any responsibility for the development of the community.
Moreover, while abusing the residents' patience and fear of losing their jobs, the company's former and current owners have seized the town's cultural house and kindergarten buildings that can accommodate eighty kids
"When the revolution took place in 1920, the French operating the mines left Shamlough. There was no kindergarten then, but the communists opened one in 1925, when they reopened the mines. At the time, there were four kindergartens in the Tumanyan region – two in Alaverdi, one in Madan, and one in Shamlough. My mother attended the Shamlough kindergarten in 1925. But now, in the 21st century, we have no kindergarten here," says Emma Arakelyan, a pedagogue by profession.
Breaking the 1998 Law "On the Privatization of State Property", the former owner of AMEC, Serop Ter-Poghosyan, seized the buildings of the Shamlough kindergarten and cultural house in 2002.
"According to the law, the kindergarten and cultural house should have been handed over to the community, but they were not. Both buildings are of vital importance to the community," says Gourgen Davtyan from Shamlough.
The late Serop Ter-Poghosyan, who owned Metal Prince, gave the cultural house building to Arsen Chitchyan, former head of plant safety, as a present. (Metal Prince Ltd. Corporation was registered in the British Nevis Island. Through its joint-stock subsidiary companies - Akhtala Mountain Enrichment Plant, Sagamar and Molybdeni Ashkharh - it launched its activities in the Armenian mining sector in 2000.)
Lendroush Bezhanyan, who's been the mayor of Shamlough for 15 years, has never raised the issue of those buildings with the government or the courts.
Mayor Bezhanyan gave 5 million AMD in taxpayer money, in cash, to Arsen Chitchyan in 2016, to return the cultural center building to the community.
A court case against Arsen Chitchyan, filed by AMEC, has been dragging on since 2015, resulting in all his property being placed under lock and key. This is why the cultural house building has not been registered in the community's name in the real estate registry. Arsen Chitchyan was aware of his real estate being frozen, but he fraudulently took the 5 million AMD from the mayor.
"Don't you think that Chitchyan will deny getting 5 million AMD?" I ask, "He cannot deny it," Bezhanyan replies.
The new owner of AMEC, Maxim Hakobyan, has carried out some renovation in the kindergarten building. He wants to turn it into a dormitory
Bezhanyan told Hetq that he has never submitted a written request to the former or current owners to hand over the buildings of the cultural house and kindergarten to the community.
"I asked Serop quite some time ago. But he told me that he took the buildings together with AMEC shares. It's impossible to return them to the community," says Bezhanyan.
Mothers in Shamlough will not let the kindergarten issue rest.
"If we talk about kindergarten in Shamlough, we are called the opposition. It's prohibited to talk about any issue in Shamlough. When I went to collect signatures for the kindergarten petition, many people were asking if this could lead to being cut off from pensions, or they were afraid to lose their jobs as miners. People are very afraid in Shamlough," says Antaram Adyan, a mother of two.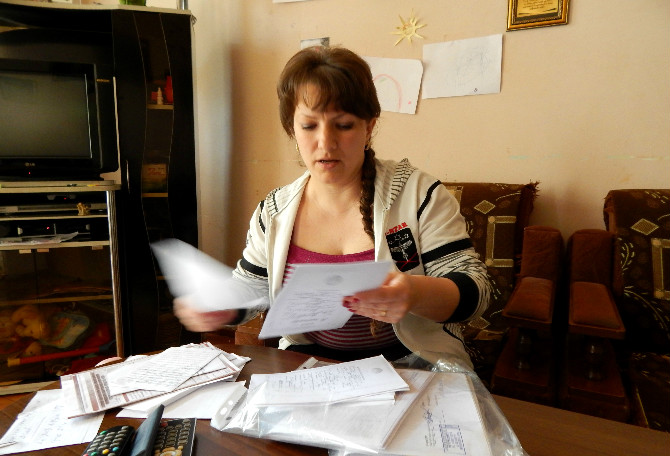 Antaram Adyan
She says her eldest daughter, Mila, is very good at drawing. "I always tell my husband, if only there was an art school in Shamlough, we would send her there. But there is nothing," says Antaram.
Mothers from Shamlough first raised the kindergarten issue to the mayor in 2012, and then to the governor of Lori.
Mayor Bezhanyan said that there was no money. Governor Artur Nalbandyan replied to the petition, signed by more than seventy mothers in 2012, by stating: "Stressing the importance of pre-school education in your community, we came to an agreement with your mayor to open a preschool in the Shamlough school, and to have it included in the World Bank's Ensuring the Access to Education project."
The preschool did open. However, only thirteen children attend. The kindergarten issue has not been resolved.
"Every day we took our daughter to a kindergarten in Akhtala, which is seven kilometers away. It was a big expense for us. My husband was combining taking her there with his job. There are many children in Shamlough who have nothing to do," says Antaram.
Today, around eighty children in Shamlough are deprived of the right to receive pre-school education.
Emma Arakelyan says that the children have no place to play, even outside.
"Children heading to school after completing kindergarten knew how to count and paint. They knew the first eighteen letters in the alphabet. They were taught recitation skills. All that's a dream now," says Arakelyan, who worked for 18 years as a kindergarten teacher and for 24 years as a Shamlough town council secretary.
Arakelyan says the building housing the cultural center was a magnificent structure, housing a 350-seat auditorium. Now the hall is destroyed. "We had folk ensemble, vocal pop group, composed of our young people. We had two theatrical groups. Football was the town's business card. There is nothing now. I think Shamlough is offended by our actions, being neglected and having no proper owners," concludes Arakelyan.
Top photo (from left): Antaram Adyan, Emma Arakelyan