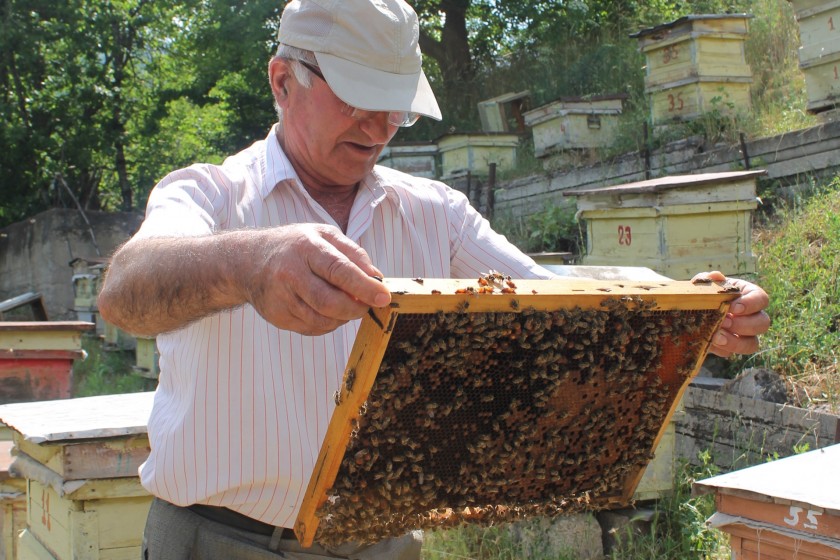 Volodya, Syunik's Beekeeper: A Family History with Connections to Garegin Nzhdeh
Volodya Martirosyan is a 67-year-old beekeeper with a family history that taps into the very roots of the Syunik mountains in Armenia he hails from.
Volodya is a native of Shishkert, a village in Armenia's Syunik Province. He's the grandson of Alexan Kostandyan, squadron commander to Garegin Nzhdeh, a military strategist and statesman during the First Republic of Armenia (1918-1920) who led an anti-Bolshevik rebellion that led to the inclusion of Syunik in Soviet Armenia.
Nzhdeh was arrested by Soviet authorities on charges of being a counterrevolutionary, imprisoned and died in a Russian jail.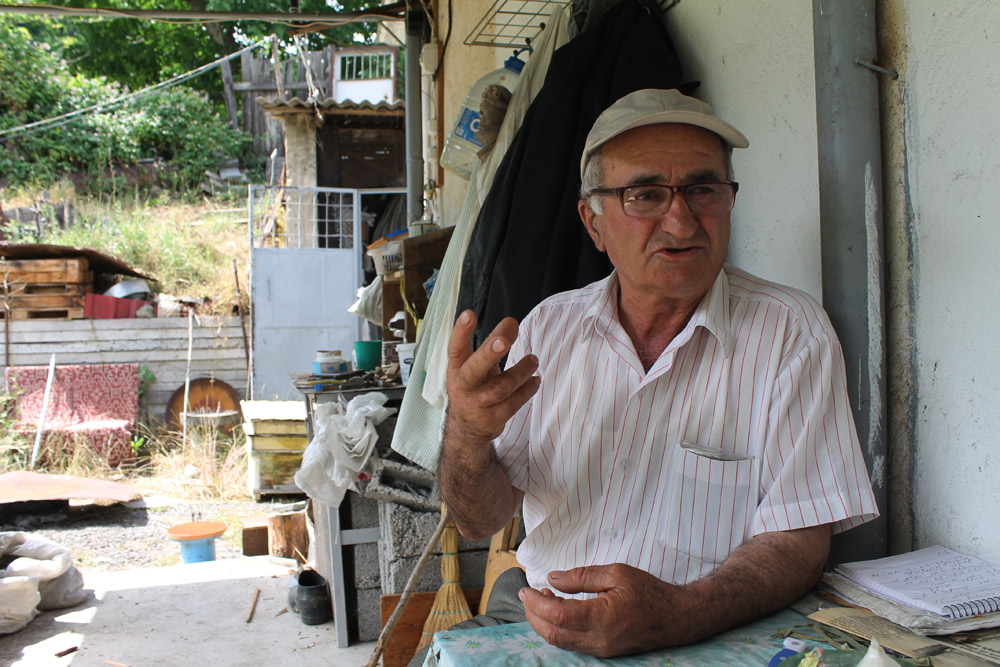 Volodya's grandfather also ran afoul of the Soviet authorities and was exiled to Tashkent in 1929. He returned to Armenia three years later but was caught again. In 1937, Alexan and his brother were shot dead in Goris. Volodya's father, Samson, was sent to exile for 10 years in 1937 for being the son of Nzhdeh's squadron commander.
During those years, Volodya's mother raised three children. In 1947, his father returned, and another four children were born after that.
"When the generation was changing, the grandfather's name was used for the surname. My grandfather's name was Martiros, the name of Martiros's father was Kostand," Volodya Martirosyan explains the difference between surnames, and adds, "I have compiled our family tree for ten generations ".
After graduating from a construction vocational school, Volodya worked as a secretary of the village council, then as a president. He was the secretary of the bureau for four years. He graduated from the Baku High Party School of the Communist Party as a corresponding student.
"So, they were preparing communists, right?" I ask.
"Yes, communists, communist leaders," Volodya replies.
It's surprising to learn that the grandson of anti-Bolshevik Nzhdeh's comrade-in-arms was a communist. However, he says that his father didn't object to his decision.
Like many others, Volodya moved from Shishkert to neighboring Tsav after the 1968 earthquake in Syunik. He served as the community head of Tsav in 1978-1997. He no longer lives in the village, but in the town of Kapan.
Volodya, one of the most famous beekeepers of Tsav still takes his beehives to Shishkert. He checks in on them once a week. No one will steal them.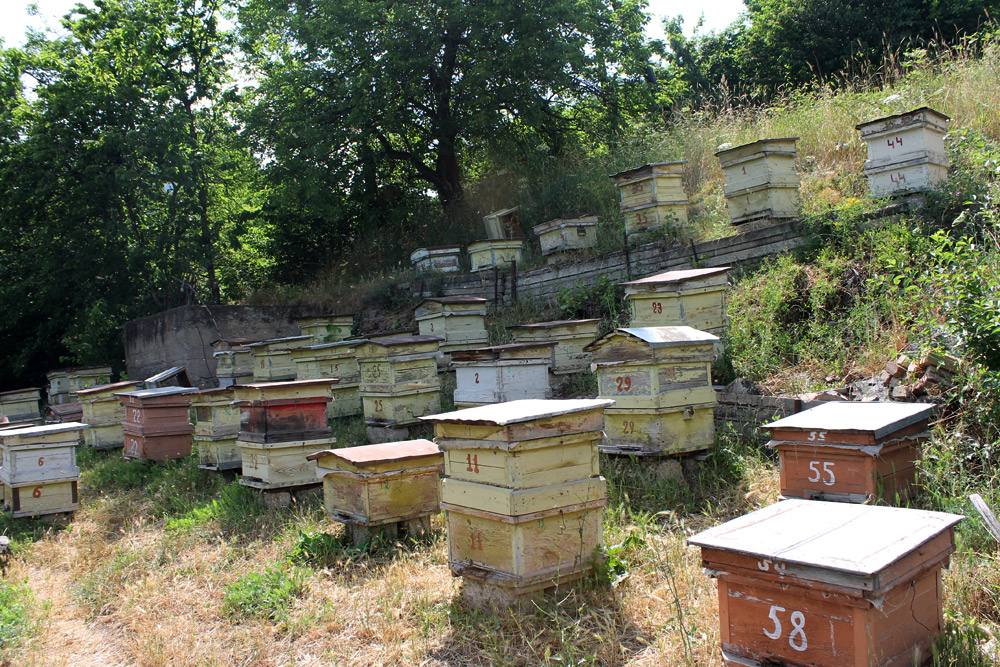 Volodya has fifty beehives. He says he inherited the job from his father. He recalls that there were no beehives before; people kept bees in baskets. It was in the 1940s and '50s that people in remote villages began to make beehives. During the father's time, beehives were moved to warmer spots in the winter. Volodya doesn't move or cover them. He says that beehives may endure winter temps al low as minus 60 degrees Celsius.
Each of his beehives is numbered and painted with different colors. You can gauge the strength of the beehive from its floors. If it's a two-story one, then there's a strong family inside. Every bee recognizes its beehive, and although the beehives are normally painted so that the insects are guided also by the color, Volodya says that it's not necessary.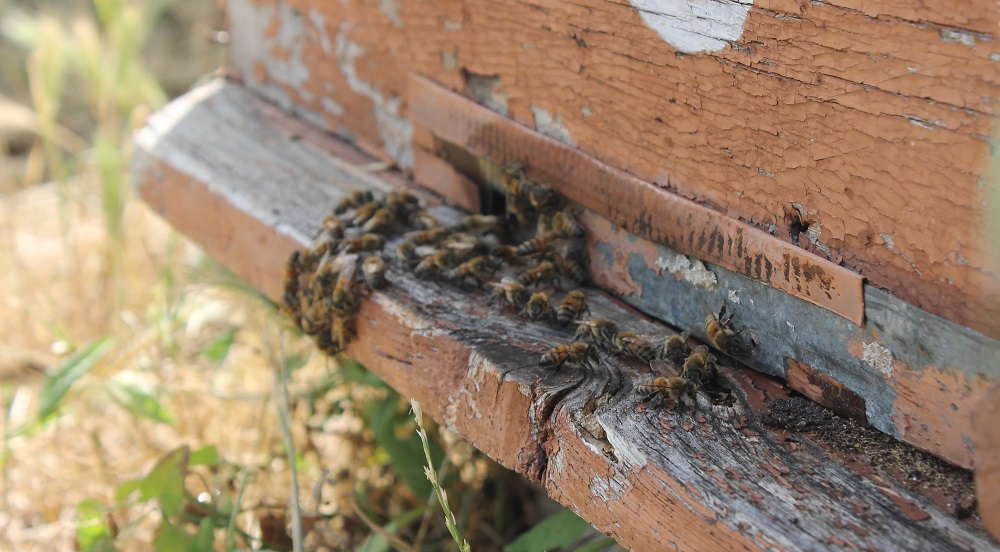 The bee diary is on the table. The beekeeper takes it, corrects his glasses, and reads.
"Do you hear the bees?" Volodya asks. "Yes," I reply, trying to distinguish their sound among others. In a few minutes, I do make out the differences.
"This is the sound of them bringing in the harvest. It's been several days already. It's a bit early this year, probably because of the weather. Last year, they started bringing harvest on June 27.
Worker bees fly up to 14 kilometers every time they exit the hive; seven in each direction. Volodya calls it "a race".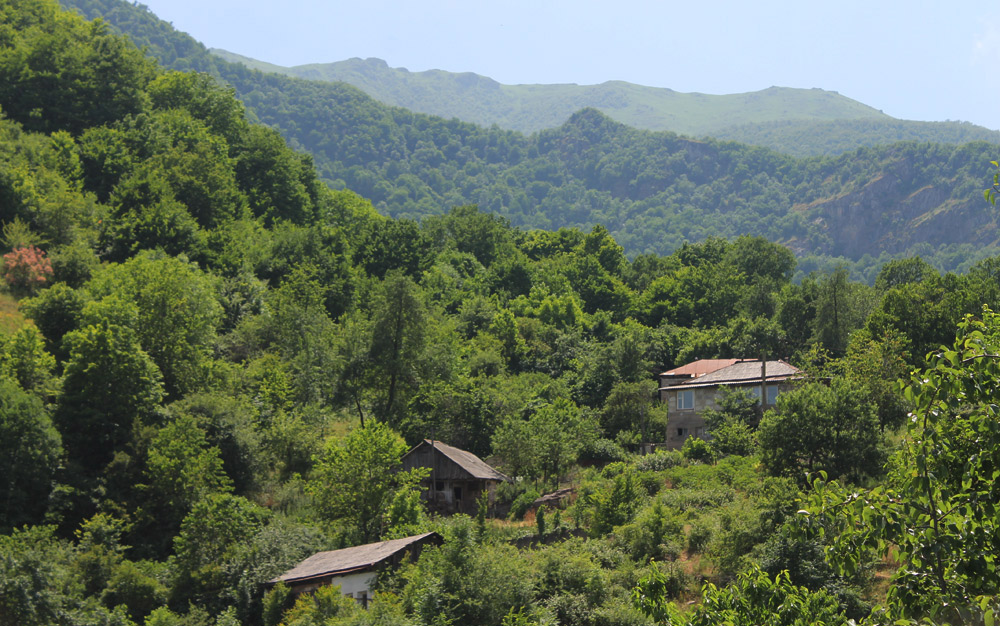 Healthy beehives usually have 60,000 to 70,000 bees. Volodya says the overall quantity of bees has dropped by 50% in the world because of different types of antenna signals affecting the bees and their ability to find their routes. According to the beekeeper, the first major negative change was felt in China.
A beekeeper knows what's going on in each of the beehives down to the smallest detail. Every beehive has its queen bee which lays around 2,000 eggs every day. For this, the temperature inside should be at least 35 degrees Celsius. Although queen bees live up to five years, their reproductive effectiveness peaks at two years. According to the beekeeping rules, if the bees do not change their queen, beekeepers do.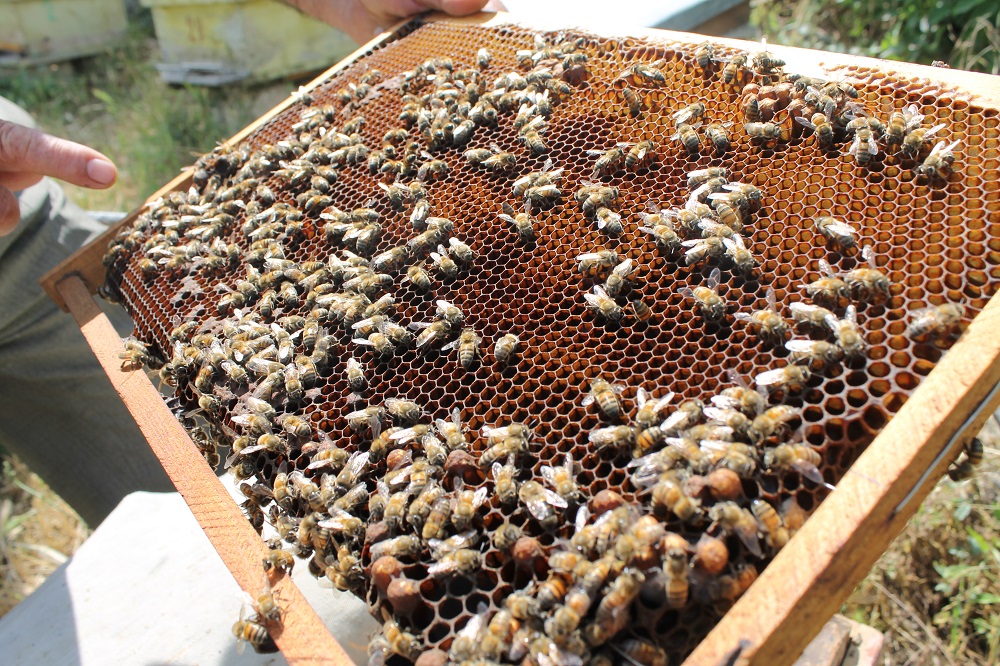 Tsav honey has a special delicacy. It's a bouquet of flowers. Volodya is still proud of having participated in the agricultural exhibition in Moscow in 1971 and winning a gold medal with his honey.
Volodya takes out one of the frames and says that bees bite him 20 to 30 times a day, but he experiences no allergic reaction.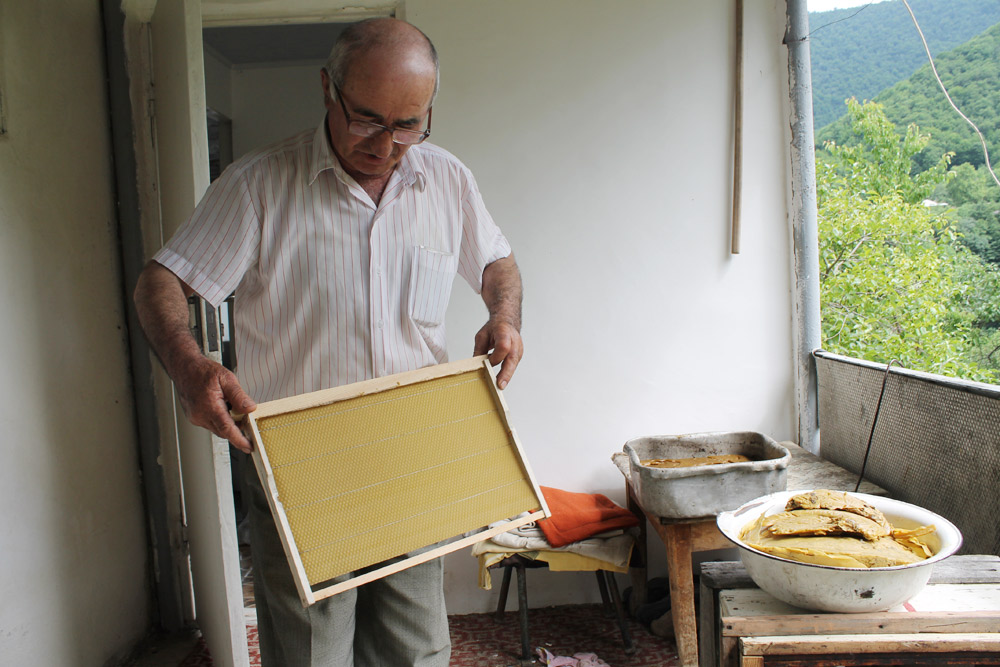 He obtains 10-12 kilos of honey from each beehive.
Honey is extracted mainly in August. Volodya shows us the device. The honeycomb frames are inserted into a round container and rotated. Under the influence of centrifugal forces, the honey splits out of the cells and falls over the walls of the container, and then comes out through the faucet.
"I have two daughters and a son," says the 67-year-old father, his voice trembling and his eyes tearing. We all remain silent. Three years ago his son died of a tumor. There is no reconciliation with the loss. He says he keeps the bees for his two grandchildren being raised without a father.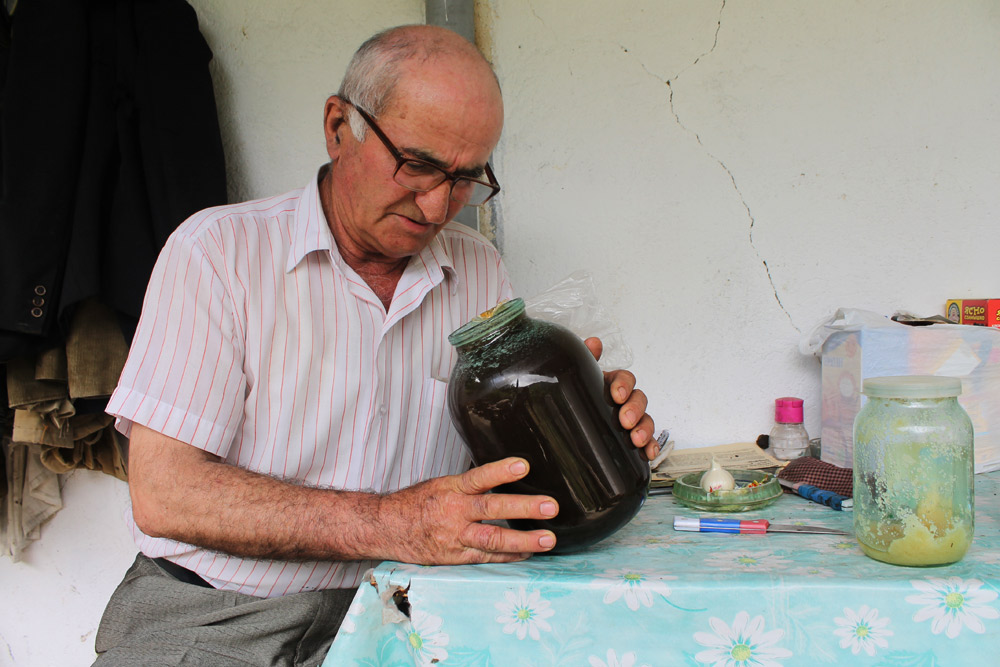 Later, we return to Kapan together. Along the way, the grandfather constantly checks his grandson's back so that he doesn't suddenly sweat or get cold
Photos: Vahe Sarukhanyan
If you found a typo you can notify us by selecting the text area and pressing CTRL+Enter