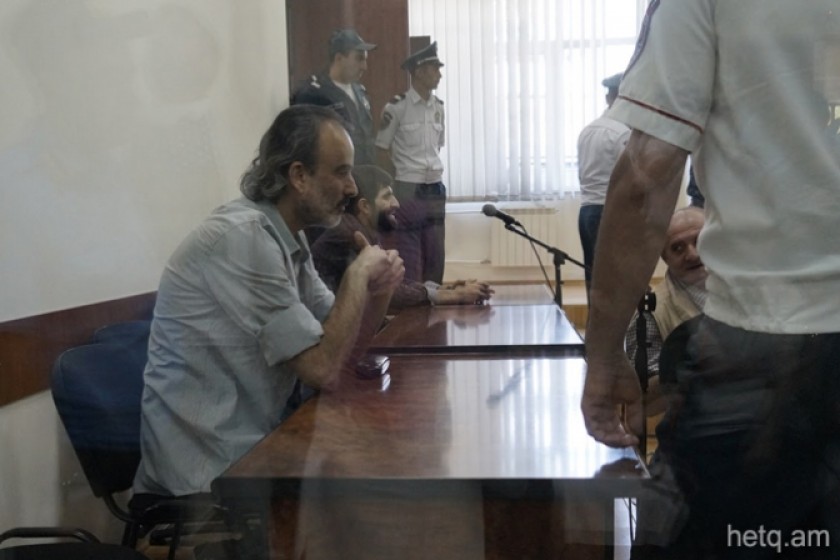 Heavy-Handed Tactics: Bailiffs at Jirayr Sefilyan Trial Collect Personal Data; Supporters Claim They Were Intimidated by Police
Jirayr Sefilyan and co-defendant Nerses Poghosyan, charged with fomenting public disorder and possession of illegal weapons, failed to heed the bailiff's demand to rise as Judge Tatevik Grigoryan entered a Yerevan court in the latest round of their court case.
While the two defendants asked where their attorneys were, court wardens escorted them out of the chamber, eliciting displeasure from their many supporters who had packed the court.
Their attorneys had refused to enter the chamber, protesting the attempts by court wardens to frisk them in the name of security.
"We had deliberately arrived without any bags so that the wardens couldn't present any such demands. Nevertheless, they tried to check my wallet and the contents of my pockets," said Arayk Papikyan, one of the attorneys.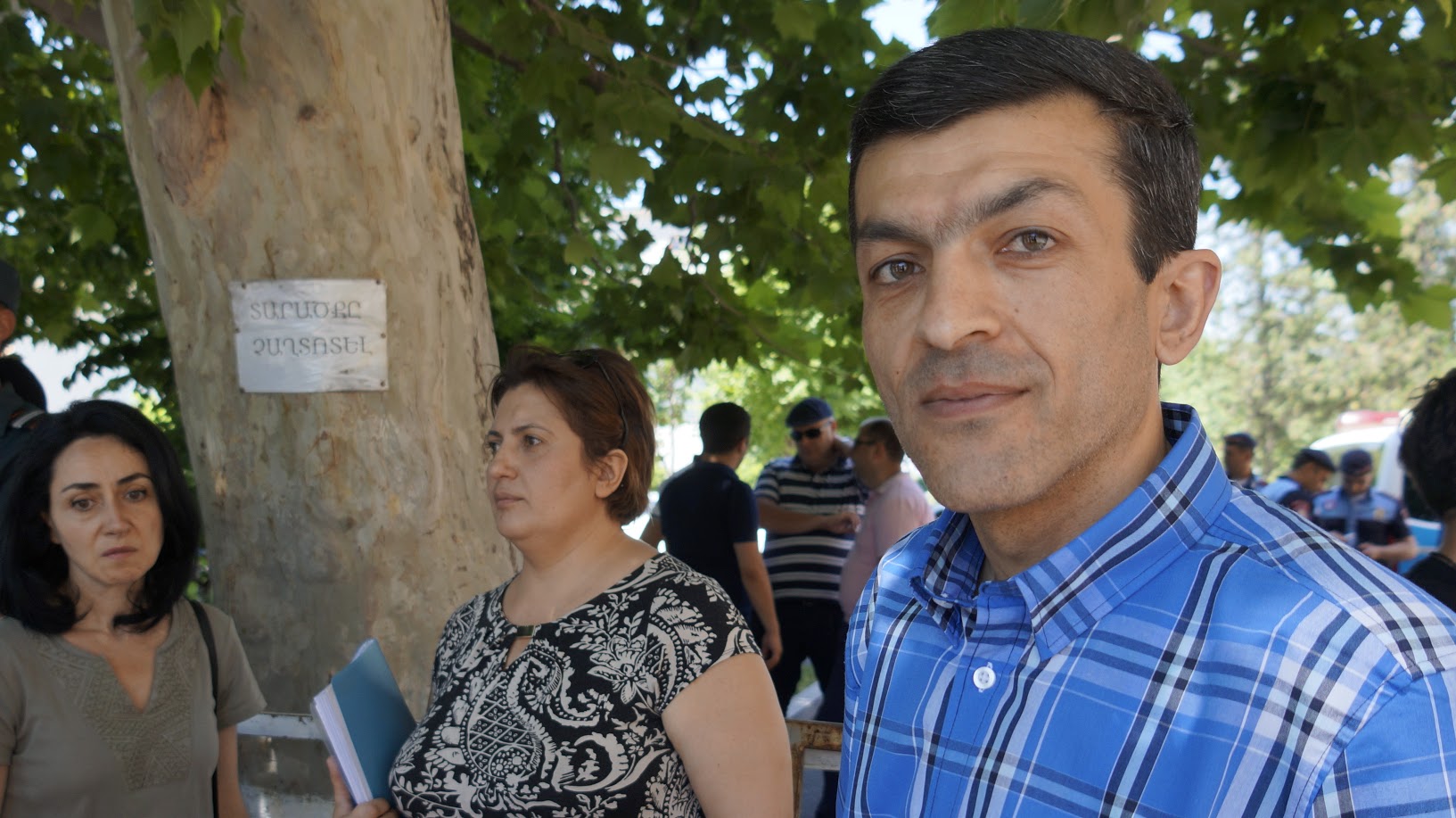 Arayik Papikyan
Court bailiffs allowed Papikyan and his colleague, Nina Karapetyan, to enter the chamber after the first recess, even though their clients had already been removed.
The attorney told Hetq that they had received instructions from Nerses Poghosyan not to participate in the hearing in his absence. The lawyers consequently left as well.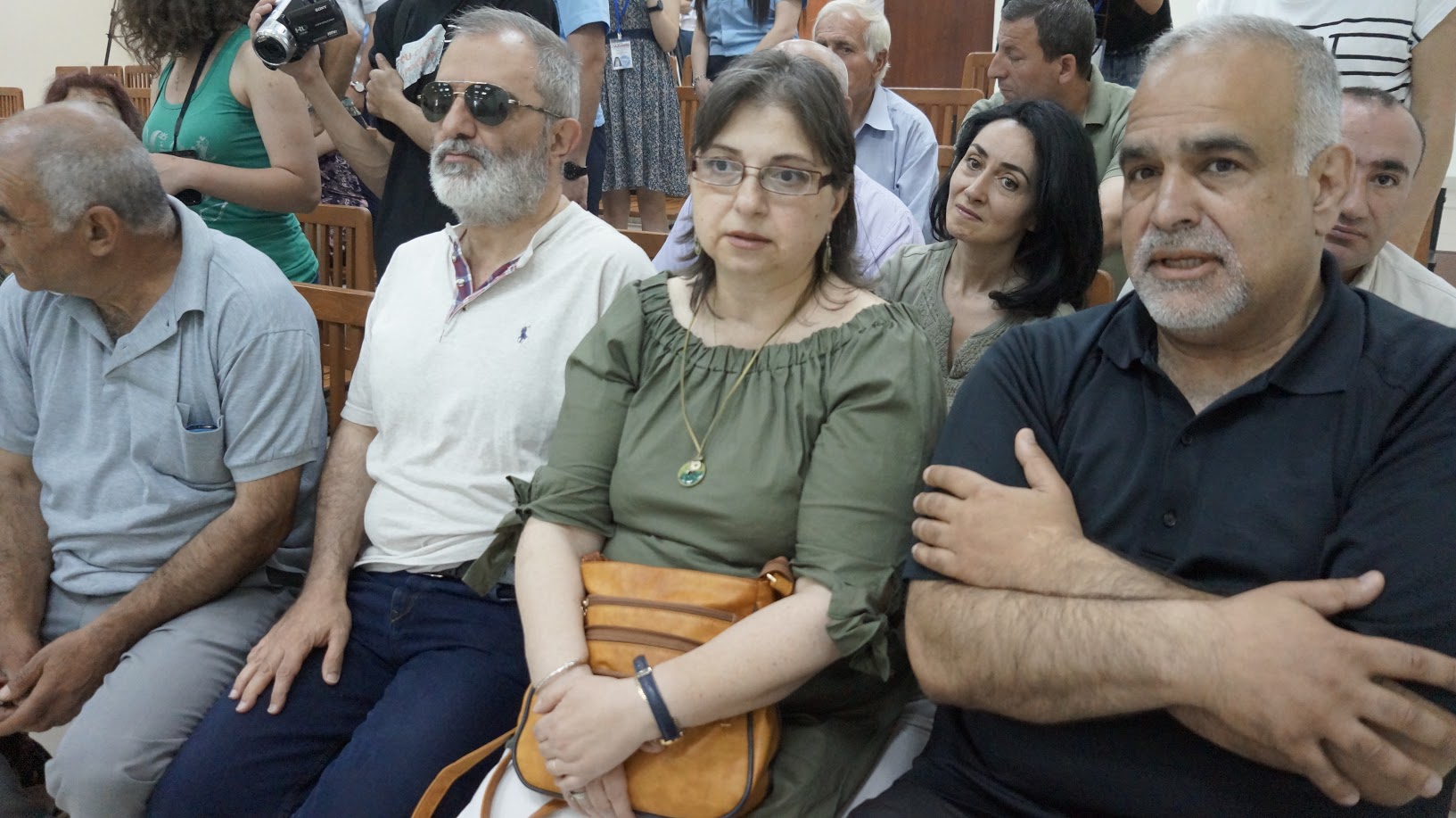 Alek Yenikomshian (second from left), Raffi Hovannisian (far right)
Judge Grigoryan proceeded to call several lengthy recesses in an attempt to discipline the attorneys - Tigran Yegoryan, Tigran Hayrapetyan, Arayik Papikyan and Nina Karapetyan. The judge went so far as to petition the Chamber of Advocates to get the attorneys to heed her instructions.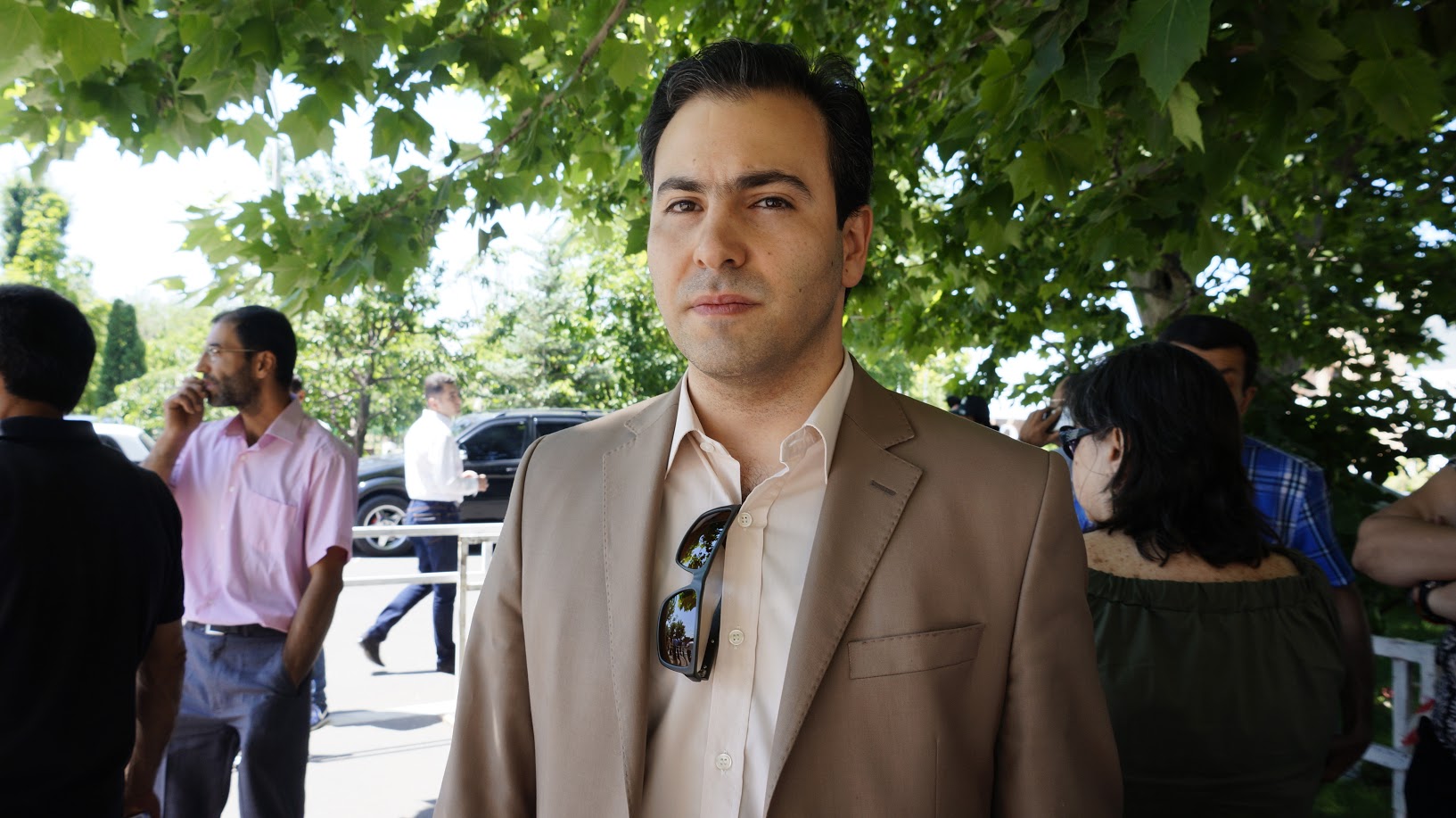 Tigran Yegoryan
Tigran Hayrapetyan, Sefilyan's attorney, described the trial as 'payback' by the government against the defendants.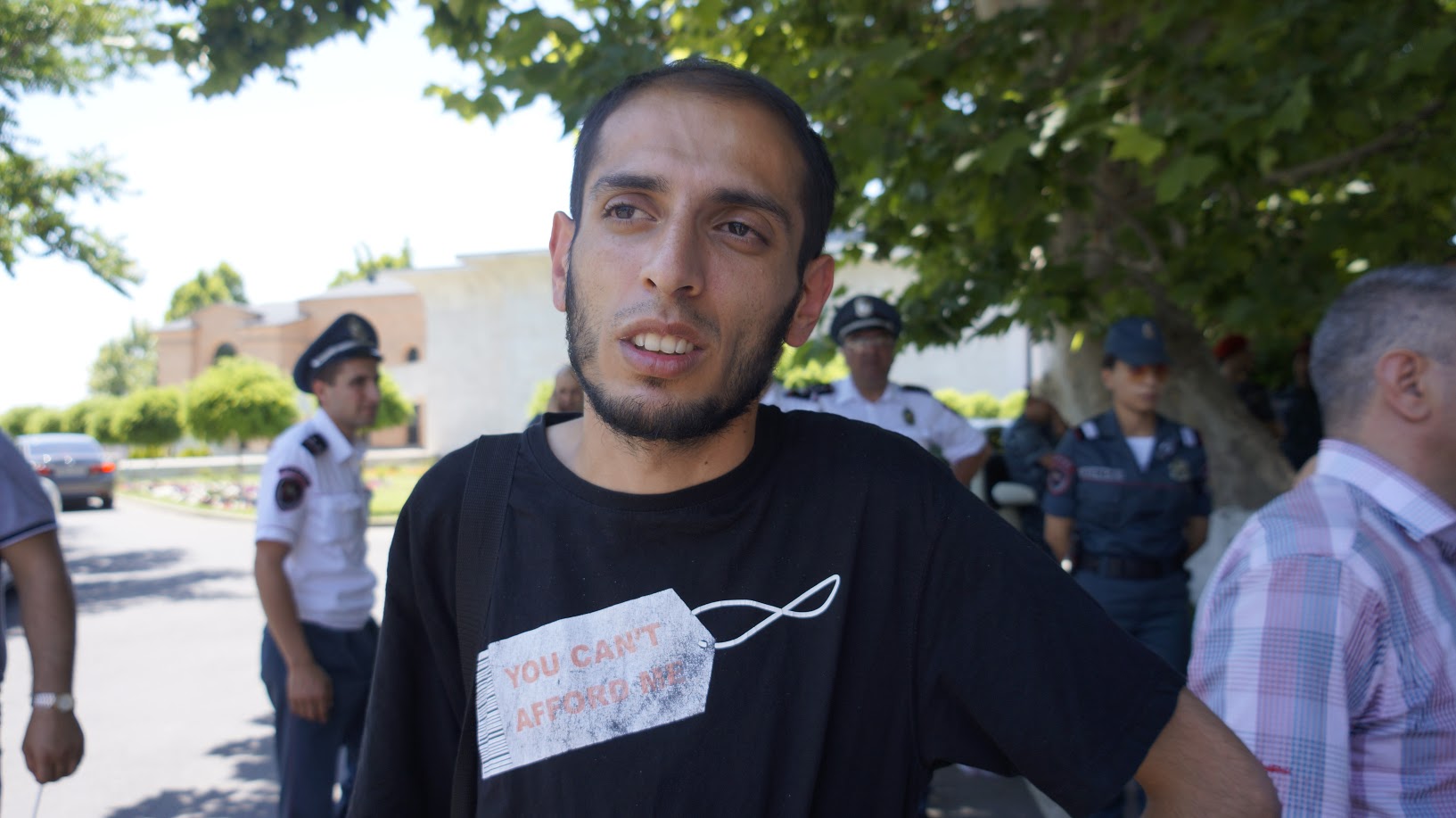 Vahagn Ghoumashyan
Judge Grigoryan then had Nerses Poghosyan's brother Vahe removed from the court, along with Vahagn Ghoumashyan, a supporter. Grigoryan said they were making too much noise.
While there were people at the trial shouting insults at the court, they were never removed.
Satenik Poghosyan, mother of Nerses and Vahe, told Hetq that it was possible that those shouting insults were deliberately brought to the court to interrupt proceedings.
At today's trial, unlike preceding sessions, bailiffs were not only registering passport data of those attending, but were asking if they were related to any of the defendants.
Arman Khachatryan, a spokesman for the judicial department, said that the procedure was for security purposes. It's legality, however, is highly suspect.
Attorney Hayrapetyan called the collection and keeping of personal data in such a fashion a criminal violation that should be prosecuted.
17-year-old Gegham Atyan, who attended the trial, told Hetq that police had visited his home, allegedly to talk to his brother. The cops demanded that Gegham remove a Facebook post he had written in support of the defendants and asked him if he was attending the trials.
The young man claimed that he had been summoned by local officials in Arzni, where he lives, and told not to attend the trials of Sefilyan and the other defendants.
Yerevan resident Anahit Khachatryan, who was also in the public gallery, said she knew of three woman who had been approached by police in an attempt at intimidation.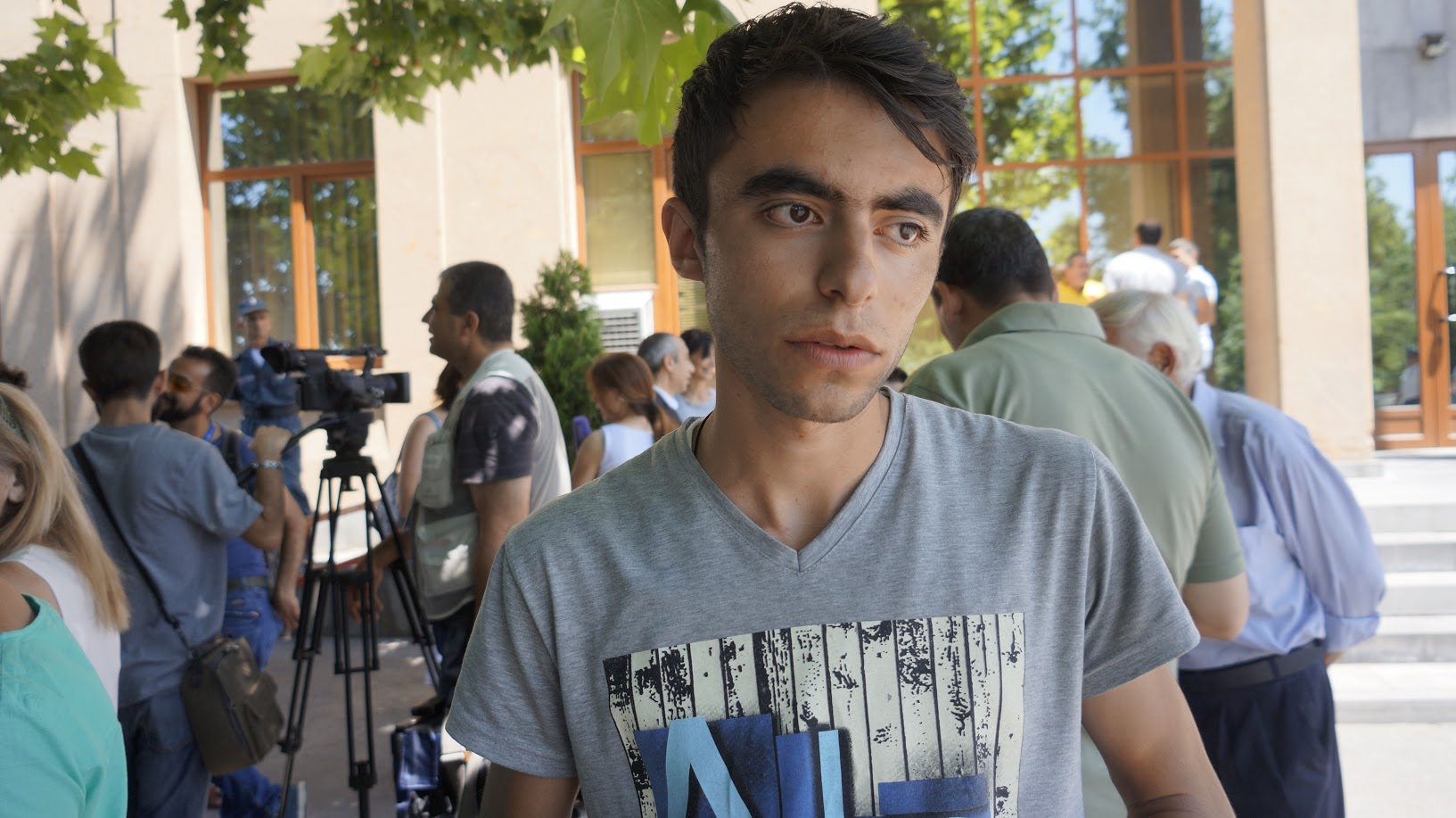 Gegham Atyan
The co-defendants in the trial, along with Sefilyan and Poghosyan, are Gevorg Safaryan, Hovhannes Petrosyan, Sasounik Kirakosyan, Hrayr Topchyan and Galoust Grigoryan.