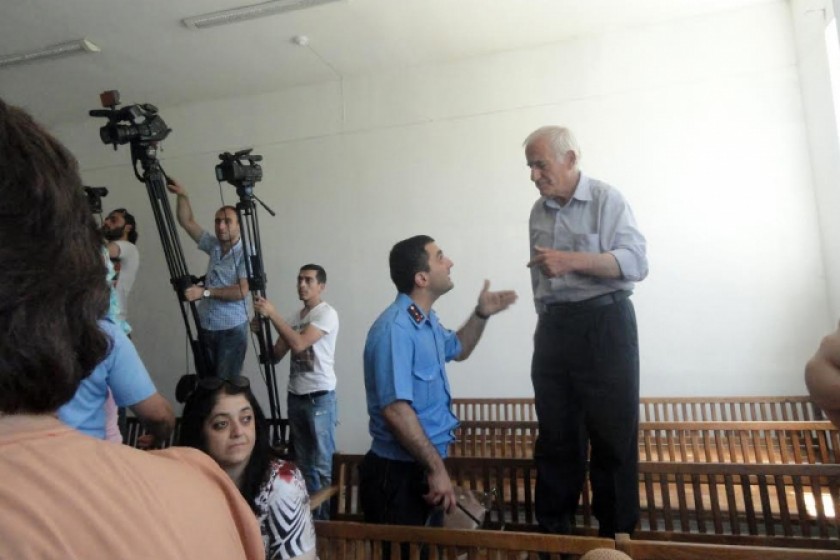 Court Mayhem: Sasna Dzrer Trial Halted as Police Battle Attorneys
Today's scheduled trial of members of the Sasna Dzrer group who seized a Yerevan police building last July only lasted a few minutes.
Judge Artoush Gabrielyan halted proceedings because the court bailiffs and security police banned the defendants' attorneys from entering the court after they refused to be subjected to body searches and to present identity papers.
These measures only intensified already edgy emotions both in and outside the court.
As attorneys and bailiffs got into a shouting match at the door, police and some of the defendants scuffled inside.
This reporter and others present to cover the trial saw bailiffs forcibly removing Mkhitar Avetisyan, Smbat Barseghyan and Areg Kyureghyan from the courtroom.
Those who had come to watch the trial, friends, family and supporters of the defendants, had no idea what was going on behind the glass partitions.
Ara Ghazaryan, Kyureghyan's attorney, said police confiscated a note that his client had written and attempted to deliver to him. This, the attorney noted, is a violation of the law.
Meanwhile, police officers had encircled the protesting attorneys, restricting their freedom of movement.
The attorneys condemned the actions of the police and court bailiffs, saying that they were the ones who incited the turmoil.