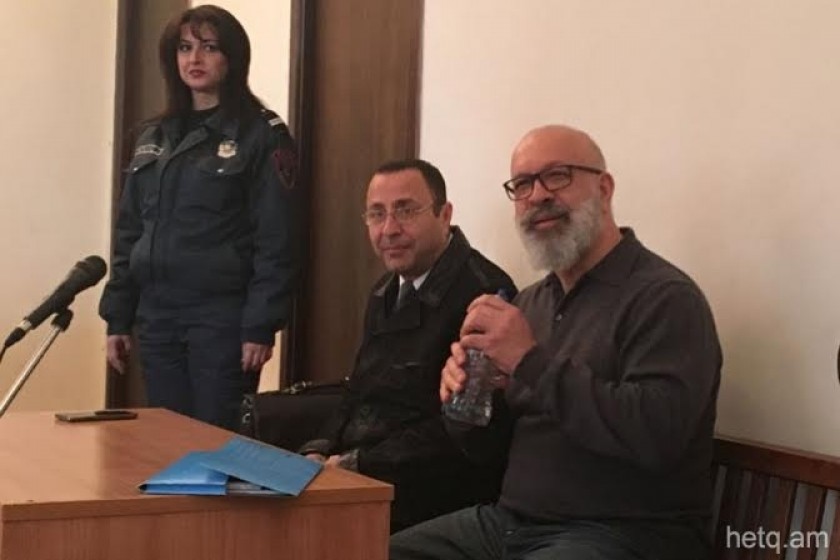 Garo Yegnukian, a Co-defendant in the Sasna Dzrer Case, Says He Doesn't Understand the Charges Against Him
By Amalya Margaryan
Garo Yegnukian, who's been held in pre-trial detention in Armenia since July 2016, says he still can't understand the charges against him.
Yegnukian's lawyer, Tigran Hayrapetyan, has again filed a petition with the courts to have the charges levied against him by the country's Investigative Committee dropped.
While Yegnukian, a prominent opponent of the current government, is being tried as part of the case against fourteen members of the Sasna Dzrer (Daredevils of Sasoun) group who seized a Yerevan police building in July of 2016, the official charges against him have nothing to do with illegal arms possession or the taking of hostages; charges faced by the others.
As we learn from his attorney, Yegnukian is being accused by the Investigative Committee for engaging in the following four activities:
On July 18, 2016, after hearing from the members of the armed group "Daredevils of Sasoun" that the police were moving armored vehicles toward the occupied buildings, Mr. Yegnukian publicized that fact on Facebook;
On July 19, 2016, he encouraged the movement of protesters from Liberty Square toward the area close to the police compound occupied by the "Daredevils";
Mr. Yegnukian spread disinformation (suggesting that food provided to the "Daredevils" by the police might be poisoned), thus discrediting the police; and
He aspired to provide radio communication from outside to the "Daredevils".
A Yerevan court has already thrown out Yegnukian's appeal, and the same court is currently reviewing it again.
At today's hearing, Yegnukian and his lawyer argued that the inspector on the case has done nothing to clarify the matter.
"If it isn't clear to the defendant what he is being charged with, then an effective defense cannot be mounted," Hayrapetyan declared in court.
Yegnukian and Hayrapetyan asked the court to accept their appeal and to have the case sent back for a new investigation and to clarify the basis of the charges.
The next trial date is scheduled for July 13, at which time the inspector and prosecutor will make their position known.
Yegnukian, a father of five, has said that he is being persecuted for his political beliefs and is ready to face the challenge.