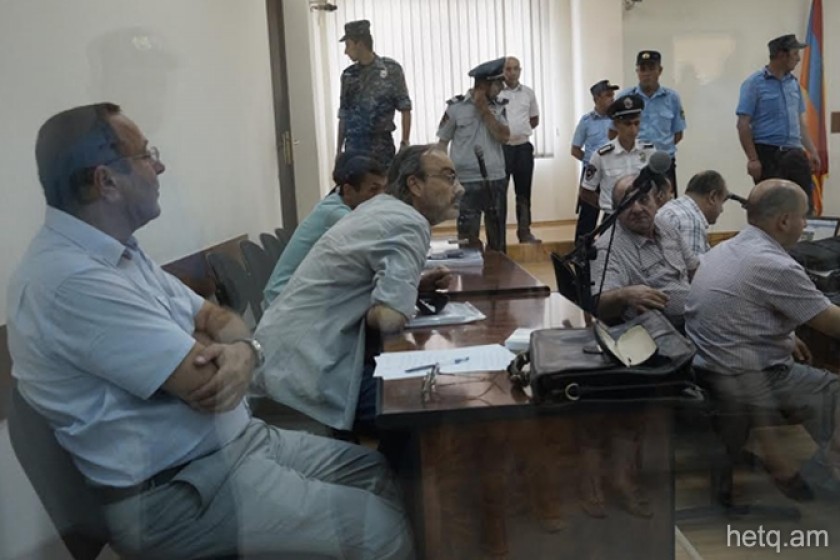 More Interruptions in the Trial of Jirayr Sefilyan and Six Others
The trial of Jirayr Sefilyan and six others charged in 2016 with illegal arms purchase and possession and with conspiracy to seize government buildings in Yerevan is going nowhere fast.
Each court session, four in all in just over a month, has been interrupted for a variety of reasons.
Today's court session was no different. The hearing was postponed seven times, ranging from fifteen minutes to one hour.
There were two main reasons for the interruptions: the court issued sanctions against the defendants for not rising to their feet when the judge entered the chamber, and their attorneys were called to order several times.
The court, on two occasions, also called for a doctor to check the health of defendant Sasounik Kirakosyan.
Judge Tatevik Grigoryan first warned the defendants that they had to stand up. When they refused, she decreed that Jirayr Sefilyan, Nerses Poghosyan and Gevorg Safaryan would be banished from future session for ten hours.
At the previous court session on June 27, the defense attorneys refused to enter the chamber, protesting the attempts by court wardens to frisk them in the name of security.
If you found a typo you can notify us by selecting the text area and pressing CTRL+Enter