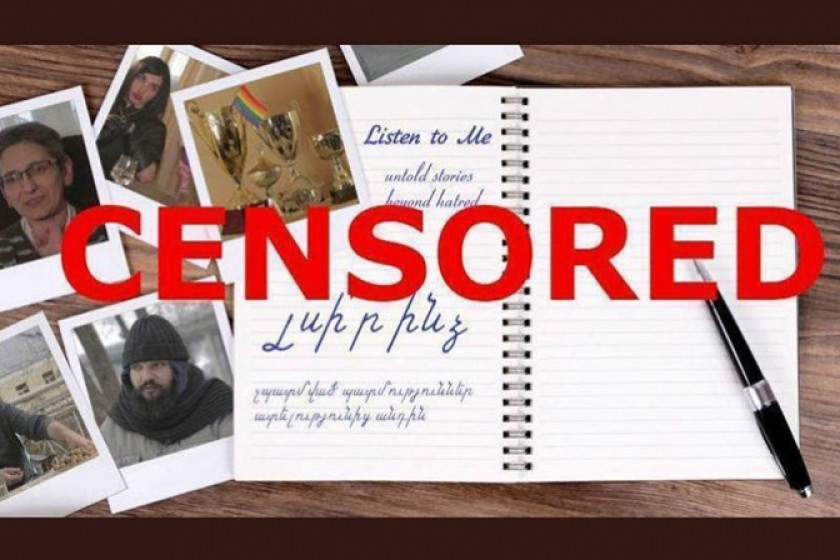 Yerevan's Golden Apricot Film Festival Gives Green Light to Censorship: Filmmakers and Activists Issue Protest
"We want to inform you that the ARMENIANS: INTERNAL AND EXTERNAL VIEWS non-competition program is completely cancelled. We apologize for any inconveniences." (Тhis is the letter of Golden Apricot to the filmmakers, who were involved in the program)
There would be no need for this sort of letter if the people and institutions in Armenia that are meant to protect the interests of the films and to develop cinematography were not frightened and did not give up and shrink from the demands of a few unknown people and cancel the whole program from the festival.
We condemn the actions of both the Union of Cinematography of Armenia, that has dared to censor the special program of the Golden Apricot International Festival because of the themes broached in the films "Listen to Me: untold stories beyond hatred" and "Apricot Groves", and the Golden Apricot management, that has sent a note to 37 film directors without any explanation, rather than putting all its efforts to restore the whole program in another venue.
By removing the program from the festival, the "Golden Apricot" is giving a green light to censorship in Armenia and confirming that in Armenia any film can be treated in an arbitrary way. Moreover, the Armenian people are well acquainted with the results of censorship when taking into consideration the incidents of censorship during Soviet times, by the Young Turks, by the Ottoman Empire and others.
Golden Apricot should immediately restore the screening of all films regardless of the format. Otherwise the Golden Apricot International Festival should accept that they are the ones who are legitimizing the censorship and changes in the Festival. This institution which is accepted by the Armenian society should not block and hinder the development of Armenian cinematography.
We are calling upon the organizers of Golden Apricot to protect the films selected by them, instead of issuing an apology, and to restore the whole program and screen all films in another place and to publicly condemn the actions of the Union of Cinematography of Armenia. Only by restoring the program can the festival maintain and protect its former reputation.
Shahane Bekarian, film director
Gagik Ghazareh, film director
Gevorg Kaas, film director
Liana Smbatyan, film director
Inna Sahkyan, film director
Arpi Balyan, film director
Suren Stepanyan, journalist, film director
Sona Margaryan, filmmaker
Seda Grigoryan, filmmaker
Chaga Yuzbashyan, filmologist
Sargis Hovsepyan, writer, script writer
Vahan Ishkhanyan, documentalist, writer
Davit Avetisyan, cinematographer
Hayk Martirosyan, sound operator
Violet Grigoryan, writer
Byurakn Ishkhanyan, scientist
Anna Muradyan, journalist
Andranik Atoyan, IT specialist
Marine Petrossian, writer
Nvard Margaryan, human rights defender
Eva Abrahamyan, architect
Ruzanna Aslikyan, social worker
Mika Artyan, doctor
Tsovinar Chilingaryan, writer
Astghik Aslanyan, lawyer
Tigran Aleksanyan, writer, traveler
Nairi Hakhverdi, translator
Hovhannes Madoyan, human rights defender
Lilit Martirosyan, human rights defender
Hasmik Tangyan, artist
Elvira Meliksetyan, psychologist
Sone Baghdasaryan, artist
Florence Low, artist
Hovhannes Ishkhanyan, journalist
Kyle Khandikyan, LGBT activist
Eduard Dainelyan, human rights defender
Hrachya Armenakyan, artist
Araqs Sekhposyan, artist
Marina Adamyan, political scientist
Karapet Mgrdichian, scientist
Asya Khalatyan, archeologist
Arthur Avtandilyan, international relations specialist
Hayk Tiraturyan, project assistant
Karen Hovhannisyan, scientist
Gevorg Gevorgyan, rescuer
Rima Sardaryan, LGBT activist
Arpy Manusyan, sociologist
Marine Margaryan, lawyer
Hovsep Khurshudyan, politician
Taguhi Ghazarian, writer
Oceane Antonyan, artist
Syuzanna Siradeghyan, ethnographer
Tigran Avinyan, Yerevan City Council member from "Yelq" fraction
Narek Babayan, Yerevan City Council member from "Yelq" fraction
Ani Yants, artist
Ani Mejlumyan, journalist
Emanuela Avagyan, linguist
Irina Poghosyan, tourism specialist
Kamo Davtyan, LGBT activist
Karine Davtyan, lawyer
Anahit Simonyan, human rights defender
Romik Danial, marketolog
Anna Barsegian, artist
Rafael Ishkhanyan, musician, lawyer
Sofia Danielyan, artist
Hasmik Simonian, writer
Laura Poghosyan, psychologist
Mel Daluzyan, weightlifting
Sargis Khandanyan, antropolog
Vardan Hambardzumyan, doctor
Hasmik Petrosyan, laywer
Arqmenik Nikoghosyan, literary critic
Gemafin Gasparyan, writer
Zara Hovhannisyan, human rights defender
Lusine Ghazaryan, lawyer
Misak Khostikyan, architect
Christian Batikian, writer
Lilit Bleyan, singer
Arthur Mesropian, translator
Mamikon Hovsepyan, human rights defender
Armen Aghajanov, LGBT activist
Robert Karapetyan, LGBT activist
Eduard Martirosyan, LGBT activist
Gor Chalyan, scientist
Lilit Avetisyan, scientist
George Qehyan, human rights defender
Sargis Davtyan, translator
Sevak Mnacakanyan, IT specialist
Sofi Maytesyan, linguist
Mher Hakobyan, volunteer at European Network on Independent Living
Razmik Amirkhanyan, architect-designer
Arshak Tovmasyan, entrepreneur
Sara Andrasyan, literary critic
Tsovinar Martirosyan, student
Nare Arshakyan, designer
Arsen Ohanyan, IT specialist
Hayk Petrosyan, actor
Mkrtich Matevosyan, publicist
Aram Amirbekyan, translator
Hasmig Hakobyan, translator
Arayik Beybutyan, translator
Armo Safaryan, economist
Gohar Vardevanyan, economist
Sianna Movsisyan, psychologist
Mariam Sargsyan
Heghine Babayan
Mariam Chakaryan
If you found a typo you can notify us by selecting the text area and pressing CTRL+Enter