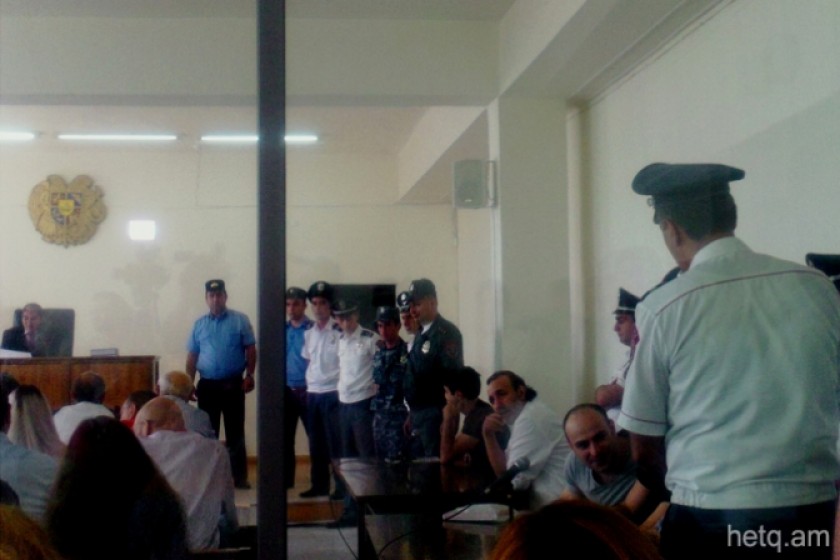 Yerevan's Sasna Dzrer Trial: Endless Sanctions - No Progress
Today's session of the ongoing Sasna Dzrer trial in a Yerevan's court was interrupted several times.
At first, the hearing was interrupted to ensure the presence of lawyers.
Lawyers Hayk Aloumyan, Moushegh Shoushanyan, Arayik Papikyan and Lusine Sahakyan were absent.
Lusine Sahakyan informed the court in writing that she was on vacation. Arayik Papikyan informed the court that he would be forty minutes late. Hayk Aloumyan sent a note that he was occupied with something else, while Moushegh Shoushanyan was in front of the court.
Shoushanyan represents Sasna Dzrer member Areg Kyureghyan. Judicial bailiffs once again tried to inspect his bag and when he refused, they didn't allow him in.
Taking that into account, Judge Artush Gabrielyan interrupted the session once again.
Lawyer Arayik Papikyan reached the court during the break. However, he was not allowed to enter either, after refusing to have his bag inspected.
When the hearing continued, Judge Artush Gabrielyan raised the matter of the absence of defendant Smbat Barseghyan's lawyer Hayk Aloumyan, and asked whether Barseghyan wanted to have another lawyer. Barseghyan said he didn't and agreed for the trial to be continued without Aloumyan.
Judge Gabrielyan continued the trial. Taking into consideration that attorney Lusine Sahakyan left for vacation, and most likely other attorneys will also go on vacation, Judge Gabrielyan suggested that all the parties on this case take a leave from August 1 to 15.
"We have many other cases, we will decide," said lawyer Hrant Gevorgyan.
Then the judge read the protocols on Moushegh Shoushanyan and Arayik Papikyan, where they stated that they didn't have the opportunity to enter the courtroom because they refused to be inspected.
When the judge read the objections made by the lawyers in the protocol, he hesitated for a moment whether to use the term "inspected" or "searched".
Lawyer Hrant Gevorgyan said that Moushegh Shoushanyan's entrance to the courtroom was banned every time.
When Judge Gabrielyan asked Gevorgyan how he managed to come in, Gevorgyan replied that he wasn't asked to present his bag.
"You mean, there's discrimination taking place?" asked the judge and announced a break for another twenty minutes.
After the break, Judge Gabrielyan announced that he filed disciplinary sanctions against Moushegh Shoushanyan and Arayik Papikyan for showing disrespect to the court. The sanctions displeased the lawyers present.
When Haroutyun Baghdasaryan tried to make an announcement on behalf of lawyers, the judge sanctioned him too.