Armenian Actor Samvel Tadevosyan: "Theater is the present for me"
Samvel Tadevosyan, born in 1993 in Yerevan, graduated from the Faculty of Theater of the Yerevan State Institute of Theater and Cinematography and has performed at the Opera and Ballet National Theater and Hovhannes Tumanyan Puppet Theater. He's received the Artavazd theatrical award as best young actor of the year for the solo performance role in "Egoist". He's also starred in the films "Bravo Virtuoso" and "Kyanq u Kriv"("Life and Fight"/" The Line")
The film "Kyanq u Kriv" (2016)portrays life in Armenia in the early 1990s, the first years of Armenia's independence and the Artsakh War, from the perspective of four friends and their two sisters. Samvel plays the role of Tigran, one of the friends, who becomes the main protagonist of the film.
Samvel Tadevosyan talks about himself in the third person
He has chosen the performative form of self-expression. That is, he consciously consumes the energy of mind by performing. When this performance is available to others, it helps him live.
He doesn't like being interviewed. After reading, he generally denies everything that's there, because he doesn't know who the answers are for.
After every second step, he denies the first one. He enjoys it, because these denials lead to consciousness of being and acting. Staying in the same place terrifies him.
Time and its course are escalators, going up or down. There are three types of people on those escalators. The first ones stand:they follow the course of the staircase. The second type walks in the process, and the third ones run. This one's running. He's an unexpectedly strange man.
See, I know him as much as he allows, but I can clearly say two things: he's got a personality and an essence. He fights with his personality.
What does humanity want? Everyone is running only for one reason - death. People know that they will die, and it becomes their passion. The solution will be immortality, that is, the impossible. People will be satisfied when given immortality, they will say "at last" and die right then, since they will become living corpses. When the death comes, we don't exist any longer. When I don't exist, it does. We don't face the death. When I do exist, it doesn't. So, why fear it?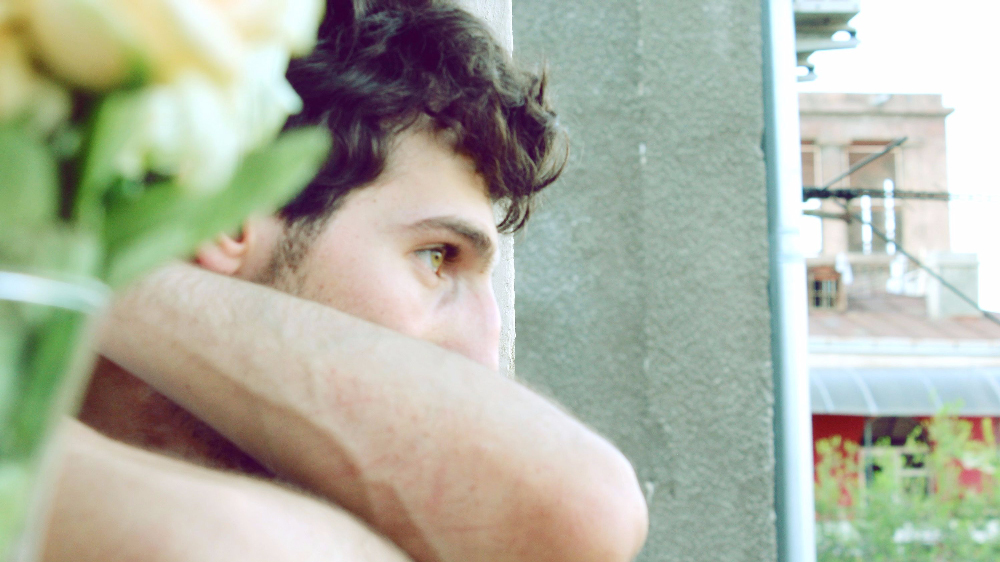 Does theater mean conditionality?
It does, of course.
What about cinema?
Cinema is the only form of art that breaks time. It violates the conditionality.
Why do you participate in theater's conditionality (you say, cinema breaks the time)?
Theater is the present for me. I am here today, I might not exist tomorrow or the next day. I'm not sure I will be here another day, but here I am now.I want to reach my presence in every way. The presence is in the theater, with all its conditionality.
That's why the theater is the most modern art, just like architecture, which shows the mentality of the country in the shape. What's an old theater? There is no old theater - it is at present.
You should repeat the text as many times as needed for it to become like your saliva. You should become naked, because you are a carrier. An actor is the most archaic "USB flash", a carrier. They fill in and show.
When you did the solo performance Egoist(for which you were director, actor, and the one who chose the lighting effects), I thought you were having trouble working with directors.
Having trouble? No. I was very upset about a director because he took everything and didn't give anything. He gave me money, which I didn't care for. I hated to act in those ten plays that I played. I was ready to go to paint a wall for ten days instead of acting there - it was so disgusting, so untrue.
I did the solo performance to prove myself that I can make it without lies. I no longer play Egoist, because it was born from my anger and hatred.
I don't like cowardly directors, I don't like illiterate ones, I don't like the director who doesn't know what he is doing and the director who says I give you freedom, do what you want, but at the same time, he is so dependent and coward that he cannot afford that freedom himself.
The director, who rehearses for two, three, or even ten hours, shall take everyone away with him.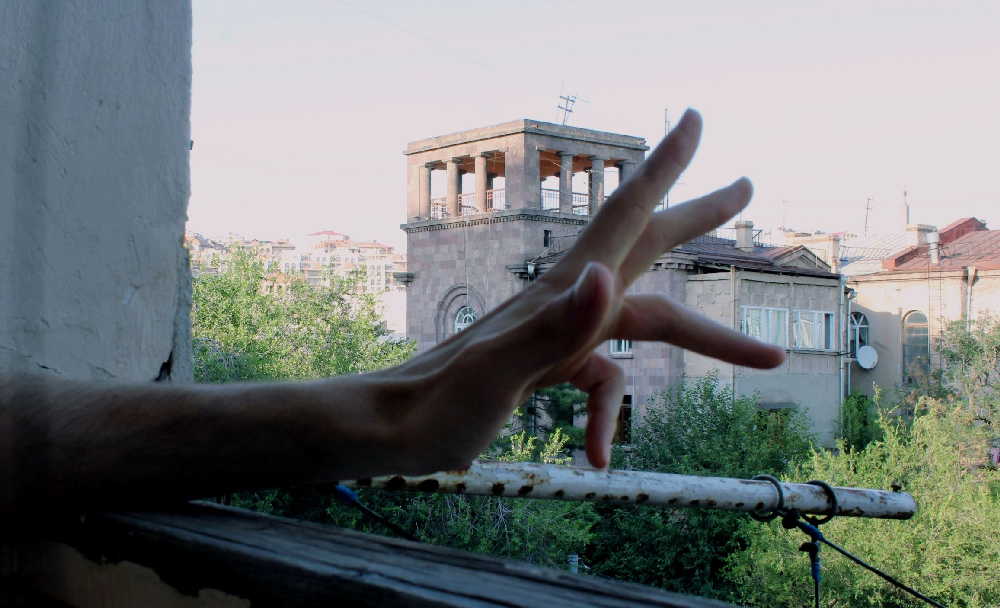 What does power mean for you?
It depends on what motivated somebody to reach that power.
We live in a system, a system that controls birth rate, manages information, religion, traffic, colors. I hate the system, but at the same time I realize that the whole world is "systemized".
I can justify a form of a power for myself and vice versa - nullify and reject. I need power to act.
Suppose the system rejects you as an actor. And the public, which is part of that system, does the same.
First of all, I shall reject myself. I'll fight. Who is the one who can reject me? Only me. I cannot do what I don't want to. I can only appear in my rejection to see what I reject.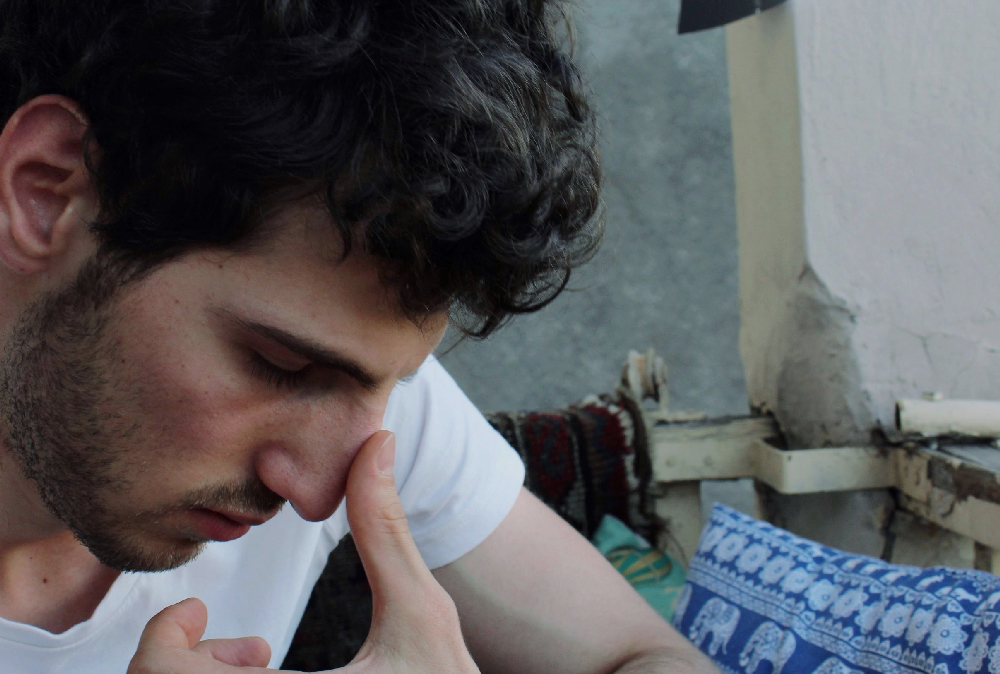 About the inconvenience of your birth…
I was born in the 90's, and I'm physically and mentally wearing the codes of the 90s up to now.
For me, it is a mysterious period whose "damages" (or "injuries") I carry. I have a big burn on my neck. It's are sult of a coffee maker being switched on in a dark room. The child dragged the cord and spilled the boiling water onto his face and neck.
The scar is smaller now. In fact, half of my face was burned. I don't have any scar on my face now, because I had an aunt in the U.S. If she didn't send the creams, I would look different. I wouldn't be Samvel Tadevosyan, who now gives interviews and acts.
I remember the light we managed to have rarely as a taste in my mouth. The insulating tape has a smell, when it warms up a little, you breathe the smell of unpleasantly burnt tape, and it becomes a taste in your mouth.
And the inconvenience to live?
With different ups and downs. Why did I become an actor? I think because of the lack of attention. It was not a conscious decision.
I was revolutionized when I entered the Yerevan State Institute of Theater and Cinematography. I was very bad at school.
The general neglect encouraged me to need attention, to look for something new, to have a different perception of space - my own perception.

What's expired in Armenia?
Ambitions – they are expiring now. We lack ambition. We lack a solid educational system. Ambitions of the illiterate and literate are fundamentally different from each other. We lack ambition that would drive us to create, lead us upwards.
"I rely on somebody or something." Those who make such statements are the most irresponsible. Rely on yourself, do not rely on God. If you believe in God, don't manipulate at the expense of faith. Don't deny your faith, but don't deny yourself, either, by relying on someone else.
Whom do you lack?
I lack my grandpa, because I love him.
I lack Hovhannes Tekgyozyan, since my brain was widening when I talked to him, and I was being transferred into another territory.
I can endlessly list the ones who lack.
I lack someone who doesn't know me yet, but is in expectation.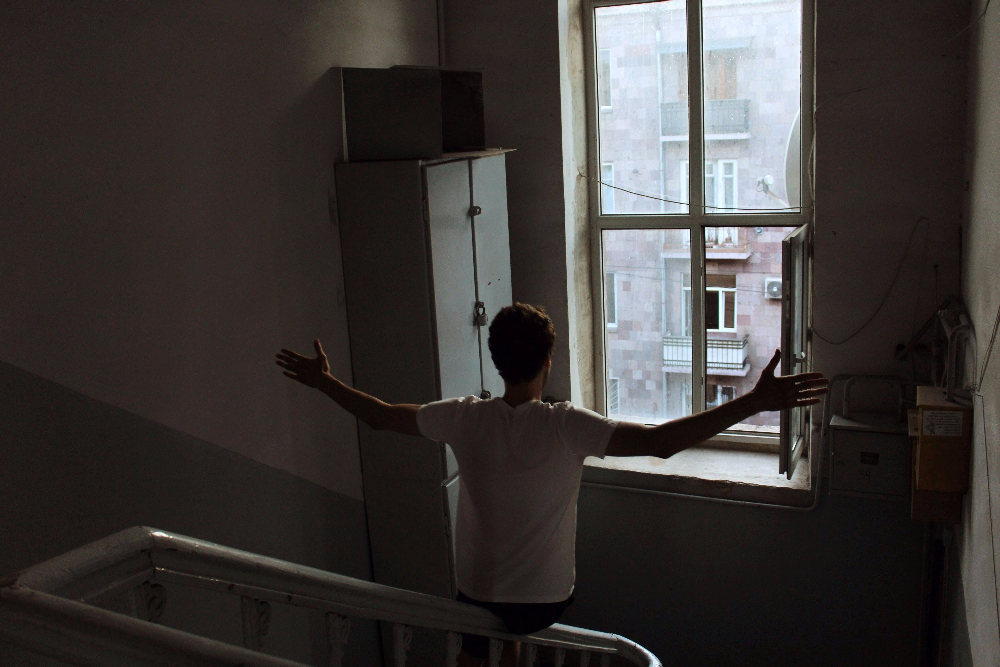 If you found a typo you can notify us by selecting the text area and pressing CTRL+Enter