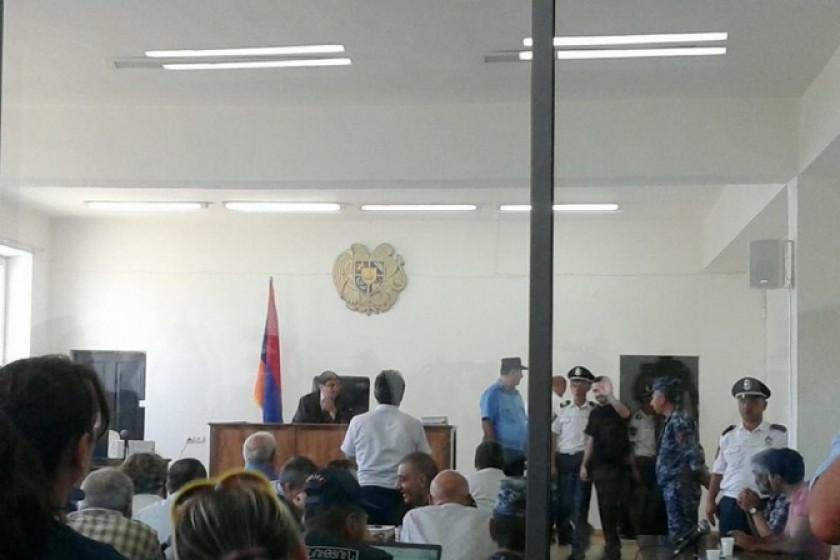 Yerevan: Judge Throws Out Two Motions in Sasna Dzrer Trial
Today's trial of the Sasna Dzrer group members who seized a Yerevan police station last fall, ended with most of the defense attorneys absent from the courtroom and with the judge failing to discuss the issue of lifting a court ban on telephone calls and videotapes used introduced as evidence against the defendants.
Today's court session of the ongoing trial of 18 members of the Sasna Dzrer group, who seized a Yerevan police building in July 2016, again turned into a shouting match between the defendants and their attorneys, on the one side, and the judge and court bailiffs, on the other.
The trial, which commenced on June 8, has plodded along at a snail's pace. Defense attorneys have walked-out in protest, and Judge Artoush Gabrielyan has sanctioned several of the attorneys and defendants for improper behavior.
The court hasn't even finished verifying the identities of the litigants.
Today, attorney Tigran Hayrapetyan, who represents Garo Yegnukian, reminded the court that he had filed a motion, in writing, for his client to be excused from being brought to the court's holding due tohealth reasons. (Yegnukian had been barred from the trial for ten hours at an earlier session. There had been a scuffle with bailiffs when he brough a bottle of water with him.)
When Judge Gabrielyan declared that Yegnukian was obliged to appear, the attorney immediately motioned that the judge recuse himself for inhumane treatment of his client.
The attorneys of the other defendants signed on to the motion, which was later thrown out as baseless.
Armineh Fanyan, a public defender recently brought into the case, motioned for the trial to be suspended and for the Constitutional Court to rule whether various points of the Criminal Procedure Code are constitutional or not.
The court ruled that the motion was presented late and thus invalid.
The next trial date was set for August 30.