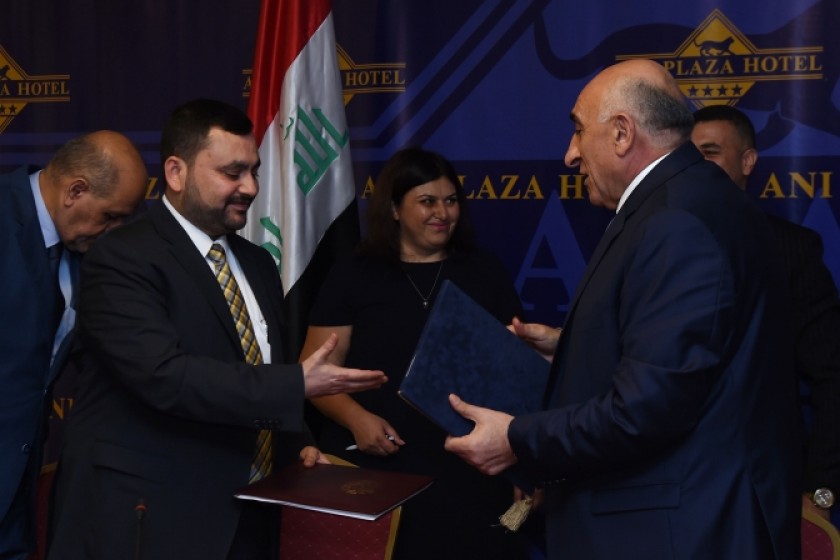 Armenia and Iraq Sign a Bilateral Protocol
The joint Armenian-Iraqi intergovernmental commission, co-chaired by the Minister of Territorial Administration Davit Lokyan from the Armenian side and the Iraqi Minister of Agriculture Falah Hassan Zaidan, concluded its fourth session by signing a protocol on economic, commercial, scientific and technical cooperation.
The co-chairs stated many areas of bilateral cooperation - trade, investment, banking and oil sector, agriculture, tourism, culture, energy, education, healthcare, information technology, youth, diplomacy, etc. The parties agreed to encourage businessmen of the two countries to create joint ventures in all areas of investments.
Minister Lokyan highlighted the mutual benefits of Armenia-Iraq relationships and opportunities in both countries, putting an accent on the commercial cooperation.
Iraqi Co-Chair Falah Hassan Zaidan said, "This session is very important for all of us. We have signed a comprehensive document. I hope that the reached agreements will be implemented in the near future. I emphasize the economic and financial cooperation between our central and private banks and the development of a common mechanism. We've agreed to activate cultural and touristic cooperation. We'll encourage Iraqi tourists to visit Armenia and quickly settle the issue of air and land transportation."