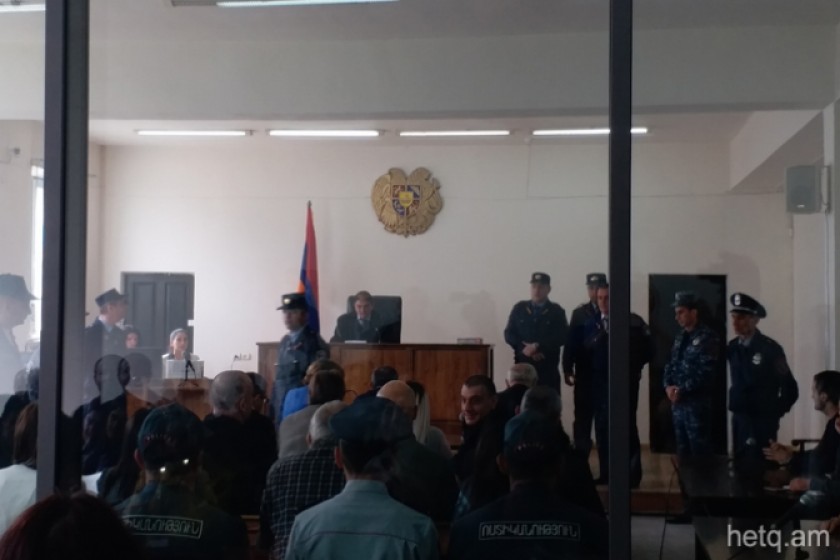 Court Splits Sasna Dzrer Defendants Into Three Trial Groups
Due to changes made in court cases of Sasna Dzrer defendants accused on seizing a Yerevan police building and taking hostages in July 2016., there will now be three separate trials.
One of the trials, presided over by Judge Artur Ohanyan, will hear the cases of Aram Manukyan, Tatul Tamrazyan,Tigran Manukyan, Sergey Kyureghyan, Toros Torosyan, Gevorg Iritsyan, Hovhannes Harutyunyan, Arayik Hakobyan, Martiros Hakopyan, Aram Hakobyan and Vardan Geravetyan.
The cases of Armen Lambaryan, Ashot Petrosdyan, Garo Yegnukian, Khachatur Gishchyan, Artur Melkonyan, Tigran Sargsyan, Artur Soghomonyan, Garnik Hovakimyan, Hovhannes Vardanyan, Manvel Atoyan and Vardges Gevorgyan will be tried by Judge Artush Gabrielyan,
The cases of Pavel Manukyan, Varuzhan Avetisyan, Arayik Khantoyan, Areg Kyureghyan, Gagik Yeghiazaryan, Mkhitar Avetisyan, Edvard Nersisyan, Sedrek Nazaryan, Smbat Barseghyan and Armen Bilyan will be tried separately. The judge's name hasn't been announced.
Nina Karapetyants, a defense attorney in the case, told reporters that she couldn't see an end to these trials, adding that the courts have separated the cases to weaken the solidarity of the defendants.
No legal explanation for the changes has been forthcoming.