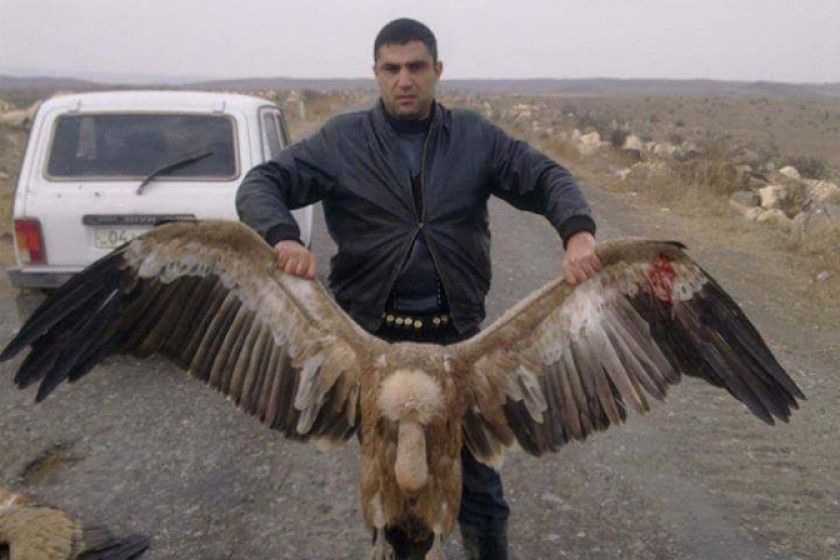 Shenavan Mayor Denies Killing Endangered Vultures
Shenavan Mayor Artur Mkrtchyan says that a photo appearing in Facebook the other day holding two dead endangered griffon vultures not only dates to 2007, but that he found the large birds on the side of the road.
"I posted the photo 6-7 years ago and forgot about it. Friends and I saw the birds on the Bagaran-Yervandashat border, along the road. There were others milling about looking at the birds. We picked them up and took a souvenir photo," Mkrtchyan told Hetq.
Mkrtchyan, a member of the Hunting Union of Armenia for ten years, says he doesn't engage in such hunts and will explain the circumstances surrounding the Facebook imbroglio.
The photo of the three men holding the vultures appeared in econews.am.
Mkrtchyan has since removed other hunting photos from his Odnolassnik page.
He's served as mayor of Shenavan, a town of some 1,700 in Armenia's Armavir Province, since 2005.
In 2013, Mkrtchyan was found guilty of embezzlement of municipal funds and fined 800,000 AMD.
A year before, the Shenavan Municipality had allocated 500,000 to Artur and Varazdat Yeghiazaryan in the form of social assistance. Of this, 300,000 AMD was given to their father, and the remaining 200,000, to be used to pay property tax arrears, went missing.
In 2016, the Armavir Provincial Administration fined Shenavan for a variety of administrative infractions.