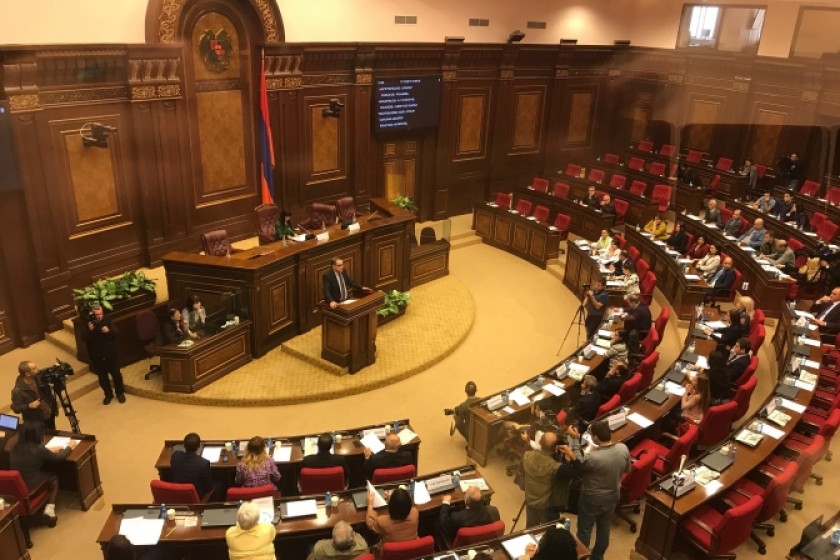 Armenia's Deputy Justice Minister Supports "Preventing Domestic Violence Law"; Says It Defends the Armenian Family
The Armenian National Assembly's Standing Committee on European Integration is now debating two domestic violence bills that have sparked heated controversy and shouting matches between supporters and detractors.
Standing Committee President Naira Zohrabyan has announced that all are invited to attend the hearings on the two bills, entitled "Preventing domestic violence" and "Regarding the defense of those subject to domestic violence", imploring that the discussions not devolve into a battle.
Armenian Deputy Justice Minister Vigen Kocharyan said that the political decision to draft such bills wasn't made yesterday but as far back as 2004.
Kocharyan said he's been surprised to see people come out in opposition to the bill who have never experienced domestic violence.
The deputy minister said that the government must step in to protect the victims of domestic violence, rather than depend on a few NGOs to provide support and shelter for them.
The bill now being debated would house domestic violence victims in shelters for up to twelve months.
Kocharyan said that the police in Armenia receive, on average, two domestic violence reports per day.
"This bill is designed to defend the Armenian family," Kocharyan said at today's parliamentary hearing. "Our opponents often argue that we have a criminal code with which to prosecute those who commit violence. But this bill has nothing to do with the criminal code. It deals with preventing domestic violence; defending the family from violence. If we were to think like our opponents do, we'd have the following – let him break a head and then be prosecuted according to the criminal code. Tell me, which of these two approaches really targets defending the family, prevention, or criminal prosecution?" Kocharyan asked.
The deputy minister noted that representatives of European countries have been proposing the criminalization of domestic violence and that this wasn't acceptable for Armenia.
Gevorg Petrosyan, a Tsarukyan Alliance MP, declared that while he was against violence, the bills had a number of clauses that ran contrary to the "national spiritual make-up".
Petrosyan criticized a clause in the bill that would gave a police official the right to restrict a child's contact with his/her parents, arguing that under Article 37 of Armenia's Constitution that right is only afforded the courts.
Naira Zohrabyan then raised the question of economic violence, since some children in Armenia go to sleep hungry.
"If a family cannot provide proper conditions for raising children, nutrition and such, given that such conditions exist in the country due to ineffective governance, should charges of economic violence be brought?" she asked.
Deputy Minister Kocharyan responded that the bill refers to the deliberately depriving children of housing, food, etc.
MP Petrosyan also voiced opposition to a clause that would allow law enforcement to temporarily confiscate property from individuals, arguing it was anti-constitutional. Kocharyan countered that the right to property isn't absolute and can be restricted by law.
Kocharyan then spoke about the issue of parental intervention when it comes to discipling children. This clause has also sparked much controversy.
"Some say that yelling at children is psychological violence. We all do it. Yes, we criticize our kids. That's natural, but we must do it in a way so as not to make the child suffer," Kocharyan said.
Tzovinar Kostanyan, a representative of the Humanitarian Development International Civic Organization, wanted to know how the government planned to ensure that conditions in the shelters wouldn't be denigrating for domestic violence victims, and why couldn't victims see anyone they wished to while in the shelter.
Kocharyan replied that it was normal to keep the location of a shelter a secret so that the perpetrators of domestic violence couldn't track down their victims. He added that those taken to shelters could leave whenever they wanted.
Tsarukyan Alliance MP Vahe Enfiajyan asked why a domestic violence prevention council, envisaged by the bill, would be attached to the prime minister's office. Enfiajyan named a few such councils that haven't convened a session for the past few years.
Kocharyan responded that such councils serve as important links between the public and the government, but that he wasn't knowledgeable about all their activities.
Tsarukyan Alliance MP Vardan Bostanjyan said that a segment of the public believes that the bills being debated are being forced on Armenia by certain outside powers.
"It's not easy to force anything on Armenia," Kocharyan replied. "Yes, we have certain international obligations, notably from the U.N. However, we assumed them willingly."