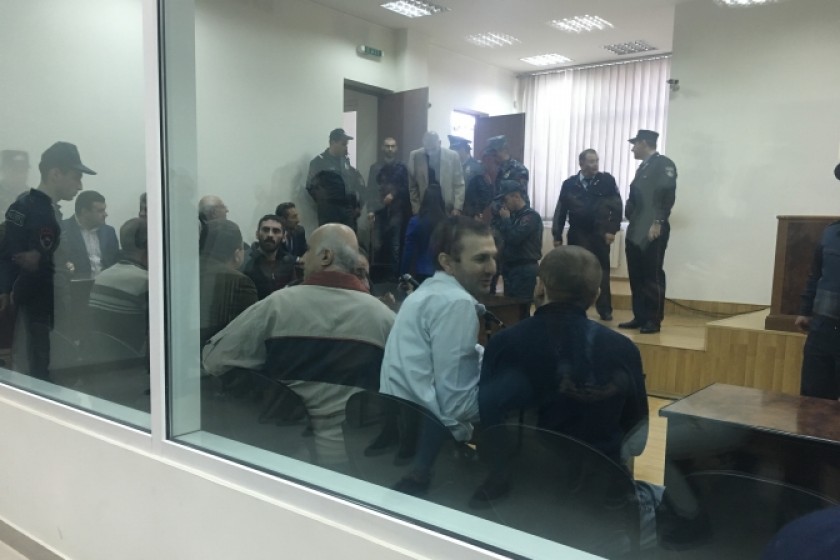 Sasna Dzrer Defendant to Judge: "The country is collapsing before your eyes"
Several defendants in today's court session of the Sasna Dzrer case said their actions in July 2016, when they seized a Yerevan police station and held in for two weeks, was in response to the current government's failed policies domestically and in Artsakh.
One of the defendants, Hovhannes Harutyunyan, noted that the seizure of the police station occurred three months after the outbreak of fighting along the Karabakh Line of Contact in April. Hundreds of soldiers died on both sides.
"We raised weapons against this government at the time when our soldiers are dying. And you didn't care. Is there another country in this situation? Should we do nothing when 100 boys die every year?" Harutyunyan exclaimed in court.
Vardan Geravetyan criticized President Serzh Sargsyan for duplicity regarding Artsakh.
"The president declared that anyone who doesn't agree that substantial territorial concessions must be made should go and defend those lands with their lives. So, then he goes and arrests Jirair Sefilyan. The people should has risen up and defended their rights. By putting our own lives in danger, we tried to resolve the issue," Geravetyan said.
Martiros Hakobyan told the court that he and the other defendants weren't rising to their feet when asked to as a sign of protest.
"Don't you think we know the law? If we see that you are impartial, we will bow down before this court. Not standing isn't for show. The country is collapsing before your eyes," Hakobyan said.
A defense motion to have prosecutors Artur Chakhoyan and Petros Petrosyan recused was denied.
The next court date for this case, one of three Sasna Dzrer trials now being heard, was set for October 31.