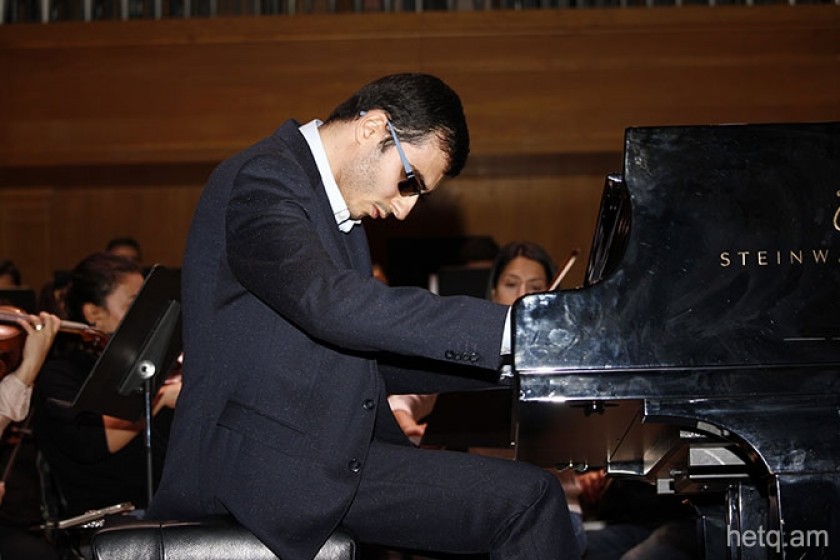 Pianist Levon Karapetyan: Feeling the Keys and Hearing the Prompts of the Conductor's Baton
The State Youth Orchestra of Armenia and pianist Levon Karapetyan have taken the stage.
Levon, who lost his sight at the age of six, amazes the audience by his ability to feel the piano keys, performing the great chords in the Aram Khachaturian's piano concerto with ease. Levon doesn't see the prompts of Conductor Sergey Smbatyan's baton, but the pianist assures me that he hears them.
Levon started playing piano at the age of seven. Armen Karapetyan, Levon's father, who was the director of Armconcert for more than ten years, can talk about his son's phenomenal abilities for hours.
Levon is now in Yerevan, participating in the Khachaturian International Festival. He represents France, where his family immigrated eleven years ago. Levon refused to leave with his parents. He stayed and lived alone for six years, studying at Yerevan's Komitas State Conservatory. After completing his Masters, he joined his parents in Strasbourg, attending a long-term training course.
His attempts to find solutions for everyday situations sound like passages from a fantasy book.
"When my parents left, I was a 17-year-old boy, and it felt like my life was handed to me. They left some money. I had to live alone. I learnt everything. I learnt how to save money. At first, I was amazed at the speed it was spent. Then I learnt to make correct calculations.
"When my parents left, my relatives couldn't understand them, asking 'How can you leave a blind boy by himself?' Many didn't communicate with me on purpose, hoping that it would make my parents come back. I told my parents to leave without giving it a second thought. My father needed medical treatment.
"I was calling my acquaintances' taxi service, they were taking me to the Conservatory, where my friends were meeting and seeing me off. Then I started making new friends, and those who were seeing me off became more numerous. Then I learnt to wash dishes, to cook. The only thing I couldn't do alone was shopping. Six years went by like this. I have a good friend who taught me how to peel potatoes, I have another good friend, who taught me how to make coffee. He advised me to make coffee for female visitors to impress them, " says the 27-year-old pianist with a smile.
Levon has performed with the Mariinsky Theater Orchestra in St. Petersburg, the Academic Symphony Orchestra, the Armenian Philharmonic Orchestra, and the Yerevan Opera Theater Orchestra headed by Karen Durgaryan.
"Karen Durgaryan is a very good person and conductor. I would like to have at least one more concert with him. The same with Sergey Smbatyan. I would like this cooperation to be ongoing. This time, everything was organized by chance. We accidentally met with Sergey Smbatyan, and my father asked him if he would like to stage a concert with me. Sergey asked what I would suggest playing, and I answered Khachaturian. He said, "Ok, go, learn, and let's play." I went and learnt, and the concert took place. One happy accident can change your whole life," says Levon.
Levon's schedule is as follows. He wakes up at 7-8 in the morning, and then practices piano for one hour. He's decided to include physical training in his daily schedule when he returns to France. "Women like strong men," he jokes.
Levon has no instructor in France now. He says his situation reminds one of that of a child who has voluntarily refused his parents' care. Sergey Kechek from Yerevan is the only professor still guiding him. The professor accompanies him during the concerts in Armenia and in Russia.
Levon hears Kechek's words, whispered from the hall. The young pianist discusses the professor's remarks during the shorts pauses. "When I play in Yerevan, Sergey is always next to me. He's an inspiration for me, "says Levon.
Sergey Kechek praises his student. "Levon is very talented. He has good natural abilities- a phenomenal ear and amazing memory. This has led to great results. He has played a great number of concerts, including those with the St. Petersburg Temirkanov Orchestra and Gergiev.
When Levon first attended the Komitas Conservatory, he couldn't read musical notes. He learnt them with the help of blind composer Zohrab Paremouzyan, who had a large braille library. He learnt very quickly. He did the initial reading of a concerto in one and a half months, while some students take a year or two to prepare a concerto.
When God takes away something, he gives something in return. Levon has incredible hearing. If you whisper something, he'll hear it. "
The professor says that blindness doesn't create any technical problem for Levon. Kechek hopes that Levon will be noticed in Europe, and that he'll have a great future.
Levon now strives to look good in prominent competitions so as to be noticed by producers.
What is the music of your childhood?
As a child, I was listening to the LPs of Bach, Beethoven, Beatles and Stevie Wonder. Whatever we had at house. Tchaikovsky, Wagner.
What can you relate about Khachaturian's piano concerto?
My goal is to reach a high enough level in order to promote Khachaturian. He wrote little, but his music is universal. I must promote Aram Khachaturian more in France. For example, many talk about Shostakovich, while many haven't heard of Khachaturian. The piano concerto can be classified as one of the best. Yes, I admit that Khachaturian's music has a national basis, but I'm proud of it.
People say sounds have colors. Have you created your own system of colors?
All colors are present in music, depending on tones. Every piano even has its own tone, and, therefore, color. I see C-major as yellow, D-flat major as burgundy, A-minor as dark-red. But the main tone is not enough to say some piece of music has one specific color. After all, there are modulations, and the colors change.
What are your goals for the next few years?
First of all, it is necessary to develop as a pianist.
Do you see your future in Armenia or in France?
I greatly love my country. I live in France, but I'm here with my thoughts. Every day I write to my friends. I want to come and go. If I have a permanent job here to earn enough, I will stay in Yerevan.
In Armenia, blind people don't get employed. Even those who see are unemployed. All my friends from the Komitas Conservatory are in Europe now. They go there to practice music. All my hopes were connected with Armenia, but now it will be very difficult to get on with a disability pension of 20,000 drams. If I were a web developer, I would earn enough, since computer repair jobs are endless in Armenia.
I couldn't reach this level without braille notes. Composer Zohrab Paremouzyan played a great role in my life. In the Soviet era, he had bought large collections of braille notes. He helped me a lot to learn and read the notes by myself. You can find whatever you want in Europe. Even if you don't, you can order prints. In Armenia, you can't
What is the main key to success?
All of us should do our jobs well. One shouldn't get disappointed. During Richter's time, Sokolov was pushed to the shadows. Every person's success has its own time. One must doggedly wait for their success to come.
Levon Karapetyan is going to give a concert in Artsakh, playing Khachaturian, Babajanyan and Komitas. He's waiting for an invitation from his friend Artak Beglaryan, spokesman of the Artsakh Prime Minister. Artak promised to organize a concert.
In the meantime, on October 29, the pianist will perform at the Naregatsi Art Institute in Yerevan, performing Bach, Beethoven, Frank.