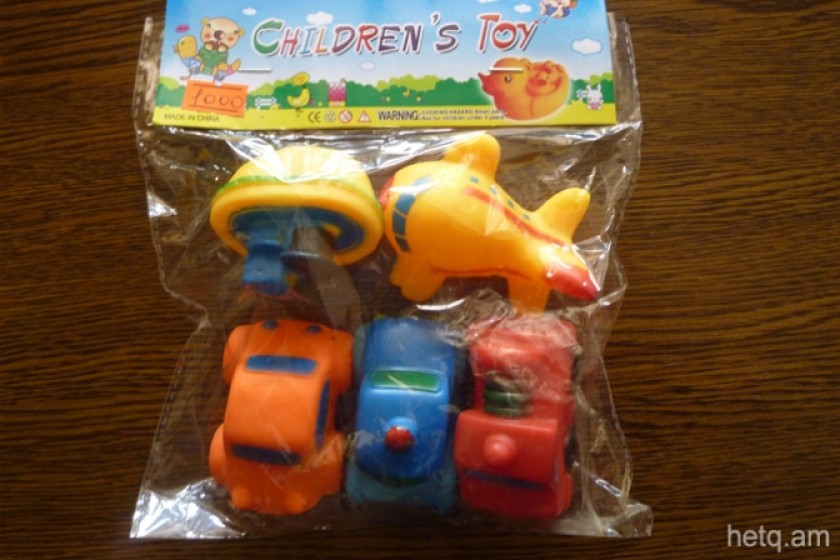 Children's Toys Sold in Armenia Found to Contain Substance that Causes Cancer and Metabolic Disorders; Government's Market Inspector Says, 'We're doing our best'
Some children's toys being sold in Armenia have been found to contain high levels of a chemical substance said to cause cancer and other serious health problems.
Knarik Grigoryan, a researcher from the Armenian Women for Health and Healthy Environment NGO, told Hetq that high concentrations of phthalate were found in Chinese plastic toys sold at one shop in Yerevan.
The Armenian NGO found high concentrations of the substance, banned in the European Union, the United States, China and other countries, in some of the toys they tested in Armenia.
Phthalates, used in a large variety of products - from moisturizing and softening creams to lotions, fragrances, perfumes, nail polishes – are also used to impart softness and flexibility to toys. Penetrating the body, phthalates can lead to the loss of body's immune response and protective properties, damage liver, kidneys, cause infertility and cancer, metabolic disorders, diarrhea, diabetes, etc. Teenage women and children are the most vulnerable.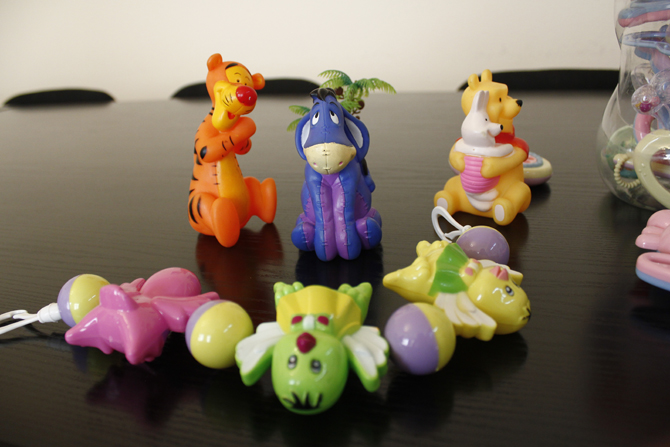 The toys were examined by Greenpeace Russia, together with Echo-Soglasie (Russia), Center for Ecological Decisions (Belarus), Armenian Women for Health and Healthy Environment (Armenia), Independent Ecological Expertise (Kyrgyzstan) and Human Health Institute (Kazakhstan).
The use of several types of phthalates is limited to 0.1% of the mass. According to the Eurasian Customs Union technical regulation, some types are banned altogether.
In 2017, the NGOs conducted a public survey to see which toys need to be examined. As a result, 16 types of toys were selected - mostly puppets, bath toys, and animal and cartoon plastic characters.
The toys were purchased from children's shops in Russia, Belarus, Armenia, Kazakhstan and Kyrgyzstan, and ordered online. In April, the samples were transferred to the Greenpeace UK expertise laboratories, as well as to the German Eurofins Consumer Product Testing Analytical Lab. The toys were checked for ten types of phthalates.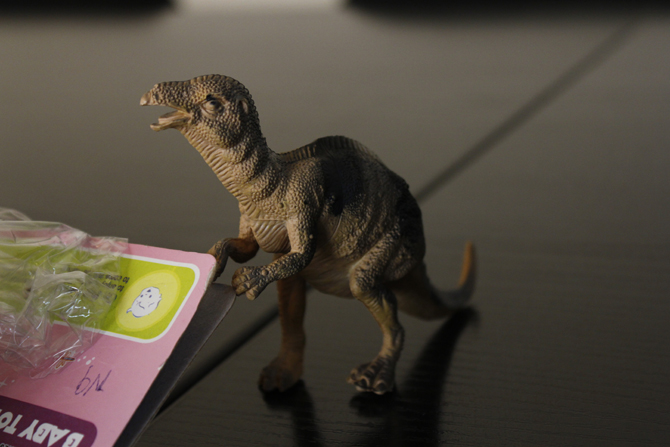 Knarik Grigoryan says she bought a toy set (Children's Toys) made in China and a baby teether, which she sent to the partner organization for testing.
"I preferred to send toys that were more affordable. The teether costed 800 drams, the toy set – 1,000 drams," said Knarik Grigoryan.
A laboratory analysis of the toys showed that all the samples contained phthalates in different amounts, including dibutyl phthalate, prohibited by the Eurasian Economic Union. Additionally, more than one third of the toys contained concentrations of phthalate, that are banned in the European Union, China, and elsewhere.
Five of the toy samples, including toys purchased from the Armenian market, contained the highest concentrations of phthalates.
Beginning in 2009, several international organizations, including the World Health Organization, the United Nations Environment Program and others have expressed concerns about the high levels of using harmful materials. In 2013, 100 scientists from 19 countries have signed the Berlaymont Declaration on endocrine disruptors.
In 2013, the production of phthalates in the world amounted to around 5.5 million tons per year. Since phthalates are not chemically mixed with products, they can easily get into the air, water or soil, and so on. This happens not only in production, but also in the process of using the products, as a result of which phthalates interact not only with the human beings but also with the ecosystem.
Consumers need to be pro-active, says government inspector
According to the current Armenian legislation, businesses are obligated to subject imported toys, for testing, to obtain a safety certificate and, if necessary, to show it to the supervisory authority and buyers. Some of the entities do fail to do so, since it's regarded as an extra expense.
Levon Khalikyan, who heads Armenia's Market Control Inspectorate (MCI), believes his agency is doing its best, but changing people's mindset takes a long time. He says consumers should be proactive, and check whether the product has been examined or not. Before buying, they need to ask for a safety certificate.
When asked why can't imported toys be supervised at the border, Khalikyan responded that under pressure from businesses the law was changed so that safety testing would be required after importation. The official says his agency must see that companies are adhering to the law.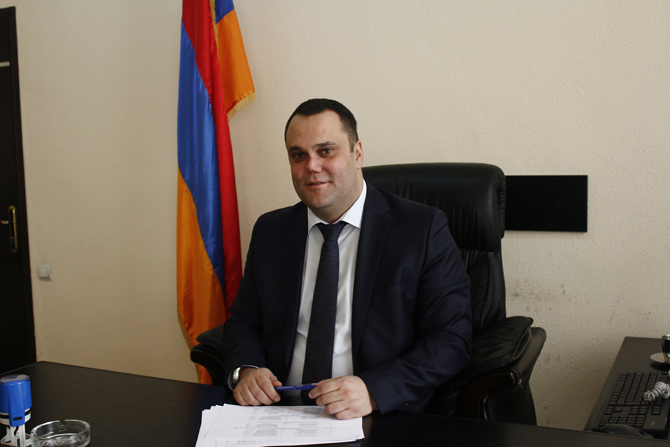 Levon Khalikyan
Non-specialized stores bring in cheap, non-certified toys for profit, especially during the holiday season. Toys are sold everywhere in the lead-up to New Year's.
"The dissemination of Chinese goods is a problem that no country can handle, but in countries where consumers are attentive, such toys are left out of the market.
People should understand that it is better to prevent sickness rather than spend money on the treatment of the child, " says Khalikyan.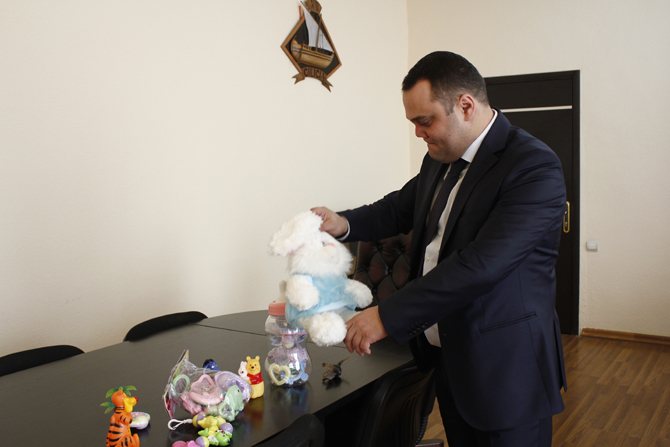 However, toys that haven't been inspected sometimes make it to the shelves of specialized toy stores in Armenia.
For example, the MCI found violations in seven of eight businesses importing and selling toys in the country.
One company, Vostanik Hayrenyats, was fined AMD 500,000 for selling toys without proper documentation. Based in the Syunik village of Angeghakot, the company once attempted to import cameras and other household items from the UAE without any customs declaration.
The MCI fined two companies – Tuntunik and Adel – AMD 200,000 apiece for selling toys with no safety certificate.
Armenia's prominent SAS supermarket chain was also found in violation of the law.
It was fined for selling toys and other items (cosmetics, detergents and soaps, low voltage electronics) that either had no safety certificate or lacked the required sales label in Armenian.
If you found a typo you can notify us by selecting the text area and pressing CTRL+Enter