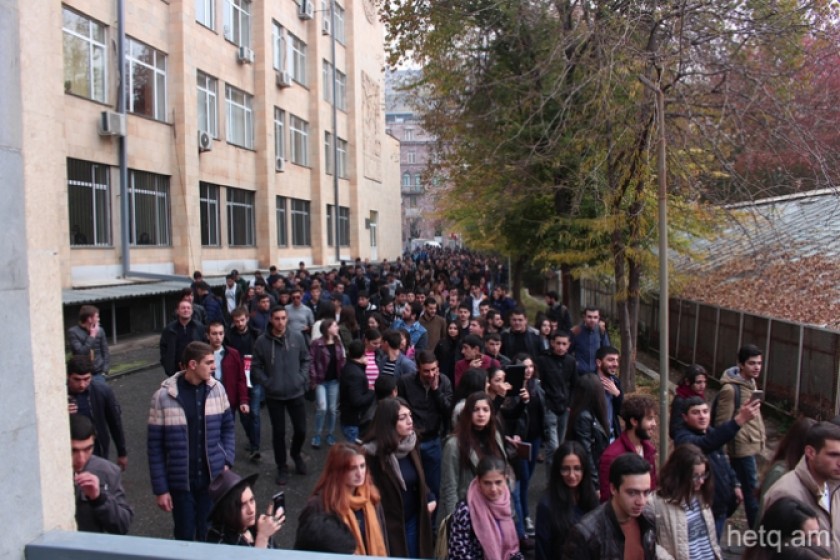 Yerevan: Draft Deferment Protest Grows; More University Students Boycotting Classes
Students in Yerevan continue to boycott classes, protesting a government bill scrapping draft deferments.
Yesterday's meeting with Armenia's Minister of Education and Science Levon Mkrtchyan didn't satisfy the demands of the students, and he said that there would be no further discussions.
Today, boycott participants started off from the Yerevan State University (YSU) Central Building and marched to other faculties, chanting "a free, independent lecturer", and "a free, independent student."
Security officers prevented journalists from entering the Faculty of Biology, limiting their number to three.
A clash took place between YSU Staff Chief Alik Gharibyan and the initiators of the movement.
Later, one of the organizers of the movement, Davit Petrosyan, had a private conversation with Gharibyan. A Radio Liberty cameraman was only allowed into the room to ensure a live broadcast of the conversation.
Davit says the YSU administration admitted that closing the university doors the day before was wrong. The issue of the students' absence was also discussed.
Of the 550 students of the Faculty of Biology, only 100 were present at classes. Davit is convinced that it's due to the boycott.
"The data about 17,000 students should be studied to understand the quality of education. If a person is registered as a student, but doesn't attend classes, we must understand what's their issue," he says.
Students also reported the presence of policemen without uniforms. These individuals left the scene after being asked to present their ID papers.
Members of the initiative mentioned that some YSU lecturers joined their movement, saying that the university administration had instructed the lecturers to refrain from expressing their position.
Speaking about youth in the provinces, Davit Petrosyan says that they haven't received any proposal to join them yet. However, he believes that Facebook allows people from different provinces to express their positions, and their movement has spread.
Students from the European, American, and Slavonic Universities have joined the boycott.