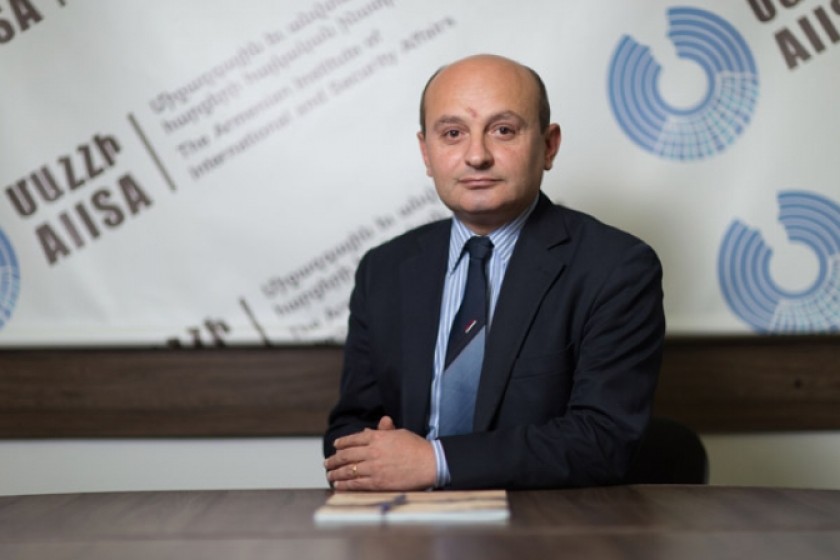 Will EU EaP Issue a War Reference to Baku?
Styopa Safrayan
AIISA founder and head of research programmes
Only one day is left to Eastern Partnership (EaP) Summit in Brussels, in the framework of which Armenia-EU Comprehensive and Enhanced Partnership Agreement (CEPA) is expected to be signed.
It took around three years to define a new frame for partnership between Armenia and the EU after the Association Agreement (AA) with Deep and Comprehensive Free Trade Area (DCFTA) didn't reach the signing table of EaP Vilnius Summit in November 2013, which Yerevan and Brussels had negotiated since 2009—around 3.5 years.
Serzh Sargsyan, president of Armenia, who was in Moscow earlier—on September 3, 2013, made an unexpected statement on the country's intention to join the newly established Eurasian Economic Union (EAEU) and its Customs Union, which made impossible signing not only of the DCFTA, but also the political component of the Association Agreement (AA).
Although two countries among EaP members—Ukraine and Armenia, which, in particular, appeared under Moscow's direct pressure then—chose different roads, what happened to both at large had a negative implication on the EU EaP format, temps and success:
1) Ukraine, choosing revolt and ignoring security challenges vis-à-vis Russian pressure, to some extent is perceived, or more exactly introduced within Russian propaganda as a beneficiary country of EaP and association with the EU, which "gained" only loss of Crimea and uncontrollability and instability in the country's east. Of course, amidst that chaos while counteracting Russian aggression, Ukraine also laid solid foundations to pursue its sovereign and diversified policies, and what was mentioned is a result of propaganda and information manipulation, although the fact of Ukraine's territorial and other losses lying on its ground is undeniable either.
2) Armenia, giving way to integration into Eurasian Economic Union, whether want or not, appears in EaP format as a country doomed to ambiguity, with de facto suspended or frozen status during last 3 years. As Armenia's main achievement it's introduced that it preferred not to raise on the sacrificial altar what could lead to its loss—Nagorno Karabakh, like in case of Ukraine. In this regard, not at all randomly, through rather foxy technologies—from armaments supply to other demarches and blackmail against Armenia's national interests—Russia instigated Azerbaijan to increase tension and threat of war resumption along the entire line of Armenian and Artsakhi border from 2013. The 2014 summer escalation was prevented by the very Russia, thus, proving that Moscow is the only peace guarantor of Armenia and in the region and no one else.
Presently signing of Armenia-EU new agreement changes a lot for all sides. It will enable Armenia to diversify its foreign and domestic policies, to balance the deviation in its foreign policy recorded in 2013, also to modernize all systems through reforms, to specify fields of dialogue with the EU on foreign and security issues, and to clarify its status within EaP, etc.
It's of no less importance for the EU as well—an opportunity to restore EaP format in the form of Armenia's return, doomed to uncertainty and partly scattered from the Kremlin "one shot." Actually, having only Georgia in this format, which irrespective of its clear Euro-Atlantic course doesn't yet mean having the South Caucasus in it. Meanwhile having also Armenia as a country with an objective interest and desire for European integration, but being forcedly deprived of its realization, will mean encouraging Azerbaijan in the contestation, which perhaps is the least interested in rapprochement with the EU. Moreover, throughout recent years foreign and domestic policies of Baku were more sympathetic to Russia, than even of its ally Armenia. Accordingly, Armenia's return to EaP format with a more clarified status is crucial for the EU as well enabling to reshape and to complete its Caucasian policy. At large it becomes a big opportunity to revers tactical success of V.Putin recorded in 2013
However, a circumstance emerged in recent weeks threatens to shrink such broad importance of EaP Summit of November 24. It refers the joint declaration on EaP Summit, which will reflect achievements of EaP throughout the last two years and steps for the forthcoming two years. Baku attempts to openly shuffle formerly sorted cards by demanding new and unilateral approaches on Karabakh conflict, while it is perfectly acknowledged on traditional posture of the EU and international organizations, also formulated in 2015 in EaP Riga declaration. Does Azerbaijan do it independently or with Moscow's inexplicit consent? Or perhaps Baku perfectly realizes Moscow's unhidden interest in failing of EaP again? At the moment it's impossible to have a single answer to the mentioned questions, no matter how essential they are.
It became clear from the exclusive interview with Kestusis Yankauskas published in the media outlet attached to Azerbaijani presidential administration on November 21, that rejections by Azerbaijan linked to the declaration are maintained and the text hasn't been agreed yet.
As the interviewer discloses the position of official Baku, Azerbaijan's top leadership insists that in the text of EaP declaration to be signed on November 24, the "formulation on unilateral statement on Nagorno Karabakh" was involved. Then through another question the interviewee indirectly clarifies: i.e. include an EU posture like in case of Catalonia—in favor of Spain's unity and integrity.
The EU Ambassador surely objects that "developments in Catalonia and Karabakh conflict have different preconditions, context, realities, as well as various mechanisms to solve them", however, he assures that EaP Summit on the highest level will become another opportunity to assure "territorial integrity, independence and sovereignty of all EU member and partner countries, including Azerbaijan" ("Yes, the EU has taken a clear posture on Catalonia, however, at the same time, the EU has clearly supported territorial integrity, independence and sovereignty of all partners, including Azerbaijan. The EaP Summit will become another opportunity to reaffirm that on the highest level.")
The Ambassador also rather clearly stresses: "the EU totally supports mediation efforts and proposals of the OSCE MG co-chairs, which is the key component of international format for political settlement of this conflict, adopted by Azerbaijan as well."
Thus, obviously the declaration will enshrine the EU support both to Spain's unity and territorial integrity, independence and sovereignty of all member and partner countries. If the EU chooses a differentiated approach to conflicts and will also include a special provision on Nagorno Karabalh conflict, obviously Brussels tends to simply stress, that it supports OSCE MG efforts and proposals towards political resolution of the conflict. This is also a well-known formulation. However, it's exactly here that Azerbaijan demands to also stress its territorial integrity, while the Armenian side demands to involve compromised formulation of the initialed Armenia-EU agreement, which makes reference to the three well-known principles of the conflict peaceful settlement—refraining from the threat or use of force, territorial integrity of states, and equal rights and self-determination of peoples.
Obviously, from the legal perspective the EU is obliged to accept Armenia's proposal, as the agreement the official Yerevan made reference to, not only was initialed, but will be finally signed within Brussels Summit. Moreover, EaP declaration has only political importance, meanwhile Armenia-EU agreement—a legal mandatory force and should reflect the already existent legally binding obligations. Also, as mentioned above, Armenia's joining the declaration means its return to EaP format, which is of paramount importance from the perspective of resetting the very EU EaP format. Accordingly, if due to unacceptable formulations in the declaration Armenia won't sign or will make reservations, the abovementioned big political importance shrinks and Armenia-EU relations are only put on bilateral tracks and nothing more.
Nevertheless, there is another implication that meeting Azerbaijani postures will lead to. President Aliyev, who was the least interested in European integration in the South Caucasus and EaP and drew relations with European organizations to the abyss, pursues quite a different goal insisting to prioritize the principle of territorial integrity in the Declaration.
Aliyev clearly realizes that EaP will never be involved in the conflict settlement, nor it's capable of restoring its soviet "territorial integrity" like it didn't and won't do in case of conflicts in Georgia, Moldova and Ukraine. Aliyev doesn't conceal either that he is skeptical about both political settlement and OSCE MG. Moreover, the settlement options proposed after 2009 in numerous statements by presidents of OSCE MG co-chair countries don't fit in Aliyev's recent political appetite. Accordingly, the formulation required by Ilham Aliyev, pursues only one purpose—internationally legitimize another military adventure against the Republic of Artsakh, which it failed to do in April 2016 "by high-handedly and unilaterally announcing on suspension of military operations" not only for the reason that the Armenian military forces almost recovered the starting positions, but it was asked by the international community, as Azerbaijani president announced those days.
Finally, it's obvious that presently Azerbaijan also develops not only military rhetoric, anti-Armenian policy in the country, but also is apparently preparing for another war seeking for other "beneficiary" states and a proper moment, when it'll have its reference on international legitimation and justification through the text of the declaration… It's needless to imagine how Ilham Aliyev will introduce his achievement to the internal audience after not satisfying numerous calls by international organizations on respecting human rights and ending democratic crackdown in the country, and who's becoming more confident, arrogant and uncontrollable, …
Thus, the situation if not say historical or fatal, then it may be crucial for future developments. Azerbaijan's president needs a war reference, a reference confirming that Artsakh (Nagorno Karabakh) isn't a disputable territory or without a status, but is involved in Azerbaijan's territorial integrity, subsequently, according to the well-known Azerbaijani interpretation, Baku has all rights to establish control on all parts of its territory, including through all means. Finally, in recent years, periodically reflecting on the developments around Ukraine and Syria, Aliyev has clearly stated that the only way to the conflict resolution is force, and one shouldn't judge the strong one…
And a question arises—will Europe issue that war reference to Ilyam Aliyev, especially when by that it'll not only alienate Yerevan from EaP format, but will shrink geopolitical importance of EaP Brussels Summit by its own hands, also will establish a collision of norms enshrined in EaP declaration and Armenia-EU agreement, and later on in Azerbaijan-EU agreement, and finally will open a war door before Aliyev?
Hopefully, there are politicians clearly realizing all these implications and such a fatal mistake won't be made.