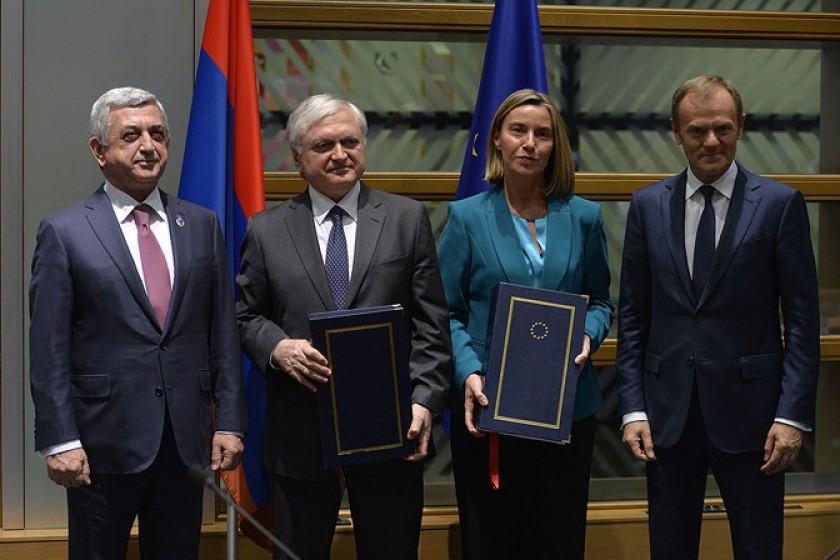 Armenia and European Union Sign Comprehensive and Enhanced Partnership Agreement
Today, in Brussels, the Republic of Armenia and the European Union concluded the Comprehensive and Enhanced Partnership Agreement, within the framework of the Eastern Partnership Summit.
The Agreement was signed by Edward Nalbandian, Minister of Foreign Affairs of Armenia, and Federica Mogherini, EU High Representative for Foreign Affairs and Security Policy, in the presence of Donald Tusk, President of the European Council, and Serzh Sargsyan, President of Armenia.
In his speech following the signature, Nalbandian called this agreement a joint achievement for the parties, leading to the strengthening of political dialogue, broadening of economic and sectoral cooperation, creating a framework for new opportunities in trade and investments, and for increased mobility for the benefit of Armenian citizens.
Nalbandian also reaffirmed its importance in supporting the peaceful setting of Nagorno Karabakh conflict, thus joining the approaches and efforts of the OSCE Minsk Group.
Photo (from left): Armenian President Serzh Sargsyan, Armenian Foreign Minister Nalbandian, Federica Mogherini, Donald Tusk.