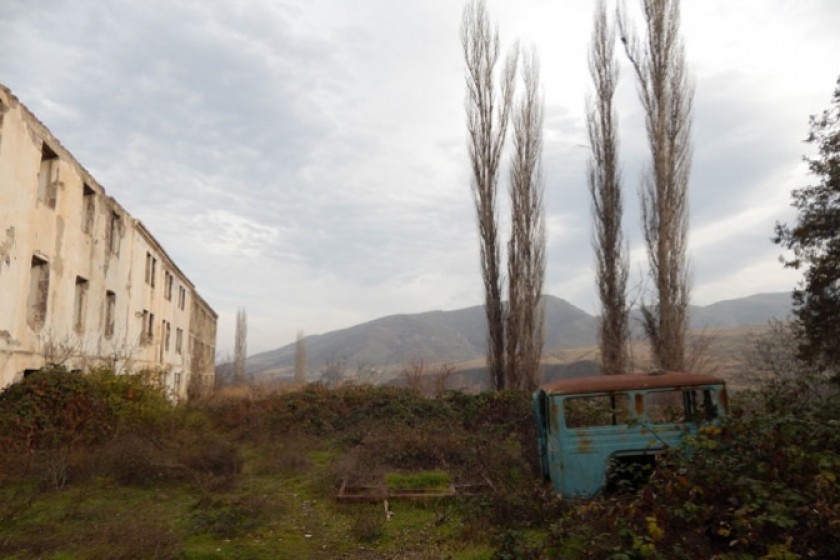 Aygepar Mayor: "Patriotic investors must start their work at the border"
Aygepar, is a village of 683 located in Armenia's northeastern Tavush Province, straddling the border with Azerbaijan.
After local elections were held on November 5, Aygepar, along with fifteen other smaller settlements, was incorporated into the community of Berd.
This process of administratively incorporating smaller rural hamlets/settlements into larger communities is well underway in Armenia.
Berd Mayor Haroutyun Manoucharyan told Hetq that officials are now discussing the community's 2018 budget and its five-year development plan.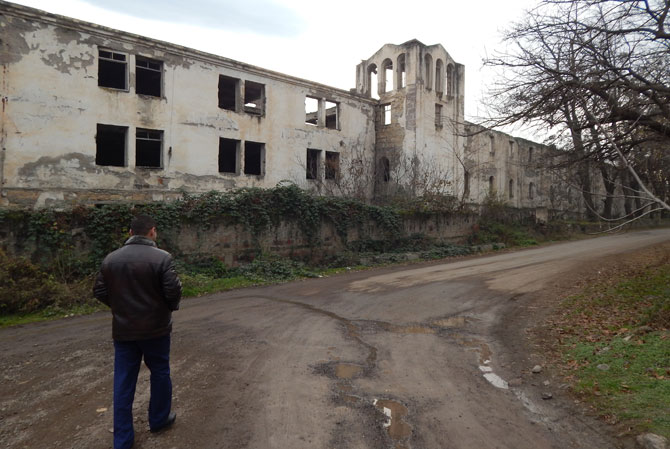 Abandoned cigarette factory
Entering Aygepar, one immediately sees the abandoned cigarette factory. Resident Vanik Papyan says that it's been bombed by the Azerbaijani military firing from a mountain on the opposite side.
"500 people worked here at one time. Now, the village's main problem is the lack of jobs," says Papyan.
Andranik Aydinyan, Aygepar's administrative representative, says that residents are somewhat annoyed because they live near the border.
"Living on the border may aggravate them, but those living far from the border don't understand our esteem. We live under gunshots fired daily. The last shots were two days ago, at night," says Aydinyan.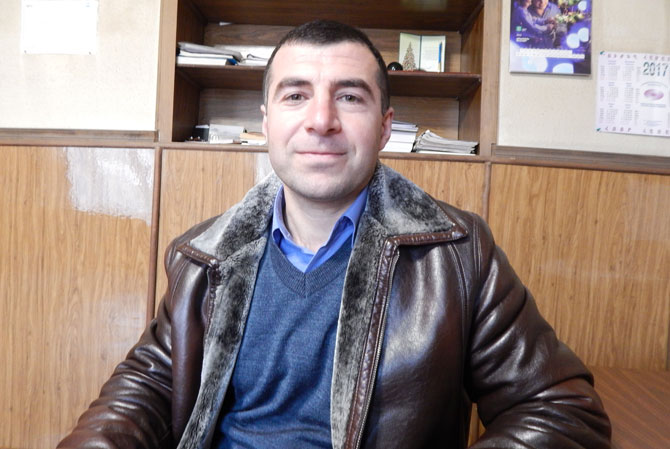 Aydinyan says that the village once boasted a population of 1,300, but that most residents left due to the lack of potable water, natural gas, and a road. Azerbaijani shelling didn't help.
He says the village was founded around the cigarette factory, and that six multi-story apartment buildings were built in 1948.
Aygepar's 2017 budget amounted to AMD 14.8 million (US$30,600). AMD 13.3 million was in the form of a national government subsidy. It will be difficult to improve conditions in the village and spur development given such a small figure.
Aydinyan, who's represented Aygepar for the past twelve years, says that funds derived from benefactors and donor organizations allowed the village to rebuild the main water pipe and repair the Ijevan-Navur-Berd-Aygepar highway. Natural gas was also installed in the village.
Today, there are twelve apartment buildings and 91 private houses in Aygepar. In addition to the cigarette factory, jobs were provided by a cognac/wine plant and a canning factory.
"Since Aygepar was a workers' settlement, we have no agricultural land of significance,"says Aydinyan.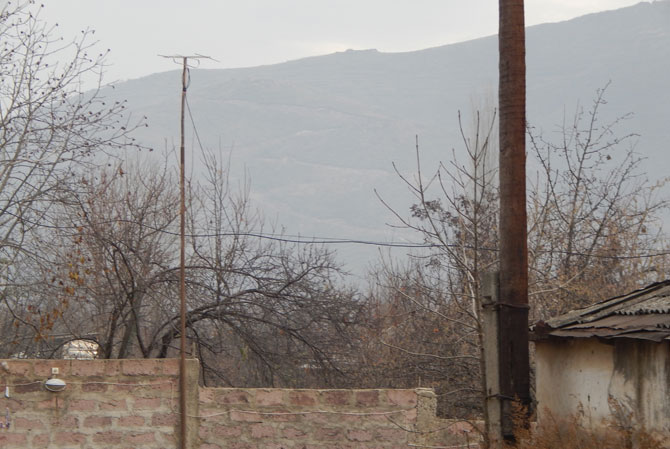 Azerbaijani military shells Aygepar from here
The school's enrollment has dropped from 283 to 52 today.
Aydinyan says that residents take refuge in their homes when shelling breaks out. This route was preferable to building a central shelter in the village, directly in the line of Azerbaijani fire.
Vineyards flank the road leading to Aygepar, but they're not cultivated, says Aygepar. Again, intermittent Azerbaijani shelling is the culprit.
Given the lack of agricultural land, some residents work in the school, kindergarten, or have civil service jobs.
"Those willing to work will find work here," says Aydinyan. "You can help a lazy person as much as you want. It's all the same. That person will not torment himself to make a living."
Yuri Hovakimyan has lived in Aygepar for 47 years. His two sons have moved to Russia, taking their families.
"There's no work in Aygepar. Even if jobs were created here, they probably wouldn't return. They've settled down there, and are registered," says Hovakimyan.
Gavrosh Apresyan, another resident, agrees.
"They wander around aimlessly. They have no land to cultivate. They have no money to purchase land. I take care of my family of three on a monthly pension of 47,000 drams ($97). The government should create some light manufacturing enterprises so that people could work and not move away. If I didn't love Aygepar, I'd leave."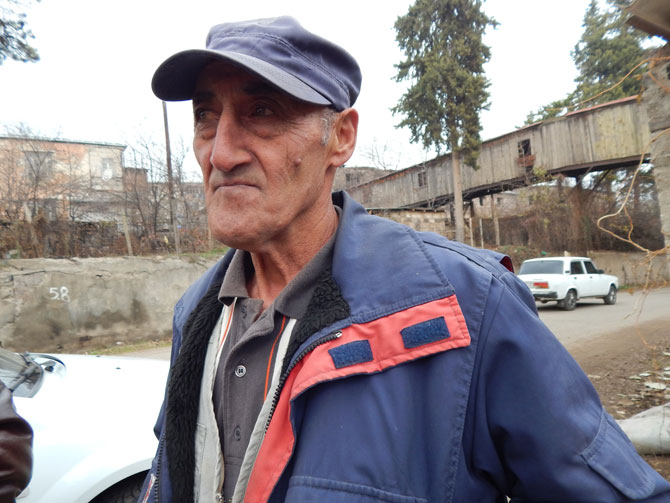 "We're in a war zone. The shelling scares us. This shelling must be banned. We can't walk around our homes. We have a small child at home. Every time the shelling erupts, he tells me – Grandpa, keep me safe."
This is how Misha Adyan describes life in Aygepar. None of his family members have moved away.
Armen, Misha's son, died in 1998 while serving in Mataghis, Karabakh. "I sent Armen to Karabakh at the age of eighteen. He had served one year in the army and was killed." Misha says he too has defended the Aygepar frontier.
Vanik Papyan was born in the nearby village of Movses. He moved to Aygepar with his family thirty years ago. They live in Building #1 (see photo). "When the shells fly, we hid in the cellar," says Papyan.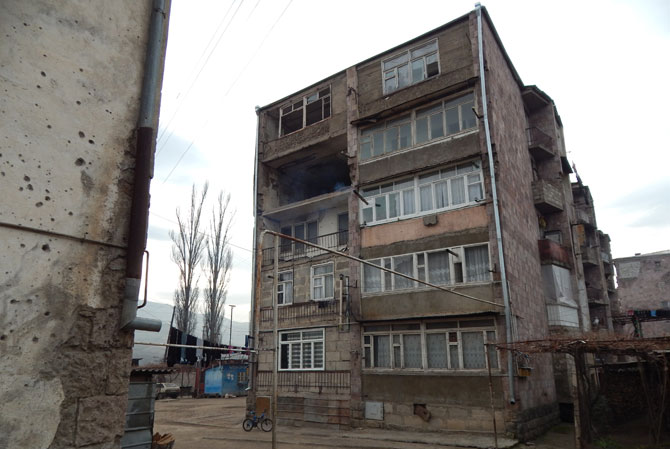 Ashot Melyan and his family used to live in same building, on the fourth floor. The building has been hit so many times, Melyan gave up trying to repair his apartment. The family packed their bags and left Aygepar.
Residents in the neighboring building have walled up their windows. The village kindergarten, with an enrollment of 25, was hit two months ago. The Los Angeles based Hayrenik Union financed its renovation.
"Our children know how dangerous the shelling is. They know how to react and hide," says Andranik Aydinyan.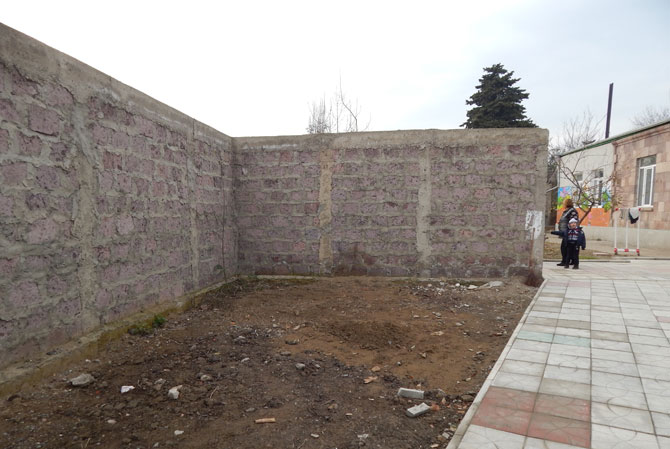 Kindergarten's defensive wall
The defensive wall surrounding Aygepar's kindergarten was built by the International Red Cross. Similar walls have been built to protect the fountain in the village square, the cultural center, and along the more trafficked streets.
Andranik Aydinyan then tells this reporter about a tragic incident from his childhood. His father Sargis was killed in 1993 during a skirmish to defend Aygepar from an Azerbaijani assault. Sargis was 43.
"I was twelve at the time. My mother had a hard time raising five children on her own," says Aydinyan. Over the years, several of his former classmates have also died defending the village.
A memorial fountain honoring those who have died defending Aygepar was erected at the village entrance in 2016.
Aydinyan recounts the dark days of September 1-4, 2015, when Azerbaijani shelling many homes in Aygepar. The Azerbaijani media at the time boasted that smoke could no longer could be seen rising from Aygepar's chimneys.
"I got on the internet and responded that Aygepar was a developed village, not like that backwards village of yours where they burn wood. We warm our apartments with gas," says Aydinyan.
Reflecting on the lack of jobs, Aygepar's primary problem, Aydinyan makes a simple observation – "Patriotic investors must start their work at the border"
Only time will tell whether investors will heed Aydinyan's advice.
What benefits, if any, will Aygepar derive from its incorporation into Berd also remains to be seen.