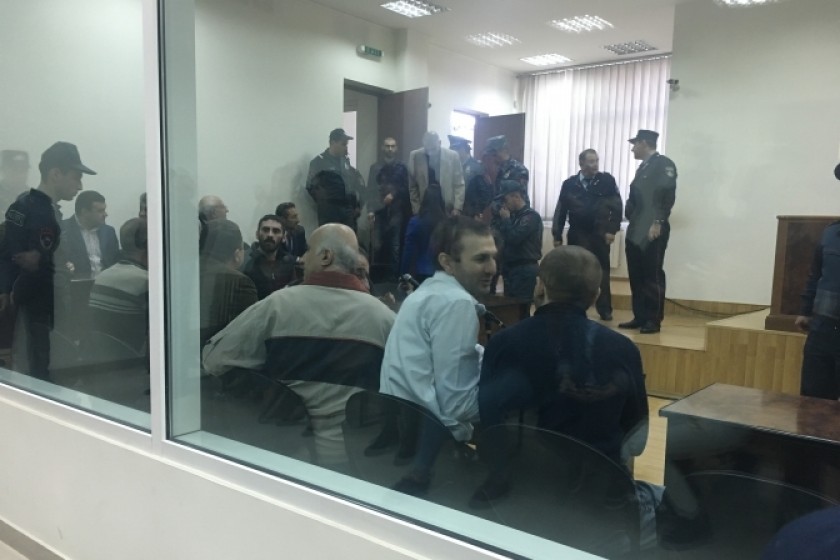 Sasna Dzrer Defendants Reject Charges: "We launched a revolt against state traitors"
Defendants in one of the three Sasna Dzrer trials underway in Yerevan declared in court today that the charges levied against them (the July 2016 armed seizure of a Yerevan police station and hostage taking) were incorrect and unacceptable.
Aram Hakobyan, one of the defendants, told the court that they should be charged with "extreme patriotism", arguing that they didn't revolt against the state, but rather they wanted to make the point that Armenia doesn't have a legitimate government.
"Don't confuse the government with the state," Hakobyan declared, addressing Judge Artur Ohanyan." The government has seized the state. You can imprison the body, but never the mind and soul."
Tigran Manukyan, one of the eleven defendants, said he had done the right thing and has no regrets. "We launched a revolt against state traitors," he told the court.
Vardan Geravetyan described the prosecution's charge that Sasna Dzrer members broke into a bank's ATM machine and stole cash as ludicrous. "What were we supposed to do with that money? Play the lottery?" he asked.
When Judge Ohanyan reprimanded defense attorney Lousineh Sahakyan for interrupting State Prosecutor Artur Chakhoyan, saying "Don't exploit the fact you're a woman in the belief the court will not respond to you", a shouting match erupted between the judge and defense attorneys.
Judge Ohanyan was forced to declare an intermission.
Afterwards, Ohanyan said that the court would first examine the written testimony provided in the case, followed by the testimony of eyewitnesses and damaged parties. Material evidence and the testimony of defendants would be examined later.
Judge Artur Ohanyan is presiding over the trial of Aram Manukyan, Tatul Tamrazyan, Tigran Manukyan, Sergey Kyureghyan, Toros Torosyan, Gevorg Iritsyan, Hovhannes Harutyunyan, Arayik Hakobyan, Martiros Hakopyan, Aram Hakobyan and Vardan Geravetyan.