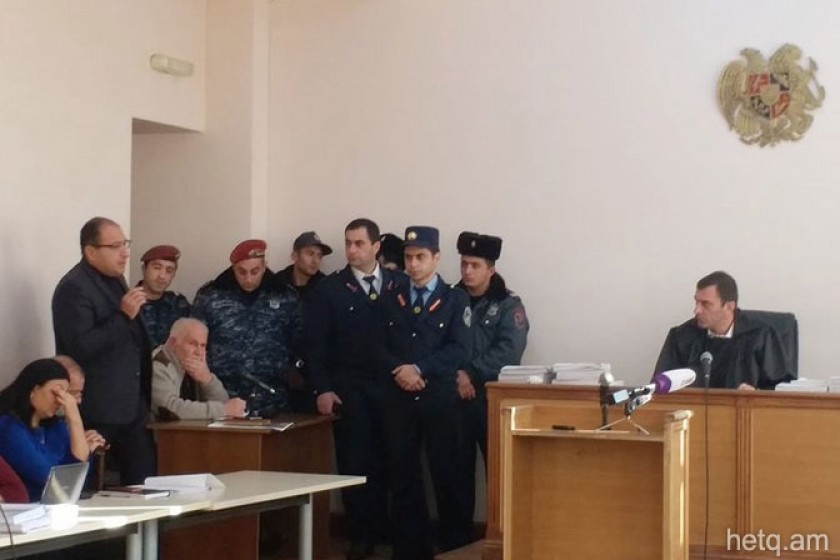 Trial of Former Armenian Deputy Defense Minister and Others Charged with Seeking to Overthrow Government Postponed
The trial of nine individuals, including a former Armenian deputy defense minister, arrested in 2015 on charges of illegal arms possession and planning to overthrow the government in Armenia, was postponed for two weeks.
It was on November 25, 2015 that Armenia's National Security Service (NSS) reported that it had uncovered a criminal gang in Yerevan that was planning to overthrow the government.
One of the defendants, Hatoutyun Saribegyan, had previously informed the court that he was dispensing with the services of his public defender and would be hiring a private attorney.
That attorney, Narineh Rshtouni, appeared in court today and requested forty days to familiarize herself with the 37 volumes of case material.
Judge Armen Bektashlyan responded that the court was in the process of reviewing the material and had reached the twelfth volume.
"You will not violate any of your client's rights if you participate in the process," Bektashlyan said.
Lawyers for the other defendants disagreed, saying that Rshtouni should be granted ample time to prepare.
Judge Bektashlyan relented and postponed the trial for two weeks.
According to the NSS, the group was planning to shoot the president's plane down from a house owned by a group member near Zvartnots Airport.
Haroutyun Saribegyan, who according to the indictment suggested the idea of shooting down the president's plane, has denied the charge.