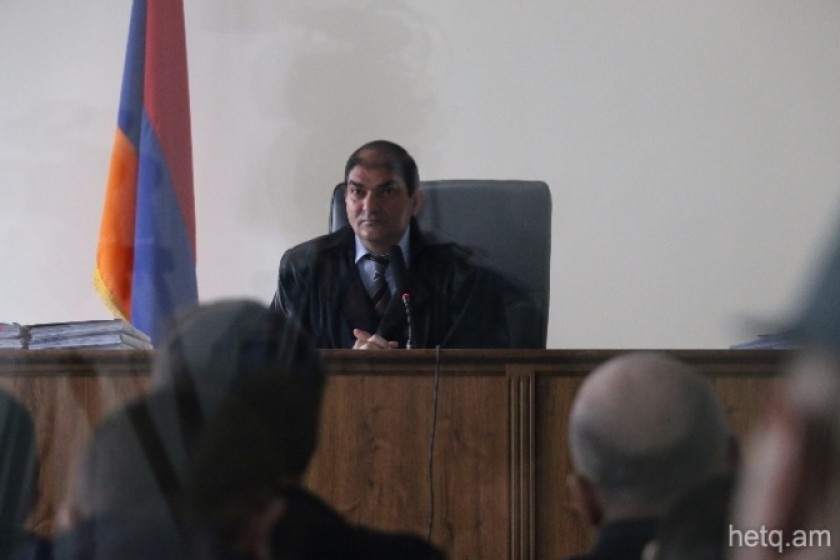 Sasna Dzrer Lawyers Stage Symbolic Strike to Protest New Law
Five lawyers in one of the Sasna Dzrer trial underway in Yerevan staged a symbolic ten-minute strike today court to protest a bill the parliament passed yesterday allowing attorneys charged with improper conduct to be fined 100,000 drams instead of the current policy of reprimanding them.
The lawyers who declared the strike before the start of the session were Tigran Hayrapetyan, Nina Karapetyan, Moushegh Shoushanyan, Ara Gharagyozyan and Arayik Papikyan.
Gharagyozyan called on lawyers to take to the streets to voice their opposition to the new law, and claimed that opposition legislators were ready to join them.
Once the lawyers got back to work, the judge asked the defendants if they felt guilty for seizing a Yerevan police station in July 2016.
Defendant Armen Lambaryan said he and the others did what they did because they believed constitutional order in Armenia had been violated.
"We had the consent of 85% of the people, and we had the right to revolt. Our actions were legal. The court has no power to accuse us," Lambaryan said.
Attorney Papikyan declared that his clients, Armen Lambaryan and Ashot Petrosyan, were being persecuted for political reasons, and not for the charge of participating in a revolt.
If you found a typo you can notify us by selecting the text area and pressing CTRL+Enter