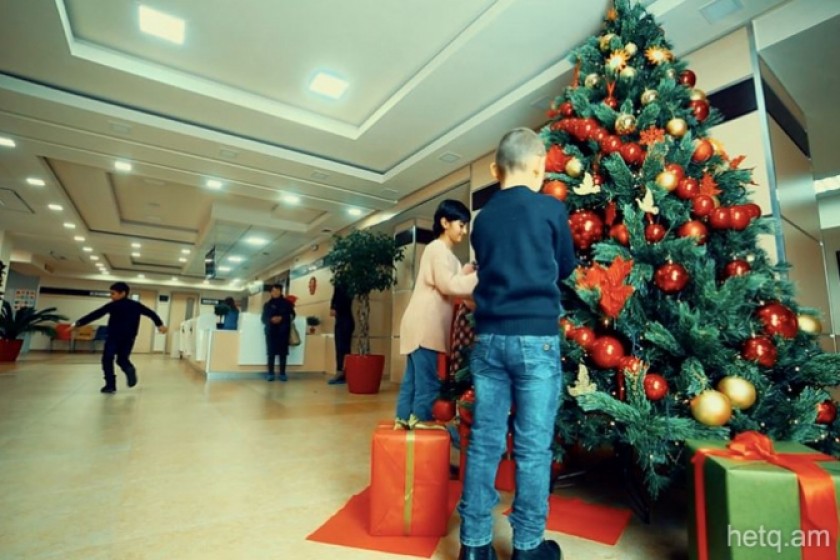 New Year Wishes and Dreams of Children Treated at Yerevan's Hematology Center
Amalia Margaryan David Banuchyan
Children being treated at the Yoleyan Hematology Center in Yerevan shared their New Year wishes with Hetq.
"I want to be a doctor and treat everyone, to give an injection to everyone"; "I want to never be sick again. I want everything to be fine and everyone to be healthy"; "I want to play football with my dad"; "I want it to snow a lot on New Year's Eve " - the children told us.
"I wake up early in the morning on January 1 and run to the Christmas tree to see what I have received," says 7-year-old Henrik. He has already made a wish, sending a letter to Santa Claus.
They have already decorated the Christmas tree at the hospital. They've also learnt poems and songs for the New Year's event. At the beginning of December, the children wrote letters to Santa Claus.
"Once I visited Santa Claus's house. He wore red clothes, had a white beard and a big sack. There was also a Snow Maiden there," says one of the children, Inga.
Teacher Ani Hovhannisyan says that no letter to Santa Claus remains unanswered, since the children impatiently await the New Year's holiday.
"We make clothes and masks together with the children. We write letters, and Santa Claus and fairy-tale heroes visit us during our New Year's celebration."
"I wrote a letter to Santa Claus yesterday and gave it to my dad. He promised to forward it, " says Snezhana, congratulating everyone on the New Year's holiday.