"My potatoes don't rot": Odzoun Farmer Sergo Takes Pride in His Work
Sergo Khanvelyan is a farmer and veterinarian from Odzoun, a large village in Armenia.
On the eve of our visit, one of his sows, Masha, gave birth to nine piglets. Sergo says it's a good start to the farming year.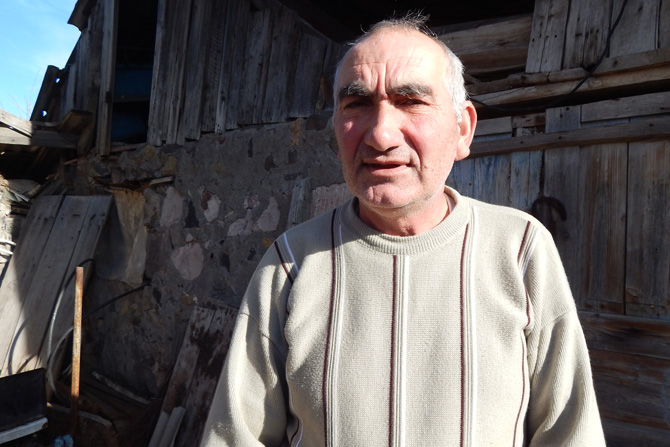 Sergo Khanvelyan
"Usually, I'm there when the sows give birth. This time I went to check in the morning and saw that Masha already had her piglets, even without a light being lit in the barn," says Sergo delightfully.
In Odzoun, Sergo is described as a person who survives by his own hard work. He breeds eight sows to get piglets. He says he doesn't spend money on piglets, since he feeds only sows.
"Once these nine piglets reach forty days and get used to the feed, they will be sold. If Masha keeps all nine and doesn't harm them, I'll earn 25,000 drams each. That's already some money. Masha will give birth once again this year. Breeding pigs suits me. You don't need to take them to mountains or fields, or in and out of the barn, "says the farmer.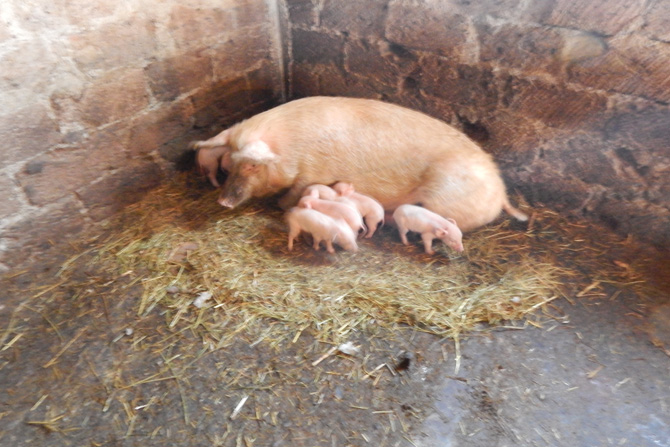 Pigs, Cows and Sheep…
Sergo currently has five sheep, four cows and six calves. He buys young calves and raises them until they can provide 100 kg of meat in a year. Then he sells them. "In the spring, I sell piglets and lambs. Calves also bring income to our family," Sergo says.
Sergo started his business with two cows. Now he has several. He says he could easily increase that number to one hundred, but he would need more labor. Now, it's only him and his son Arthur, also a vet by profession, in charge of the household. They can't find any suitable worker in Odzoun.
Sergo says that the income received from the cattle is invested in sowing the field. He cultivates five hectares of land, sowing wheat, corn, potatoes. He changes the potato variety every two or three years, to have a bigger harvest, fertilizes the soil with manure and water, and uses nitrates only a little bit to make the plant grow higher without making it poisonous.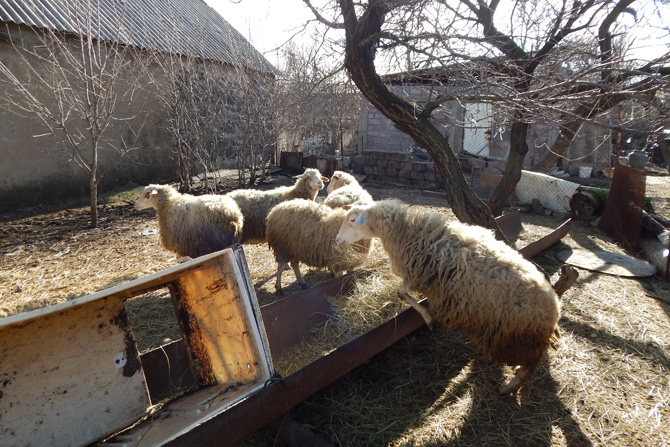 "My potatoes don't rot"
"My potatoes don't rot. Over-fertilization of potatoes makes them rot, and it's also cancerous for humans. When people eat potatoes fertilized by nitrates too much, the level of nitrogen slowly increases in the body. It's dangerous for human life," say the veterinarian.
Sergo believes that use of nitrates should be regulated by the government. Since there are no agriculturists overseeing the process now, people use as much nitrates as they please. Sergo says the villagers are ignorant regarding soil cultivation. They don't realize the dangers of over fertilization, he argues.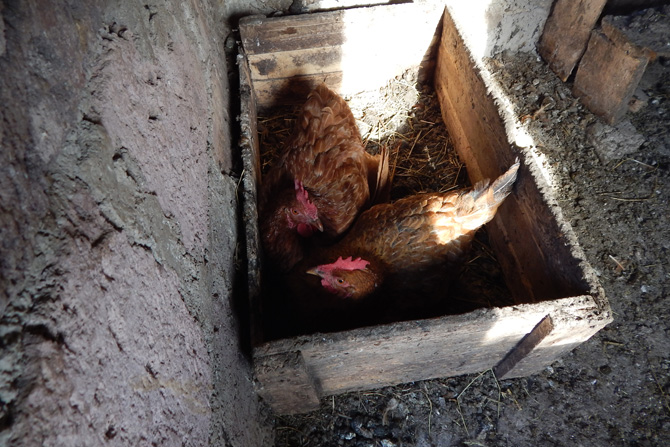 Sergo says consumers lacking adequate environmental knowledge are quick to purchase large potatoes, believing they are better. "Who needs the big potatoes found in the capital's supermarkets?" he asks, adding that he farms according to the principle that his own children shouldn't get sick after eating the food he grows.
"We were seven children in our family - two sisters and five brothers. My brothers left Odzun, moving to Russia or Yerevan. I was the youngest. Life became more difficult, but since I had to take care of my parents here, I didn't want to leave the village. I took care of my parents, so my conscience is clear. I worked like my father, I created everything on my own and took care of my family," says Sergo.
He is content with his work. He says that a person who likes to work can always find a way to take care of the family. Sergo is against migrant labor and emigration. "You know why? People live only one life. That life is short, like a dream. If they go to other countries and come back, families get ruined, "he says.
Sergo notes that more and more people close their doors and leave the country. He says he would like people to stay and build the country instead. He says that many young people are too lazy to raise animals, but that it's not possible to sustain the country by trade only. The country must produce, he says. He lists his products - chickens, eggs, cheese, meat, wheat, flour, and potatoes.
"I don't take my products to the market. The buyers find us," Sergo says.
Working as an unpaid vet
His wife Angin says that her husband works all day long as a vet, but he doesn't get a salary. There are 2,175 cows, 700 pigs, 5,000 birds and many sheep in Odzoun. There are only two vets taking care of those animals and birds, but they aren't paid.
"We are paid only for vaccinating. We receive medicines for four infectious diseases from the state. When I go to treat an animal with my own medicine, the villagers sometimes pay me for the visit. But there are villagers who cannot afford even paying for the medicine. We get by," Sergo says.
Artur, Sergo's son, says he will never go to Russia, leaving his parents alone. Sergo and Angin already have four grandkids.
Sergo smiles - "It's time to build a nice new house."