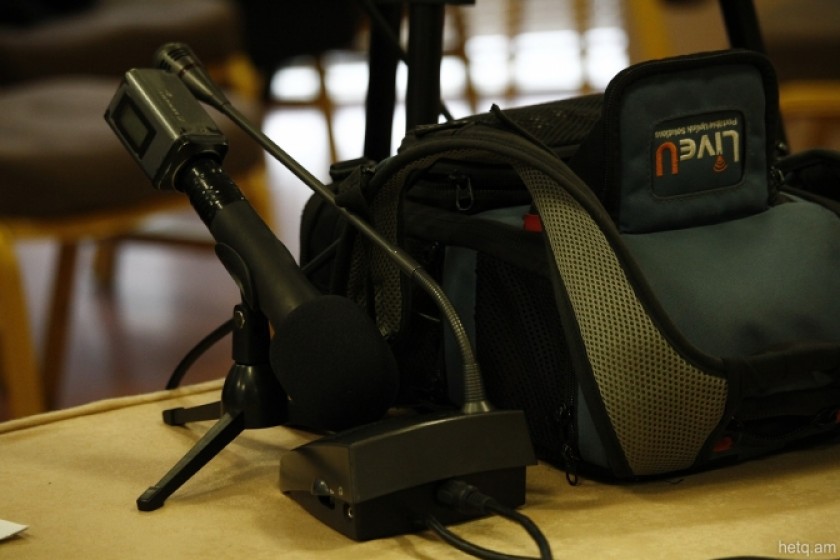 Armenia: 2017 Was a Tense and Complicated Time for Journalists
According to the 2017 yearly report released by Armenia's Committee to Protect Freedom of Expression (CPFE), 11 acts of physical violence and 113 acts of pressure were registered as committed against journalists in Armenia last year.
The CPFE, founded in 1996 and a member of the Partnership for Open Society Initiative, also reports that 62 violations of the right to obtain and disseminate information were registered.
The Committee describes 2017 as a "tense and complicated time for news outlets in Armenia, given the elections for the parliament, Yerevan Municipal Council and local offices."
The CPFE report says that government officials don't take seriously evidence that the rights of journalists have been violated.
To underline this claim, the report notes that only two of the 29 violations registered during the parliamentary and Yerevan council elections ever made it to court.
Here, the report mentions the case of Hetq reporter Grisha Balasanyan, who was prevented from covering voting at the 14/20 polling station in Etchmiadzin, and that of Hetq reporter Araks Mamulyan, who was barred from entering a special judicial session at the Convicts' Hospital.
The report says that only four policemen have been charged with violating the rights of journalists who were covering the #ElectricYerevan protests on June 23, 2015. (21 reporters filed charges)
During the Sasna Dzrer protests (July 29 and 30, 2016), 21 reporters/camera operators have been officially deemed "injured". To date, nine individuals have been charged.
Attorney Ara Ghazaryan says that while the Special Investigation Service claims that it has sped up investigations of criminal cases, and that such cases are sent to the courts in two-three months, in cases where the rights of journalists have been violated, even in cases where the injured party has filmed the incident, the preliminary examination of the above two cases has dragged on for 30 and 18 months respectively.
Given this, the European Court of Human Rights and the UN Human Rights Committee have accepted and registered the complaint petitions of three reporters in the #ElectricYerevan case.
CPFE President Ashot Melikyan says this is unprecedented in the context of the defense of human rights since the European Court does not, as practice, accept petitions unless the litigant has exhausted all domestic legal options first.
Gor Abrahamyan, an adviser to Armenia's Prosecutor General, takes issue with report's finding that the pre-investigative body's performance is below par.
He argues that when cases have been dropped, neither those reporting the crime nor the injured have appealed.
Reporter Hakob Karapetyan, an injured party in the #ElectricYerevan case, disagrees with Abrahamyan.
"If we are talking about the absence of additional complaints by the injured, then we must take into account that I was willing to cooperate with the pre-examination body. But, nothing came out of it," says Karapetyan.
If you found a typo you can notify us by selecting the text area and pressing CTRL+Enter