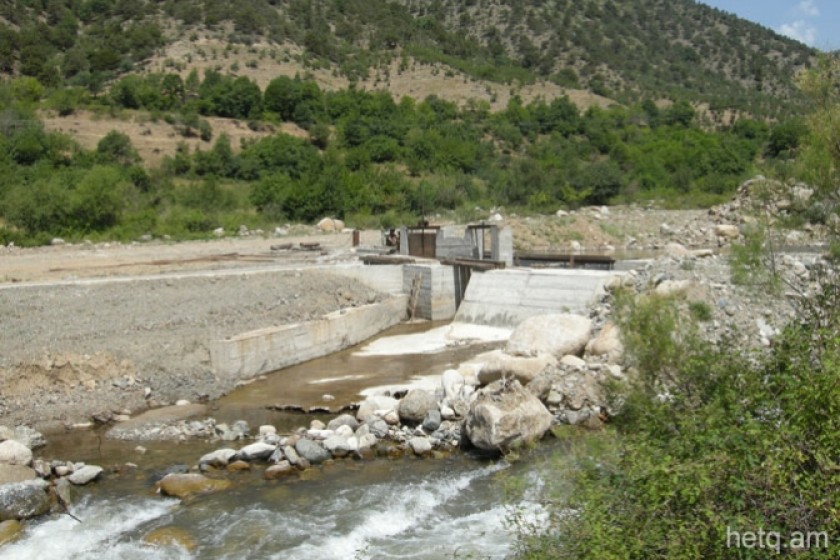 Meghri Residents Protest New Hydro Plant: Who "Occupies" Their River?
The construction of yet another hydro-electric plant on the River Meghri forced Meghri community residents to block the highway on January 23 to voice their opposition.
To assuage his constituents' concerns, Meghri Mayor Mkhitar Zakaryan organized a meeting with plant representatives. Residents were not impressed. They left the meeting hall when plant deputy director Hrach Hovsepyan recited the same litany of promises that the new hydro plant would not adversely affect the river. A decision was reached to temporarily halt construction.
The hydro plant is being built by a company called Green Power. It has a license to do so and its Environmental Impact Assessment was judged positive by the Ministry of Nature Protection.
Despite the opposition by area residents and the fact that the meeting with company officials never took place, the ministry released a report claiming that public hearings had taken place, as mandated by the law, and that the public has backed the hydropower plant plan. (The report was released on July 19, 2017)
Green Power Ltd. already operates a hydro plant on the Meghri River – the 2,400-kWh Meghri #1 plant.
The company is building a 3,300-kWh hydro plant on the Tashtoun River, a tributary of the Meghri.
While Hakob Tadevosyan is listed as the shareholder of Green Power, residents point to Investigative Committee President Aghvan Hovsepyan as the real owner.
So, what's the link between Tadevosyan and Hovsepyan?
Tadevosyan is a shareholder in Telia Mining Ltd., a company once owned by Misak Hovsepyan, Aghvan's youngest son. Shares in the company had been owned by Misak, but were transferred to Tadevsoyan name after the press in Armenia began to focus on Aghvan's business holdings.
On May 18, 2017, the Armenian government decided to extend the VAT payment deadline for Green Power imports by three years
Flowing some 30 kilometers, there are 4 hydro plants now operating on the Meghri River – Green Power's Meghri#1; Kyu-Hash Ltd.'s Kyu-Hash plant(840-kWh); Sar-Roub Ltd.'s Nzhdeh plant (1,732-kWh); Geliegouzan Ltd.'s Kantegh plant (4,200-kWh).