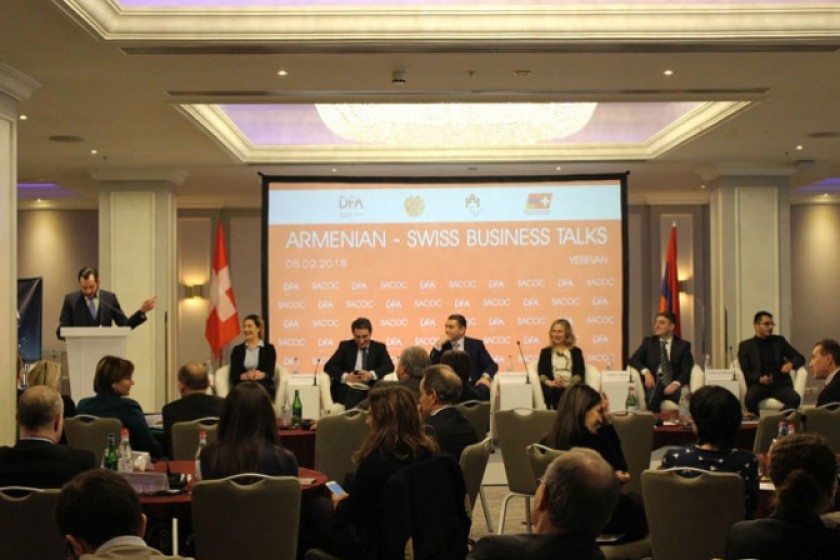 "Armenia-Switzerland" Business Confab in Yerevan Highlights Investment Potential of Armenia
As part of the official visit of the President of the National Council of Switzerland Mr. Dominique de Buman, the Development Foundation of Armenia organized the "Armenia-Switzerland" business talk in Yerevan.
About 35 businessmen from both countries, including Swiss entrepreneurs operating or intending to operate in Armenia, attended the meeting. The participants of the Armenian-Swiss business meeting mainly represent the pharmaceutical, IT, financial, wine-making, tourism, and transport sectors.
The official launch of the business mission was made by the participation of Swiss National Council Chairman Mr. Dominique de Buman, RA Vice Prime Minister Mr. Vache Gabrielyan, Chairman of the Armenian-Swiss Chamber of Commerce Mr. Mike Baronian and CEO of the DFA Mr. Armen Avak Avakian.
"We met with the Prime Minister of Armenia in Davos, where among the important issues we discussed agriculture, industrial equipment, and other economic sectors. For the first time I was in Armenia 10 years ago and, of course, I can note the economic movement, liberalization that exists in Armenia", noted Dominique de Buman, President of the National Council of Switzerland.
"We have a very interesting strategic location, we have placement of our country within several interesting grading regimes, that gives our country unique advantages and we believe that these unique advantages will be also very interesting for Swiss businesses", noted Vache Gabrielyan, the Vice Prime Minister of Armenia.
"The businessmen from Switzerland are mainly from IT, tourism and wine-making spheres, around 30 Armenian businessmen are taking part in B2B discussions. These three spheres are today's priority", noted Armen Avak Avakian, the DFA CEO.
Swiss businessmen were introduced to Armenia's business environment, trade regimes, free economic zones, sectors with investment potential, as well as the recorded achievements in winemaking, tourism, and IT sectors.
The success stories of winemaking «St. Jakobs Kellerei 1694» and pharmaceutical «Azad Pharma» companies, operating in Armenia, were presented during the meeting.
Today a new salt workshop was opened in Yerevan with the participation of the Swiss side.