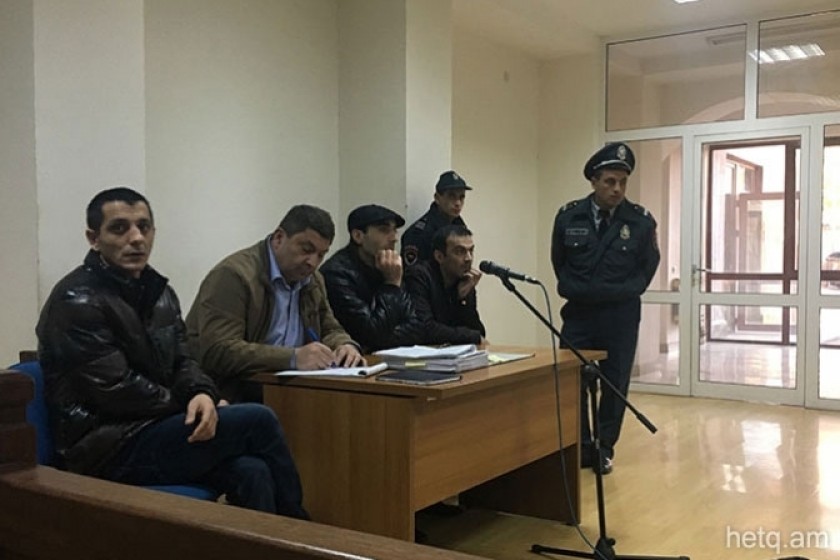 Sari Tagh Trial Postponed Yet Again; Prosecutor Fails to Appear
Today's trial of Harutyun Torosyan, Hrayr Isakhanyan, Andranik Kyoseyan and Yedvard Zeytounyan, accused of public disorder and physically assaulting police during the 2016 Sari Tagh demonstrations in Yerevan, had to be postponed yet again since State Prosecutor Gevorg Gevoryan failed to appear in court.
The reason for his absence was never given.
Irritated by this latest delay, Zeytounyan got up and shouted, "When will this all end?"
Ignoring the judge's instruction to remain silent, the defendant continued to speak, and was banned from the courtroom for one hour.
Defense attorney Liparit Simonyan asked the court to allow Zeytounyan to return since he was merely expressing an opinion.
"Their behavior is understandable. We go home and sleep, while they remain incarcerated," Simonyan said.
Harutyun Kyoseyan also expressed his dismay at this latest delay, saying that the court has been interrogating witnesses for the past several months. When the judge admonished the defendant for his outburst, Kyoseyan replied, "Whatever you do will come back to haunt you."
When the other defendants also spoke out about the interminable delays, Judge Danibegyan banned them all from the courtroom for an hour, effectively halting today's session.
The next trial date is scheduled for March 14.