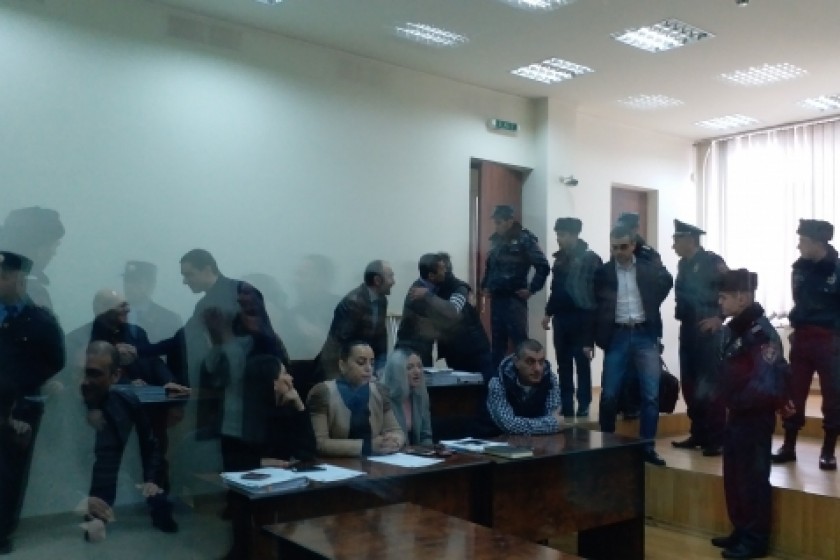 Yerevan Courtroom: Cries of "You're a Turk" Ring Out at Sasna Dzrer Trial
A war of words broke out today at one the trials underway in Yerevan of Sasna Dzrer group members accused of illegal arms possession and seizing a Yerevan police station in July 2016.
Exchanges of "You're a Turk", "No, you're a Turk" were heard in the courtroom when tensions rose between the state prosecutor and the defendants.
The verbal brawl started when the issue of the inclusion of public defenders in the case was raised. Many of the defendants have complained over the court's ruling to bring in public defenders since the private attorneys hired by the defendants have boycotted the trial in the past, walking out of the courtroom.
When State Prosecutor Petros Petrosyan began to express his opinion on the matter, defendant Pavel Manukyan interrupted him by saying: "I despise your decision and statement."
The court warned Manukyan that he'd be removed from the courtroom if such outbursts continued.
Manukyan responded, "I spit on your decisions." The court decided to remove him from the courtroom for five hours.
Manukyan was then heard saying, "Why did you bring this Turk next to me?", evidently referring to Prosecutor Petrosyan, who shot back, "You're the Turk."
Defense attorney Arayik Gharagyozyan then stood up and asked the court to bring charges against the prosecutor for calling his client, "the hero Manukyan", a Turk.
The attorney argued that if the court had found Manukyan's words to be disrespectful, it must do the same in the case of Prosecutor Petrosyan.
Judge Mesrop Makyan replied that he had taken all necessary legal steps required by him and that the defense attorneys could take up the matter elsewhere.
With this, the court adjourned.