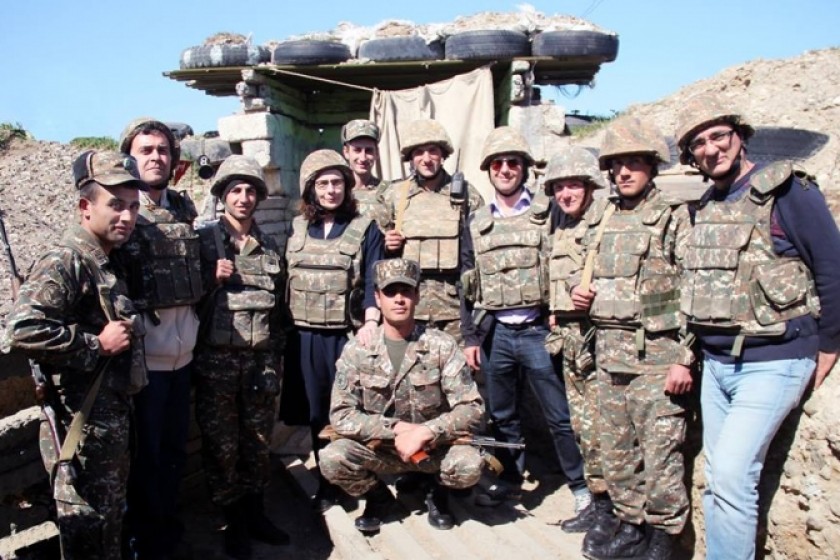 Arsinée Khanjian Reacts to Doudaklian Attack: " A shameful act of cowardice and gutlessness."
Arsinée Khanjian
I woke up this morning to a shameful news from Bourj Hamoud!
Raffi Doudaklian, director of the Tufenkian Foundation in Armenia, had been attacked and beaten by two unidentified men in his birthplace, Lebanon.
This act of violence took place in a parking lot, at the centre of the Armenian community, in Beirut, where our ancestors after escaping the genocide,- orphans of all ages, boys, girls, mothers and grandmothers, found refuge from the Turkish brutalities.
They too were beaten. They were doomed for annihilation and loss of culture. They were the ashes of the inferno. But we survived thanks to the institutions, political, religious and cultural that soon rebuilt an identity never to be forgotten by subsequent generations. We learned to serve our nation, each of us becoming the soldier and protector of a history that was ignored in full force by foreign interests. A history of tragedy and calamity that we addressed in spite of generational shame and humiliation. Yet, we survived because we were called upon as survivors and children of survivors, to use our education and to strive for excellence. We were encouraged to develop intellectual acumen and to become passionate defenders of our cause.
Raffi Doudaklian and I come from that background. We have been groomed to guard the nation. This responsibility was the backbone of our incentives in every achievement - professional, political, cultural.
And when the dream of an independent Armenia came true, when the dream became reality, good and bad, we continued to carry out the task of aspiring to preserve our homeland.
We made the emotional plea to connect with Hayasdan (Armenia). We provided the financial support we could gather as the incrementally successful children of bare feet grand-parents.
We remembered the imagined Yergir Terakhdavayr (Land of Paradise) in every way possible so that we prove to the world that it was not only a fantasy but instead a fact.
Armenia, from our faraway refuges, was instilled in us like the love of our parents; parents who often experienced no love from where they came from.
Many of us became members of the youth organizations, the scout clubs, the cultural and artistic associations, and some eventually the political parties. We pursued, as Armenians and for Armenians one obsessive quest: to be recognized for who we were and who we had become and who we shall remain. We are proud descendants of a small nation, but forever Armenian.
However, as I write this with tears in my eyes, I realize two things.
One, that we never succeeded in establishing the strong line of communication between our diasporas and the motherland, Armenia, especially since its independence.
Two, that the very people who taught us bravery, endurance, fearlessness, audacity, yes, audacity to speak, to always speak out against injustice, lies, exploitation, desecration of our identity, corruption, crime, ARE the same people who are now beating up one of their own. And this, because of his honest, caring, loving criticisms of what is wrong with us. All of us. Diaspora and Armenia.
Raffi Doudaklian is one of most devoted Armenian individuals I have come to know. He has had many lives across continents from Anjar, to Los Angeles, to Toronto to Yerevan. He has served our communities as a teacher, as a principle of Armenian schools, as a columnist, as a party member who's motto has been Azad, Angakh Hayasdan (Free and Independent Armenia) .
Then he has moved to Armenia to establish himself with his beautiful wife, Lara, and his children in Hayrenik (Fatherland).
When I talked to him in April 2017, he was trying to convince me that I should do the same. It's interesting that this invitation of a homecoming is always without irony or insult coming from my diasporan friends who have moved to Hayasdan.
Raffi's invaluable work at the Tufenkian Foundation both for Artsakh and Armenia is well known and highly respected.
His contribution through his smart, funny, pointed and closely observed editorials from Namag Yergren (Letter from Home) are informative but also critical of all that is majorly unacceptable and wrong in the country. He is the voice of hope to all of us to continue loving a home with all its shortcomings.
Raffi comes from the generation of Diasporan Armenians who were asked to have the eye of an eagle when our nation was in danger in the hands of ill wishing detractors and adversaries. So, he has continued to carry on the same attentive duty and onus when he returned to the homeland with his pen and intellectual vibrancy.
He never would shy away, and now even less then ever, to speak the truth. What he sees, what he feels, what he hears and mostly what he believes in: a better Armenia in the name of our people.
That he would be beaten up by some Armenian thugs, following orders of an off shoot of the very people who have taught us to serve the best interests of our nation is a shameful act of cowardice and gutlessness. That the organizations and political parties who run every corner of Bourj Hammoud as if it were a little Hayasdan could not seriously search, pursue and find the culprits is an indication of their inability to manage the affairs and wellbeing of their compatriots. That the Diaspora should follow on the path of violence and lack of respect for civil rights like the Armenian government today, is a blow not coming from outsiders,- from the "enemy" whomever we imagine them today to be, but from our very core.
Amot, hazar amot (Shame and shame again) on all the figures who have ordered this attack upon one of their shining voices, a radiant mind, a glowing Armenian heart, - Raffi Doudaklian.
My diaspora has every right to speak about my homeland, Armenia. No Armenians across the nation, in the motherland or abroad, would have to bare the price of bullying, silencing, or criminal acts in the hands of their compatriots.
This is not the lesson we need to learn from our own people.
This is not what the diaspora nor Armenia should tolerate.
MENK ANVAKH, PARTSRATSAYN RAZMIGNER ENK KORDZOGH I NEBASD MER AZKIN.
MER SOURE MER KHOSKI AZADOUTYOUNN E.
(We are fearless, outspoken soldiers serving our nation.
Our sword is freedom of speech.)
In the photograph: first right, Raffi Doudaklian with Atom Egoyan, middle, Arsinée Khanjian, and Eric Nazarian in Artsakh (April 2017). This trip was fully organized by the shared initiative of Raffi Doudaklian, director of the Tufenkian Foundation.
If you found a typo you can notify us by selecting the text area and pressing CTRL+Enter