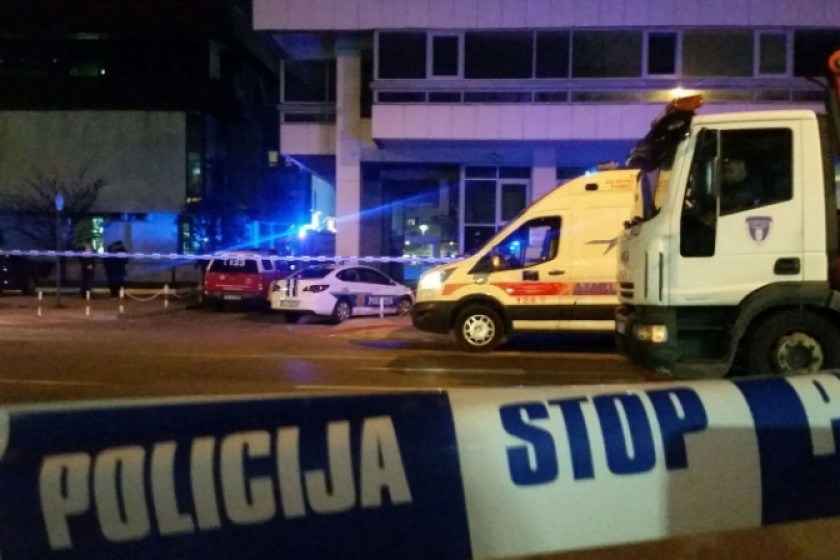 Bomb Attacks, Killings, Shake Montenegro's Security
A car bomb exploded late on Sunday in the northern Montenegrin town of Bijelo Polje, just an hour after a meeting of top security and judiciary officials who pledged to wage war on organized crime groups.
The bomb exploded in front of the home of the prominent journalist Sead Sadikovic, known for his investigations into corruption and organized crime. It is unknown whether he was the target.
Sadikovic, a journalist at TV Vijesti, was questioned by police. The Montenegrin Journalists Associations warned earlier that he was under threat because of his work and urged the authorities to investigate the case.
The latest blast, the seventh this year, caused outrage on social media late on Sunday as citizens demanded action to end violence, and top security officials' resignations.
Although Prime Minister Dusko Markovic has insisted in recent months that the security situation in the country is satisfactory, the tone changed after Sunday's National Security Council meeting, which was called because of the raging gang wars on the streets of the capital, Podgorica, and some other towns.
It stated that the "security situation has worsened as a result of the growing conflicts of organized criminal groups."
The top security body was also attended by supreme court judges and prosecutors.
"Continuous and coordinated activities have been agreed that will provide a strong and comprehensive response by the state against organized crime," a press statement after the meeting read.
Reportedly, most of the killings are part of a war between the two cocaine smuggling gangs, originally based in the coastal town of Kotor but which later spread all over the country.
On Saturday, a shooting killed two people in the crowded centre of Podgorica, one of whom was a bystander. This promped the resignation of the police administration chief Slavko Stojanovic and some other senior police and security officers.
On March 28, a car bomb exploded in a Podgorica residential neighbourhood where most state officials live. The blast killed one person, reportedly a member of one of Kotor's cocaine gangs.
Serbian Interior Minister Nebojsa Stefanovic on Sunday meanwhile said Serbia will not allow the "import of Montenegrin gang violence" after local media alleged that the recent killings in Montenegro are linked to earlier assassinations in Serbia, committed in 2017.
"We will ban the entry into our country of a number of persons that we believe can endanger security and continue with strong repressive actions, which we will send a clear message that such persons are not welcome in Serbia," Stefanovic told the Belgrade-based daily Politika.
Over the past year, several Montenegrin towns and Podgorica have been hit by murders and bomb blasts – but police have caught few of the perpetrators.
The situation is worst in Kotor, where it is reported that 30 people have been killed since late 2013, apparently in clashes between the rival Skaljari and Kavac clans, named after neighbourhoods in Kotor.
According to police, clashes between rival drug gangs were behind most of the bomb attacks across the country in the last year.
A small resort with a medieval old town in the Boka Bay, with only around 20,000 inhabitants, on UNESCO's world heritage list, Kotor made headlines a decade ago after it was revealed that the drug baron Darko Saric had begun to invest huge sums there, mostly in the tourism sector.
In a first-instance verdict in July 2015, Belgrade's Special Court for Organized Crime jailed Saric for 20 years for smuggling cocaine from Latin America.
The court also convicted around 30 other defendants, 14 of whom are still on the run, for smuggling more than five tons of cocaine from South America in 2008 and 2009, giving them jail sentences of five months to 20 years.
A car bomb killed one in the capital Podgorica on March 28. Photo: BIRN.